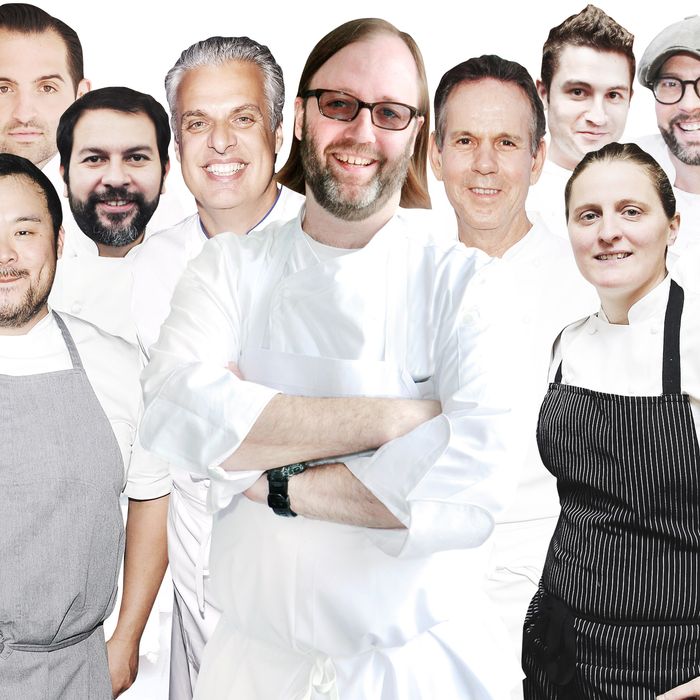 There's only one Wylie Dufresne.
Photo: Daniel Humm: Bryan Bedder/Getty Images; David Chang: Desiree Navarro/WireImage; Ilya S. Savenok/Getty Images; Enrique Olvera: Juan Herrera/epa/Corbis; Eric Ripert: Larry Busacca/Getty Images; Wylie Dufresne: Rebecca Sapp/Getty Images; Thomas Keller: Joe K
There's less than a month left until Wylie Dufresne's wd~50 closes its doors forever. As Dufresne readies his restaurant's grand sendoff, it's clearer than ever that his kitchen's modern, sometimes-challenging, always-thought-provoking food won't soon be forgotten.
"Wylie's legacy will be one of lasting impressions, and a commitment to the craft and his personal style," chef Thomas Keller tells Grub. Eric Ripert calls him nothing less than "a pioneer." In fact, it's fair to say Dufresne's singular style left a lasting impression on a great number chefs, many of whom now run some of the best restaurants in the world. (It seemed there was always at least one out-of-town chef eating at the bar, dissecting the kitchen's latest innovation.) So, in honor of the restaurant's 11-plus-year run, Grub Street asked some of these chefs which dishes from wd~50's archives they found to be the most inspiring.

René Redzepi, chef/owner of Noma:
The first thing I remember from my first meal there was the "non-bread" — the wafer-thin crackers sprinkled with sesame that hit your table at the start of the meal. That's the moment you realize: I'm in for a ride here. It's a safe point for so many people, the bread course. If you're uncomfortable with whatever is put in front of you, your hands quickly navigate towards that crusty loaf and butter. It makes you feel safe again. Wylie went as far as even eliminating that, making sure that you were going to be on the edge all throughout.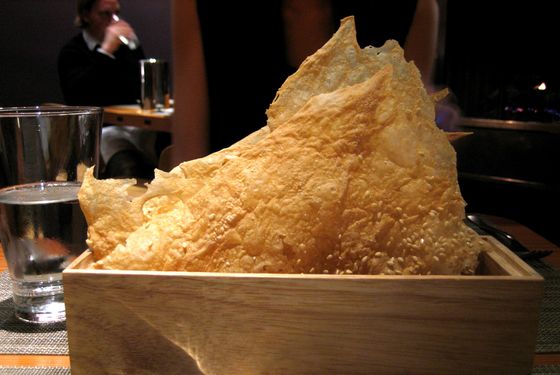 Daniel Humm, executive chef/co-owner of Eleven Madison Park:
One dish in particular stands out — the foie-gras torchon. I remember it so vividly. The plating of the dish was beautiful, and it effectively concealed a wonderful surprise that took the experience of eating this torchon to new heights. When I cut into it, a beet consommé poured out of the center of my plate, filling it with an unexpected layer of flavor, warmth, and fragrance. The contrast of techniques, colors, and flavors went on to inspire a foie-gras-and-maple-syrup dish that I served at both Campton Place and then at Eleven Madison Park. Eating his food has always made me think about cooking a little differently, and it reminds me of the importance of finding balance between being on the cutting edge while maintaining a sense of amusement in my food.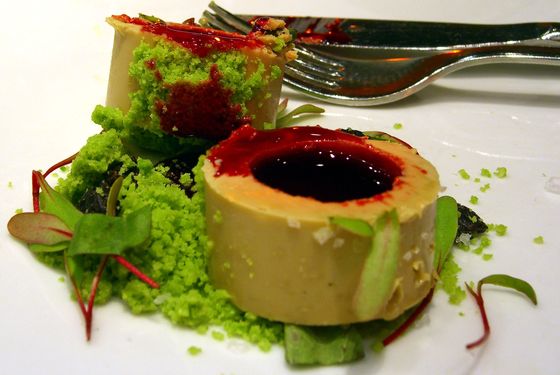 April Bloomfield, chef/owner of the Spotted Pig and the Breslin:
I was particularly excited about how playful and surprising, yet completely tasty, the ice-cream-bagel dish was. Wd~50 was the first place I had experienced the kind of molecular gastronomy that actually made sense on my palate. It was very familiar, yet fun, new, and innovative at the same time.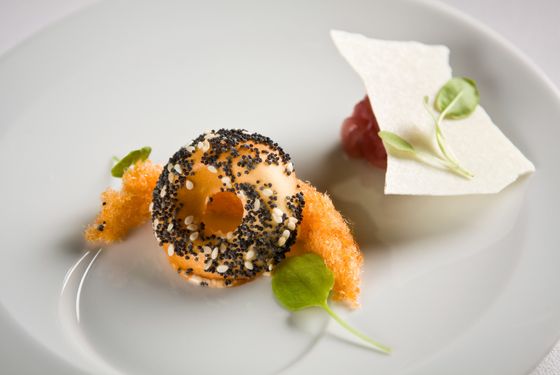 David Chang, chef/owner of Momofuku (who sent Grub an entire catalogue of wd~50 dishes he's loved over the years):
Flatiron steak with bone-marrow tart — really unique pastry. Sam Mason's bacon-and-egg French toast. The best foie-gras dish I've ever had: foie with beet gelée. Slow-poached egg with Indian chaat. Halibut with smoked mashed potatoes. Fried mayo with beef tongue. Fried eggs Benedict. Chicken ball with mole and carrots. Shrimp noodles. Shrimp cannelloni with Thai basil and chorizo paste. Lobster legs — because Wylie served it to me every time, knowing I didn't like them, until I finally liked them.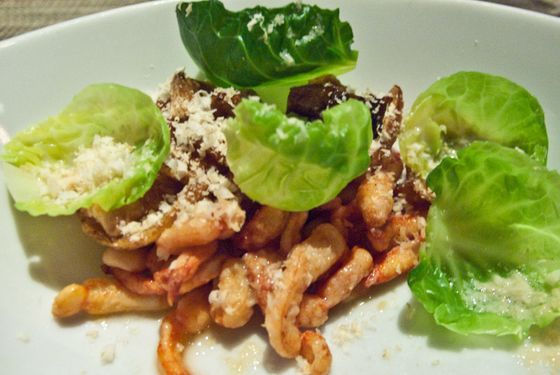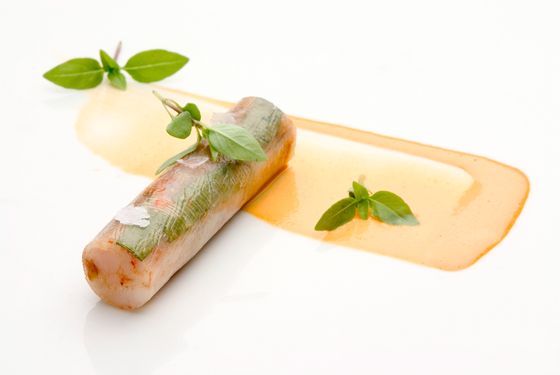 Mario Carbone, chef/owner of Carbone, Parm, Dirty French, Torrisi, and ZZ's Clam Bar, former wd~50 garde manger:
I spent a year and a half working for Wylie after leaving Daniel. It was one of the greatest experiences of my career. He forced us to think and see things differently. I started as the restaurant had just opened, and I vividly remember a dish we had on the menu: It was squid cut to look like noodles, cooked in garlic oil, served in a bowl lined with paprika yogurt. We garnished the dish with Cavaillon melon, cilantro, and crispy chorizo. It blew my fucking mind! My mouth is watering just typing this. Genius! I love you, chef.
Alex Stupak, chef/owner of Empellón Taqueria, Empellón Cocina, and Empellón al Pastor, former wd~50 pastry chef:
Wylie makes a traditional miso soup and clarifies it. He serves the dish with a little squeeze bottle with this white liquid in it, which is actually tofu that's been pureed and flavored rather heavily with sesame. And you're basically instructed to squeeze it into your soup. Wiley was one of the first chefs to really start working with methylcellulose, a hydrocolloid [that is] the complete and utter inverse of gelatin. As you know, when you warm up gelatin, it melts. If you warm up methylcellulose, it gels; if it cools down, it melts. So when this tofu puree, which has been fortified with methylcellulose, is squeezed into the bowl of noodles by the diner, it actually turns into noodles. So you're making your own noodles for your miso soup right before your eyes. It's just one of those things that only Wylie Dufresne could figure out.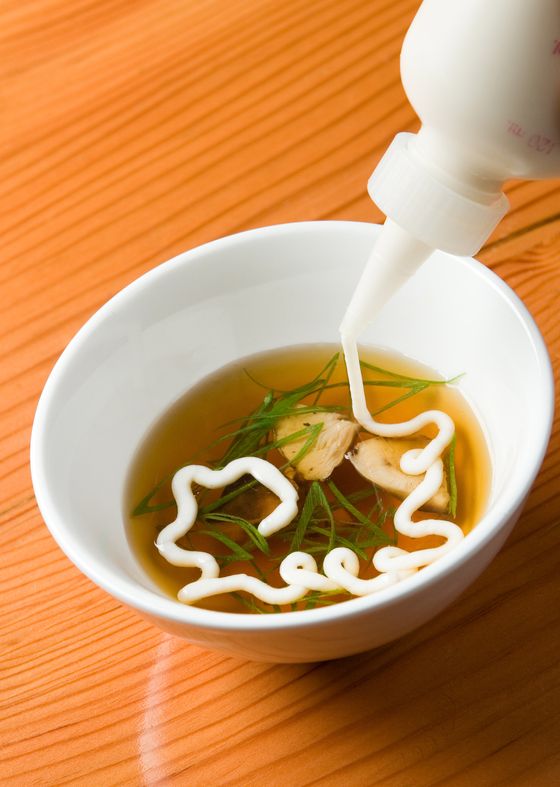 Daniel Patterson, chef/owner of Coi (San Francisco):
The experience of Wylie's food has always been about access to a kind of vital creativity that transcended individual plates … I've eaten there so many times over the years that I couldn't begin to name my favorite dish. There was the eggs Benedict — so tasty. A deconstructed pho. A dish of aerated foie with pickled beet and mashed plum that almost made me cry. There were meals so radical that I left with my head spinning. Another was so straightforward and ingredient-centric and gentle and delicious that I wondered if Wylie was playing a joke on the California dude by serving faux-California food. Probably.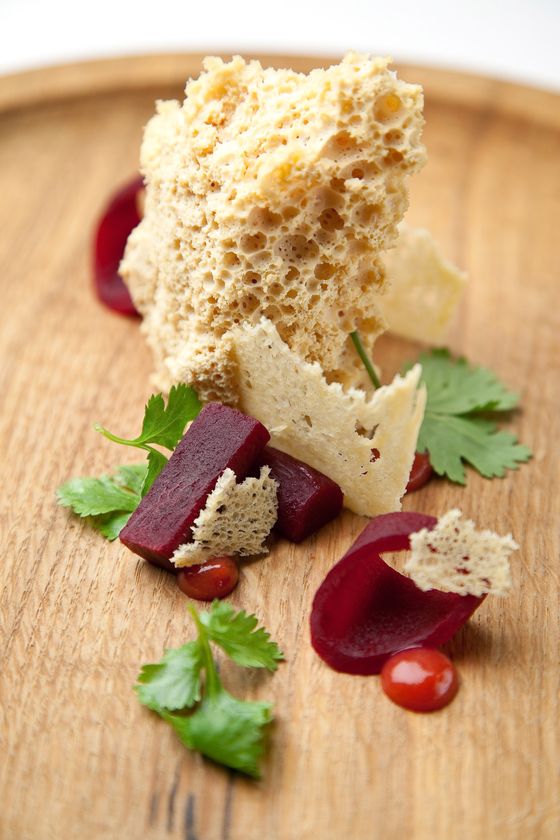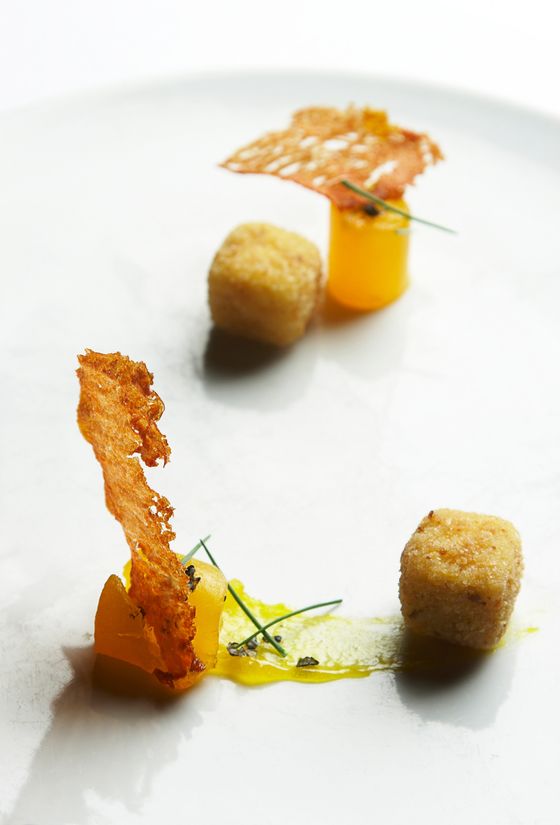 Rosio Sanchez, pastry chef at Noma, former wd~50 pastry cook:
My favorite Wylie dish was the duck on rye crisp appetizer — corned duck shaved thinly over a toasted rye crisp with some horseradish and mustard. That was such a classic, so delicious and timeless.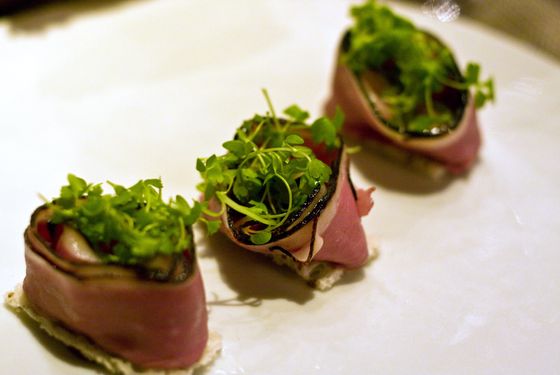 Claude Bosi, chef/owner of Hibiscus:
The thought processes that happen in Wylie's mind are fascinating, creating wonderful flavor combinations and dishes that stem from his childhood memories. I absolutely love the way he adds his own modern touch to traditional combinations, such as his "shrimp and grits" and his mashed-potato ravioli with egg yolk, which are two outstanding favorites of mine.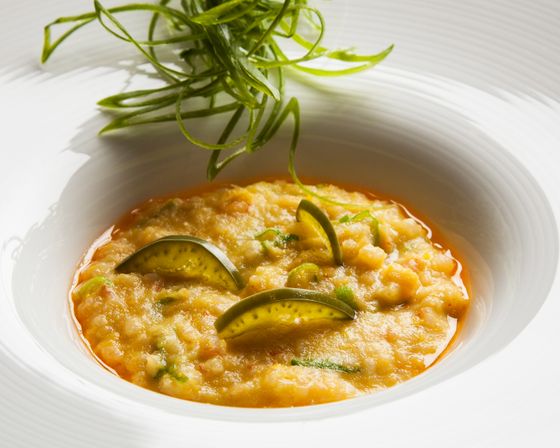 Sam Mason, chef/owner of OddFellows, former wd~50 pastry chef:
I typically dream about several dishes for different reasons. First, squid noodles with crispy Serrano ham and Cavaillon melon: This was one of our first meat-glue applications before anyone knew what meat glue was. It really started to show us what could be possible. I also waited patiently for any remnants of these paprika-dusted noodles … Oyster plaque with Granny Smith apples and pistachio: This dish wasn't as popular as it should have been — who the hell else was flattening oysters into perfect rectangles? It was a great representation of the aesthetic we were looking for at that time, and it was so cool to look at … The fried mayonnaise is partly responsible for my high blood pressure. I must have eaten my body weight [in it] while that dish was on the menu … The foie gras with beet caramel and pea soil was an inspiration in regard to dish dynamics. The reactions on people's faces when that beet caramel oozed out of that foie terrine were amazing. It changed the game in my eyes.
Enrique Olvera, chef/owner of Cosme, Pujol:
I love the pickled tongue with fried mayonnaise. It's a dish that played with technique, memory, and flavor … a rare combination, not to mention at that level of execution and deliciousness.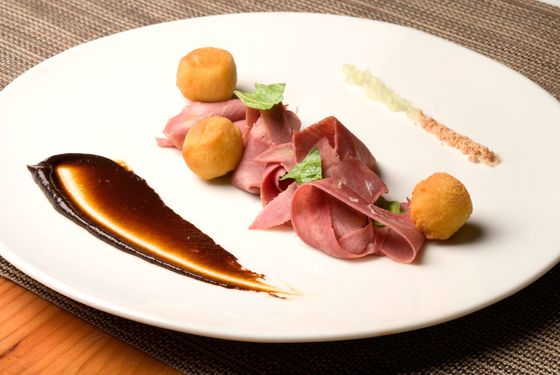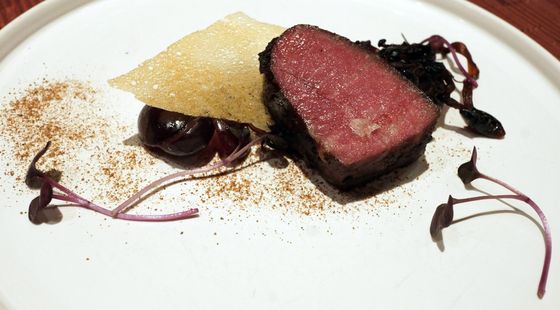 Danny Bowien, chef/owner of Mission Cantina:
I remember one dish in particular. Wylie came out and [said], "We only made one. You're the only person ever to get this dish … because it's so labor-intensive. We were just fucking around with it, but we're never gonna make it." … It was a perfect little square, the size of a Ritz cracker, of what he called scallop and uni Bolognese. It was insane. It was all these little layers of pasta, like a lasagna, basically, like Mark Ladner's 100-layer lasagna. All the noodles were made with sea urchin, and the Bolognese was [made with] just scallop. In between each layer, there was Bolognese, but you could see the noodles, and around the outside, he had piped an uni emulsion. You could eat it in one bite. It was mind-blowing.
Earlier: wd~50 Made More Than $100,000 in 10 Minutes Today