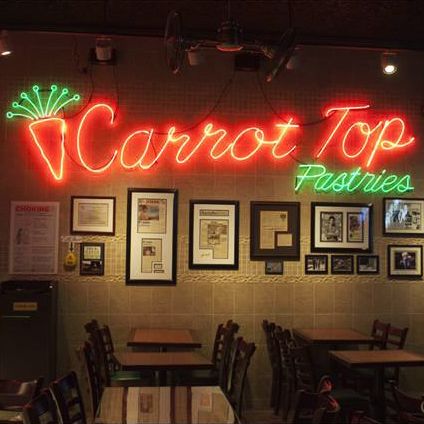 The landlord had previously aimed to triple Carrot Top's rent.
Photo: Carrot Top Pastries/Facebook
Yesterday, Renee Mancino, the co-owner of Carrot Top Pastries, was found dead of a gunshot wound in her business. She was with her husband Bob and an employee at the time of the shooting — the employee says Mancino pulled the trigger herself, and the death is being treated as a suicide
The Post reports that Bob Mancino was shaken afterwards, and blamed the combination of a recent cancer diagnosis as well as a new round of rent negotiations. "The landlord killed her. My wife is dead because of those cocksuckers … Thirty years don't mean nothing. We paid rent 31 years and you have to open up negotiations? We broke our backs for 31 years. We built this business."
In 2010, DNAinfo reported that the couple's landlord, New York Presbyterian Hospital, had attempted to raise the rent from $5,000 per month to $10,000, but there are no details on the current demands.
Perhaps needless to say, yesterday saw an outpouring of support for the business and Renee, with customers, employees, and friends all offering their condolences.
RIP to Renee Mancino, the owner of Carrot Top bakery. Your treats made many occasions special. May peace and light be with you.— Shana (@SolarSugar3000) November 11, 2014