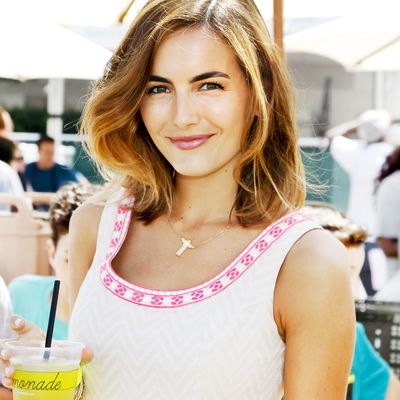 "I was definitely raised in a kitchen."
Photo: Tibrina Hobson/Getty Images
Camilla Belle's next project, the indie film Amapola, comes out on December 5. But before that, she's had some down time, which she has (wisely) decided to spend cooking for herself — mahimahi; spaghetti squash with garlic, butter, and lobster; the traditional Brazilian beans that she grew up eating — as well as head out for treats like kouign-amann and chicken tacos. In fact, the fashion-magazine fixture cares quite a bit about food — and she often Instagrams her favorite dishes from around Los Angeles. To see everything she ate this week, check out today's California-based edition of the Grub Street Diet.
Thursday, November 13
I had breakfast at home: Bakery on Main cereal with rice milk, and then some sliced oranges and fresh pomegranates, which are incredibly delicious right now because they're in season. And Earl Grey tea.
For lunch, I cooked at home, and I made spaghetti squash with garlic, butter, a little olive oil, and parsley. With lobster! I was at the market, and they had lobster tails. And I thought, You know what, why not? It was fun. When I'm on my own, I have a great time cooking for myself. I make the food look all pretty, and I decorate the plates. We have to treat ourselves nicely.
Bouchon Bakery has this one pastry that I love. I always call it the "King Tut pastry" because my girlfriend and I couldn't pronounce it. The spelling almost looked like Tutankhamen, but it's … hold on … kouign-amann, which I had with a cappuccino. I never get that dessert unless it's just a great day, and I want to treat myself to a King Tut.
On Thursdays I go to boxing class in the evening, so I never really get to have a proper dinner. I had a little snack: I always keep lavash bread in the fridge, so I made a little wrap when I got back from class, with roast turkey and Swiss cheese and Dijon mustard and lettuce and tomato.
I went to the Lindt chocolate shop about ten days ago while I was in New York, and it's in the fridge. Every time I go to New York, regardless of where I'm staying, I get a big bag of Lindt chocolates to take home. Usually I'll have my one really delicious Lindt.
Friday, November 14
On Friday, I made Irish oatmeal with little goodies: sliced banana, dried cherries, coconut flakes, and cinnamon. And then Earl Grey Twinings tea.
For lunch, I grilled mahimahi and made sautéed kale, beans, and a green salad. Because I'm from Brazil, fresh beans and rice are important. I was definitely raised in a kitchen: My mom's an amazing cook, and then her aunt is an amazing cook as well, and I really learned from the two of them. I've always had a huge interest in cooking, and I was the little sous-chef in the kitchen. My passion for food started in the womb, I guess, because my mom was always cooking.
As a snack, I had lavash bread with hummus. And for dinner I made fresh pesto, and so then I did a quinoa pasta with the fresh pesto. A girlfriend of mine came over, and I cooked for both of us.
Saturday, November 15
Saturday morning I had Greek yogurt and then granola and berries for breakfast. And then for lunch I cooked sautéed bok choy and grilled halibut — plus a salad and some rice.
I'll have lunch meetings and whatnot on a regular basis, but when I'm at home, I do love to cook. It's kind of an excuse to test recipes and try new things and be my own guinea pig, in a way.
Later, I went to the Getty Museum and had a coffee there. And then I came back and a friend came over and made spaghetti — real spaghetti this time, with cherry tomatoes and basil and garlic and fresh mozzarella. And a glass of red wine. That was delicious.
Sunday, November 16
I had a photo shoot. Well, first I had Pilates in the morning, so before Pilates I had an orange, carrot, and papaya juice. And then at the photo shoot they had lunch there, and it was quite good. It was a quinoa salad with avocado and white-bean hummus on the side with toasted pita bread. And then later on I had a cappuccino.
That night, I went to an event for Art of Elysium for the host committee of their upcoming gala. It was catered by Cleo, and it was delicious — all kinds of Mediterranean foods like hummus, yogurt with cucumber, chicken tagine, pita bread and saffron rice, and then baklava at the end. It was quite divine.
Monday, November 17
I had a checkup in the morning, so I had to fast because drawing blood means no breakfast. And then I had a Suja juice after. I went for a hike in Temescal and afterward went to the Palisades and went to Café Vida, where I had chicken tacos. They serve it with this great brown rice and black beans.
I went to the Yogurt Shoppe and got a little bit of frozen yogurt. That was great. And then I passed by the Farmshop in Brentwood on the way home, and they have great little salamis and olives and antipasti goodies, so I got a bit of that, and that was my light dinner for the night.
Tuesday, November 18
What I had also picked up at Farmshop, for the next morning, was a strawberry-almond croissant because it looked incredible. It was great! I had never had one like that before, and I warmed it up in the toaster oven. So I had that with the coffee in the morning.
On Tuesdays I always volunteer with Art of Elysium at a hospital. It's smack in the middle of lunchtime, so my eating schedule gets a bit wonky. Usually I'll take a Quest bar with me and an apple from the farmers' market, and those are my lunch snacks.
I got home and had prosciutto and fresh mozzarella with olive oil as my 4 p.m. snack. And then I went to Nobu with a big group — including Roland Emmerich, he directed 10,000 BC, and we've stayed really dear friends ever since. We got a big group of our mutual friends together, and he ordered so much food! Sushi and sashimi and yellowtail and this new warm crab-claw dish with these dipping sauces, and crispy fish tacos. And then the green-tea ice cream there is really wonderful.
Food is a big part of my life — maybe it's just being raised in the Brazilian culture, where food is extremely important. I try to keep it healthy when I'm cooking at home, but when I go out I'll have a baguette with butter because it's fresh and it's delicious, and those things make me very happy … Life is too short!