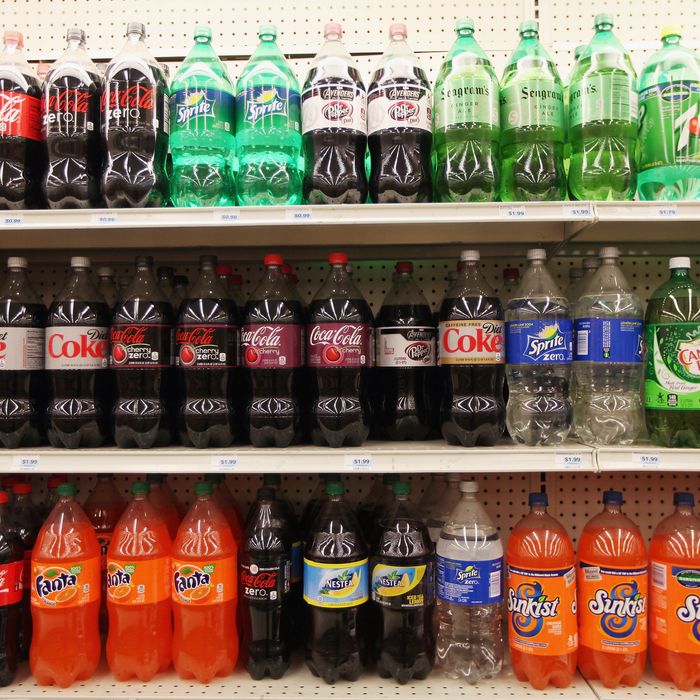 These revenue streams are carbonated.
Photo: Mario Tama/Getty Images
While an effort to tax sugary beverages like cola and energy drinks failed for two cents per ounce at the polls yesterday in San Francisco, Berkeley residents approved their city's penny-per-ounce tax with 75 percent of the vote, effectively making it the country's first soda "sin" tax. A majority of San Francisco voters were in favor of Proposition E, which required 66.7 percent of the vote to pass but got only 54.5. Berkeley's Measure D, on the other hand, which officials had referred to as their "Waterloo," will now go into effect January 1; everything from sweet teas to jumbo energy drinks to pumpkin-spice-syrup-flavored lattes will rise in cost as much as 10 percent.
Obviously, groups representing the interests of soda manufacturers are not happy about this. It's been estimated that American Beverage Association spent $2.4 million in Berkeley and $9.1 million in San Francisco to defeat the legislation. In recent months, the cities became something of a municipal battle ground, with "Berkeley vs. Big Soda" yard signs and pro-soda billboards going up all over the place. Authorities in San Francisco estimated that the proposed law would have generated up to $54 million a year and decreased consumption by up to 31 percent. As such, the anti-obesity measure would profoundly affect the bottom line of soda makers. Because the vote was technically a majority, it's a sure bet that San Francisco officials will be watching what happens at their neighbor's bodegas and grocery stores closely.
"Berkeley doesn't look like mainstream America," said Chris Gindlesperger, a spokesperson for the group representing Big Soda. "If politicians want to stake their political reputation on this, they do so at their own risk," he added, presumably before twirling his cape and evaporating into a fine trail of Sierra Mist.
Related: Berkeley Vows Its Soda-Tax Vote Is Going to Be Big Soda's 'Waterloo'
[Politico, LA Times, SF Examiner]