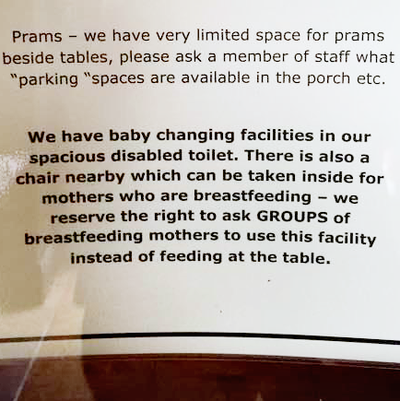 The offensive sign.
Photo: Dorking NCT/Facebook
Over in Surrey, England, there's a small, cozy-looking, and family-owned spot called Tillings Cafe. It's the sort of place that seems to have something to offer everyone, unless you and your table-mates happen to be breast-feeding small children. This, the place said, was unacceptable, so it banished said customers to the "spacious" bathroom set aside for people with disabilities. "We reserve the right to ask GROUPS of breastfeeding mothers to use this facility instead of feeding at the table," the café posted on a sign, which was helpfully laminated and attached to a window. It also suggested to mothers that they could drag the extra chair it had lying around into the restroom if they felt like it.
Of course, the suggestion that a bunch of mothers would be best off if they all jammed the bathroom and took care of their children there is outrageous, and wide-eyed customers began tweeting photos of the sign almost right away. Multitudes have now disgraced the café with some 400 one-star Facebook reviews and a trail of #eatinthetoilet hashtags on Twitter.
So one breastfeeding mum is ok but more than one is not? What's wrong with these people? #Eatinthetoilet pic.twitter.com/jc57PmrJi8— Janine Knight (@mapleleafdoula) November 19, 2014

The owner, who has most likely just ordered a copy of Twitter Outrage for Dummies from amazon.uk, has since acknowledged the "huge miscommunication," adding "we have had many happy breastfeeding mums in our cafe for the last three years" and that all are welcome in the dining room. Presumably, the online reviewing community will now resume rating the freshness of the café's scones.