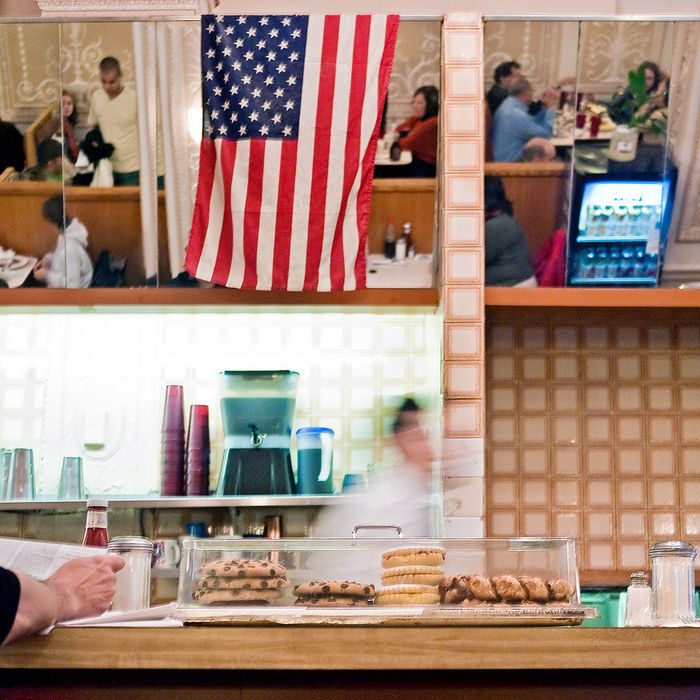 The beloved diner will close at the end of the year.
Photo: Becky/Flickr
You were a fool to get anything besides the soup. The rest of the items listed on Café Edison's laminated menu were chum for marks. The Chef Salad had flavorless, actually freezing-cold cold cuts molded in a spiral next to a few torn scraps of iceberg lettuce; the blintzes swam in vague and somehow not-tasty oil; the burgers were dry; and the pancakes were pathetic. But the soup was terrific. None of this matters, though. Café Edison was not about its food. The place was all about the place.
The first time I ate at Café Edison — which is a diner, not a café, and which will close at the end of the year — Oliver Stone sat next to me, chatting at a two-top with Paul Giamatti. It was a little less than an hour before curtain, and I had what I thought was a date to see a Broadway show (another sad story). I got one of the soup specials, noticed the soda fridge in the back still had the "red dot" logo from old 7Up cans, and made a mental note: This will be the only restaurant in Times Square where I agree to meet people. Because Café Edison was for people, not tourists. Actors, writers, critics, reporters, stagehands, theater nerds, Viacom employees, and just good, old-fashioned, cheap New Yorkers all ate here. We hung out in the only unpretentious, inexpensive, non-chain restaurant in Times Square we knew would give us a table without a wait and then some reasonably priced, decent soup. And even if you were Glenn Close — who was at the counter the last time I went there — nobody would ogle you or, for that matter, treat you like you were special in any way. You had to pay in cash, and if you wanted to use the restroom, you'd have to go through the lobby of the adjacent hotel after, until recently, asking for the key.
The staff of Café Edison wasn't particularly friendly. They didn't want you to sit in the front while you waited for your friend, even when nobody else was there. Asking a waitress to repeat the daily soups seemed like an imposition. And I never saw anyone behind the register smile. But I loved that place, and I'm devastated that it's closing. It was the only place to go when you had to be in Times Square and you didn't want to deal with the lighting or meaty fare of a bar and grill. It was connected to one of the most delightfully creepy hotels never featured in a David Lynch movie. The ceilings were tall and the booths were comfortable. They'd let you stay for a few hours and talk to your colleague, and they'd refill your coffee cups wordlessly while you did. You could get matzo brei during Passover. It was a lunch counter from another time, and it was too good to be true.
I know you have to love New York City's constant flux in order to stay in love with New York City. But this closing feels different: like the final dagger in the Times Square Tourist Elmo Massacre. Café Edison isn't Little Poland. There's no Veselka a block away; there's the M&M; store. When Prime Burger closed, I was bummed, but I never go to 51st and Madison because I'm lucky enough not to have to work in that neighborhood anymore. Café Edison lived in harmony next to Broadway theaters, and I happen to love theater. The day they move theater to Murray Hill is the day I can write off ever going near Times Square again. When you eat in proximity to things that make your heart soar, you tend to experience more sentimentality toward the demise of what it turns out to be not just a landmark, but a hearth.
And now what? No reasonable human is going to go to Bubba Gump to starch up before seeing a long play. The Angus is, I'm sorry, so overpriced, and I've had two panic attacks in their bathroom, both of which I blame on their fries. Sardi's is a joke, a dusty gag from a Muppet movie that shills $20 burgers in what should be a museum.
I will miss Café Edison, though it will be easy to walk past where it used to be without realizing what is gone. It lived tucked away with a certain amount of anonymity and uncanny, old-school dignity. Its presence as incognito to passing outsiders as Glenn Close was that day, drinking coffee alone at the counter.