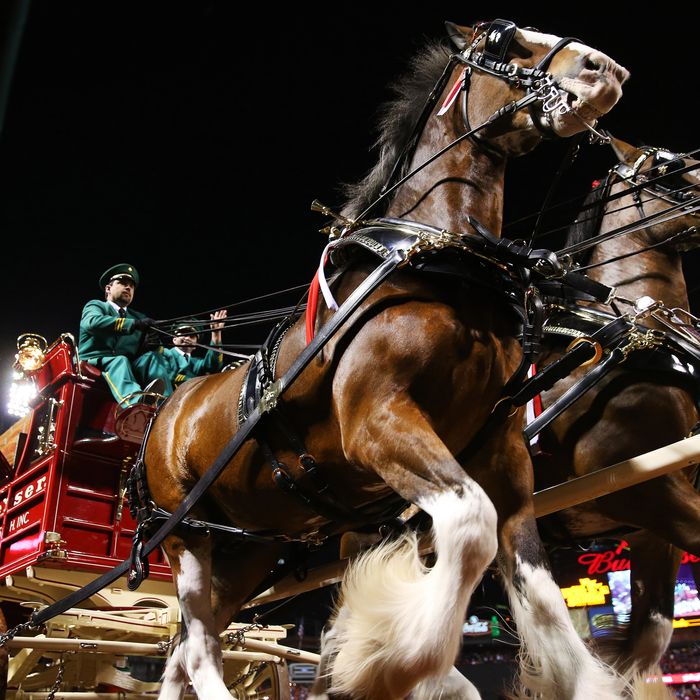 You can lead a horse to water, but you can't make people drink Bud.
Photo: Ronald Martinez/Getty Images
Almost half of 21- to 27-year-old drinkers have never tried Budweiser, the company admits, and that's a problem. The new plan is to concentrate "exclusively on that age bracket," The Wall Street Journal reports. Henceforth, marketing will be "distinctly un-Budlike," taking a form that has less to do with Nascar and more with taco festivals, because half of 21- to 27-year-olds now "identify themselves as 'foodies.'" Also, there's the promise-slash-threat of more days-long parties in college towns, which might involve Jay Z or Cash Cash, but will presumably share something in common with that infuriating "Whatever, USA" takeover of Crested Butte, Colorado.
What this means for everyone who plans to pass out in front of the television later this week, and/or straight through the year's end, however, is that those ads everyone loves with the majestic Clydesdales clopping through fields of snow are done, for now at least. The beer company's 2014 holiday season will feature a bunch of millennials professing their love for their long-lost friends via video messages, while posing with bottles and wooden crates full of Bud, because that is how the young people communicate these days.
Update: An Anheuser-Busch spokesperson sends word that rumors of the ponies' demise have been greatly exaggerated.


The story this morning may have left a wrong impression - the Budweiser Clydesdales will, in fact, be featured in next year's Super Bowl advertising and are also a part of upcoming holiday responsible drinking advertising.

The Clydesdales play a strong role for the brand, representing Budweiser quality and care for more than 80 years. As icons of the brand—and relevant symbols of integrity, perfection and team spirit for all generations—they are important to the brand and our campaigns.
And, as if to drive that point home — in more ways than one — the Clydesdales live on in this new spot.
[WSJ]