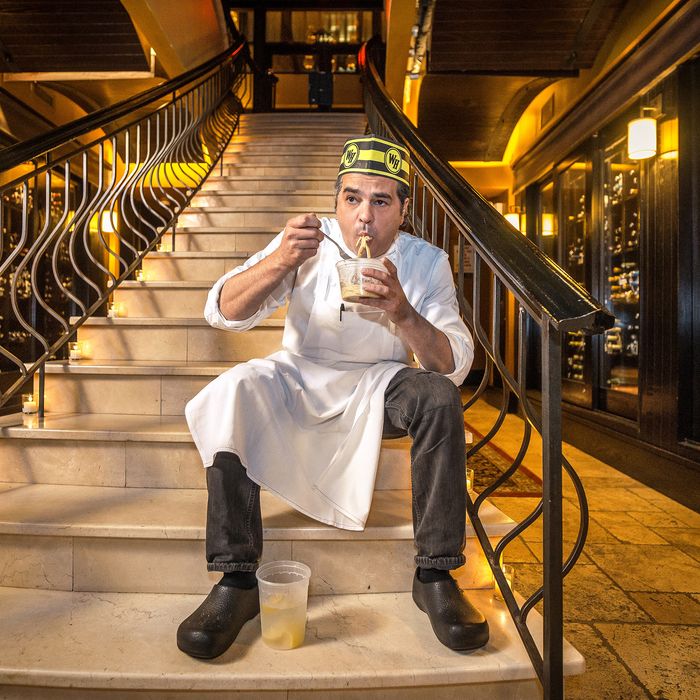 "Once you are granted permission, it's no longer tasty or fun."
Photo: Noah Fecks
Brooks Headley is perhaps best known as the James Beard Award-winning pastry chef at Del Posto, but he holds down some very interesting side gigs: He is, of course, a drummer in two different bands (one includes fellow chef Stephen Tanner), a veggie-burger pioneer, and the author of Fancy Desserts, an unconventional cookbook meets memoir. This week, Headley traveled around the country to promote the latter, landing in Washington, D.C., and Chicago. He ate well — dinner at Avec, tacos at Big Star, hash browns at Waffle House — but he also found himself swiping vegetables off of prep trays ("It tastes better if you are stealing") and spending way too much on minibar food.
Friday, November 7
I wake up on the couch at 8 a.m. at an Airbnb rental in Washington, D.C. The place smells great, despite the fact that my hoodie is deeply infused with gluten-free zeppole oil spray from last night: Mark Ladner and I did a Pasta Flyer/Superiority Burger mash-up at a ramen shop here. I was on the fryer station.
I raid the fridge for something. I find a Granny Smith apple and say, "Screw it." This is obviously a couple-situation Airbnb. The fridge looks very recently lived-in. It's weird, right? Should I be eating their apples? The apple is just okay.
Driving north on I-95, I freak out when I see the Waffle House sign and we pull off. I love Waffle House. I get an order of hash browns scattered and peppered and covered, and then douse it with Heinz 57 sauce. The jalapeños are of the super-hot variety, so I mainly eat around them — kind of like when you get a salt bagel, but brush off most of the salt. Plus: whole-wheat toast with that fake, buttery Waffle House signature margarine spread, two wonderful eggs over easy, and a vanilla Coke. Not the most balanced breakfast, but that's my fault.
I check in at Del Posto, run upstairs, and steal two half-pint containers of roasted vegetables and a handful of blanched broccoli rabe destined for family meal.
Because of Turnpike traffic (it was a six-hour drive from D.C.), I'm one and a half hours late to Music Blues band practice off the Montrose stop. But no one seems to care. Stephen Tanner, my bandmate in Music Blues, is the chef at the Commodore. We head there after practice to pick up some T-shirts and a guitar from the basement. Tanner has the kitchen make me a pulled-pork sandwich and a pint of macaroni and cheese. I'm not hungry yet, so I put it in my bag. I ask him about his pulled-pork method, and it is way more complicated and time-consuming than it probably needs to be. I decide to take a couple bites anyway. It's really tasty, and I make plans to finish it later at the show.
After the show, we get a van ride from our pal Johnny to get all the gear back into Tanner's apartment. I finish the remainder of the sandwich sitting in the back, and try to eat the macaroni and cheese with my fingers but it's a total mess.
By 3 a.m., all the drums and amps are safe in Tanner's apartment and I decide to get some plane snacks for tomorrow's flight. I'm a few blocks from the 24-hour Hana Food deli on Metropolitan and Union, so I walk over. This guy Alberto is an artist. The guy makes a solid hero. I always get the same thing if I am in the neighborhood after 1 a.m.: vegetarian chicken salad on a hero with every raw vegetable they have — lettuce, avocado, tomato, jalapeño, spinach, alfalfa sprouts, pickles, etc. The bread is always fresh-tasting and the quality of vegetables is high for a deli, especially at 3 a.m.
I also get a bag of unsulphured dried mango and some of those pretzel nuggets stuffed with peanut butter to be the contorni for my sandwich on the plane tomorrow. I have planned ahead and, boy, am I psyched.
Saturday, November 8
My flight to Chicago is in the morning, so I head back to Del Posto early to pick up my frozen box of stuff to cart on the plane. There's this rule that you can't have more than five pounds of dry ice, so it's a stressful thing to make sure everything stays frozen.
I finish Spoiled Brats by Simon Rich en route. It's perfect plane reading. And eat the remainder of my Hana sandwich and some of the dried mango. I get peanut-butter-y pretzel crumbs on the pages, too.
After I arrive in Chicago and get all my stuff safely stowed in the kitchen at Blackbird, I check my gelato. It is still frozen, so my angst is soothed instantly. Phew.
Around 8 p.m., Dana Cree, the pastry chef at Blackbird, sets me up at the bar at Avec next door. I eat a date stuffed with chorizo and wrapped in bacon that sort of pulses with neon meatiness. Then I try a couple of salads: a bibb lettuce thing that's super vinegary, and a charred kale number with blue cheese that just plain rules. They have Sagres, so I drink two of those — my favorite crummy Portuguese beer.
I meet up with my pal Steve, a former sommelier at both Del Posto and Alinea, at a bar called Archie's. They have Hamm's for two bucks a pop, so I go that route. The jukebox is blasting the Pixies and the Clash. I tell you what: I really never need to hear either the Pixies or the Clash at any bar or restaurant ever again. It's reaching epidemic proportions. I ask Steve if he thinks I could go to Alinea tomorrow and just ask for three courses. He doesn't laugh and just says, "No." Okay, scratch that off the plan.
Around 2 a.m., a dude shows up selling tamales out of a heated, handheld cooler thing. I have seen this before in L.A. I'm not hungry at all, but Steve and his girlfriend drunkenly get about 12. I am slightly disgusted by the proposition as I watch them tear the tamales apart. They re-bag the uneaten final three and give them to me in a greasy bag to take back to my hotel room. I ponder ditching the bag on the way to a cab, but decide to hold on to it.
Sunday, November 9
I am in Chicago to try to sell some copies of Fancy Desserts, along with some veggie burgers and gelato. The awesome folks at Big Star have allowed me to invade their space on Monday. I can't get into the Big Star commissary kitchen to prep until 5 p.m. today, so I decide to just hang out in my room. When I wake up, I eat two granola-y bars out of the minibar ($5 each!) and a drink a can of seltzer ($6!)
I don't have cable at home, so I use my hotel time to watch a bunch of food shows on TV. Wow. This stuff needs a remedial course of Clockwork Orange-like overexposure to old episodes of Molto Mario and Great Chefs, like, um, STAT. I also eat all of the tamales from yesterday that I stashed in the minibar fridge after emptying it of all its contents before I went to sleep. Damn, they are good — even iced cold and several hours old.
When I finally get access to the commissary kitchen, I keep stealing roasted cauliflower from a prep tray. I sneak every one, making sure no one sees me. Everyone sees me. It tastes better if you are stealing. This I have learned. Once you are granted permission, it's no longer tasty or fun.
I learn through Instagram that one of my baking idols, Dorie Greenspan, is hosting a book tour event of her own nearby in Chicago at a bakery. I get all flustered. I have just become pals with Dorie recently and make plans to attend. I get to the bakery and sadly realize it is a ticketed and way sold-out event (of course it is, it's Dorie Greenspan!) and make my way back to do more prep.
I steal a Cel-Ray soda from the Big Star walk-in cooler, forgetting how awesome and delicious the soda is. I instantly wish I had consumed it over crushed ice. That would have been great! The walk-in smells great. Like tacos. At good restaurants, the walk-ins always smell amazing.
I finish my prep around 10 p.m. and head over to Big Star for a snack. I'm by myself, so decide to get it all to go: fish taco, potato taco, and some really lime-y tortilla chips. I also request the queso fundido, which the bartender informs me is kind of a drag to go because it gets all congealed and gross. I enjoy cold, congealed stuff, so he relents and lets me pack it up. I eat them all in my room along with a can of Sierra Mist from the minibar ($5!) and pass out watching an infomercial about this crazy ladder device that I kind of want.
Monday, November 10
I wake up and eat a Granny Smith Apple that was in a welcome basket at the hotel. Not as good as the D.C. one, but does its job. Apple a day, man. Or every other day or something.
I get over to Big Star to complete my final prep stuff. I make quick pickles and portion iceberg lettuce for the veggie burgers. I also divvy up butterscotch-semifreddo base into Solo cups for the giveaway dessert I'm doing tonight. The tray of roasted cauliflower is long gone, so I look around for kitchen snacks. Don't find any.
There is a chalk painting to promote the event. Kris, a staffer at Big Star, has drawn it on a chalkboard. She drew a veggie burger in the shape of the Misfits skull complete with lettuce, tomato, and yellow cheese as skull components. A work of art. I'm thrilled.
The event goes great. Lots of veggie burgers and semifreddos get ordered and a couple of people buy books. I'm a little stressed, so I forget to eat and end up just having a couple of beers.
I get back to my hotel and realize all I have eaten today was that apple. I scan the minibar menu for the prices of the remaining snacks and they are all way too pricey, so I set ten alarms on my phone, turn the volume on high, and pray to God I don't oversleep for my 8 a.m. flight back to New York.
Tuesday, November 11
I almost miss flight from Chicago. Traffic at 6 a.m. The cab driver is listening to really terrible club music as we sit on the highway, which is making me nauseous, and I realize I'm completely starving.
Once past security at O'Hare, I realize I have a whole 18 minutes before boarding, so I get an Auntie Anne's breakfast sandwich which, believe me, is as grim as it sounds. My fast-food rule is this: It's okay if it is breakfast and I am at an airport — otherwise, no way. The egg on this sandwich is really troubling. I eat a quarter of it and toss it in the garbage.
I land at LaGuardia and go straight to Integral Yoga Natural Foods on 13th Street. I love small, independent health-food stores. I was vegetarian for a million years, so places like this really make me happy.
This is what I buy:

5 pounds of red quinoa
A half-pint of eggless vegetarian chicken salad
Weird hibiscus probiotic drink
A single organic starfruit
4 oz. box of Ak-Mak crackers
Date coconut rolls with coconut and un-toasted almonds
A glass bottle of Gerolsteiner water. More fizz. The fizziest.
A 32 oz. bottle of Dr. Bronner's peppermint soap
I take all the stuff back to my apartment, take a shower, and walk over to the restaurant. Ladner has already texted me to see if I am working today, so I walk fast. He texts me to ask if I have seen the Prune book. I respond emphatically with, "!!!!!!!"
I'm at Del Posto right at noon. Adam, our facilities manager and an aficionado of weird snacks, materializes with a single "fun-size" gingerbread Twix. We split it in four pieces and sprinkle it with kosher salt. Commercial candy always needs a little salt. Adam once showed up with a pack of root-beer-float Oreos, which were actually not that bad.
I have been away from the Del Posto kitchen too much lately, so I get Matty, our chef de cuisine, to make us an order of cacio e pepe spaghetti. We eat it straight from pint containers, family-meal style. God, it is so good. Al dente as hell — very texturally rewarding.
I spy a hunk of branzino leftover from the lunch party. I cover it with lemon juice and zest and a dribble of fancy olive oil and salt and black pepper. Fine-dining chefs have some weird beef with black pepper. I don't get it. It's an old-school French thing. I heavily pepper my scavenged fish. It's cold now. And it is heaven. I steal some roasted leftover cauliflower from a sheet pan and eat it all really fast.
Around 8:30 p.m., there's a lull in service. Gina, one of my cooks, and I start going through the Prune cookbook, page by page. She keeps going, "I want that! I want that!" We flip fast and get to page 387: pancake batter. I look at Gina, and she grins like a crazy person and goes straight down to the prep kitchen to mise out this recipe — our communication and excitement completely non-verbal. Looks like we are having pancakes for a snack later tonight. I go to the antipasti station and steal a to-go box full of all of their prosciutto scraps. This is gonna be good!
By the time Gina returns from the basement, there are 19 desserts on order. Eventually, I sneak over to the fish flattop and fire off one pancake. I bring it back to the pastry station and all three of us tear it apart and squirt maple syrup all over the single pancake. My mind starts instantly racing on how to incorporate some sort of a pancakelike thing into the dessert menu here. The tickets keep rolling in.