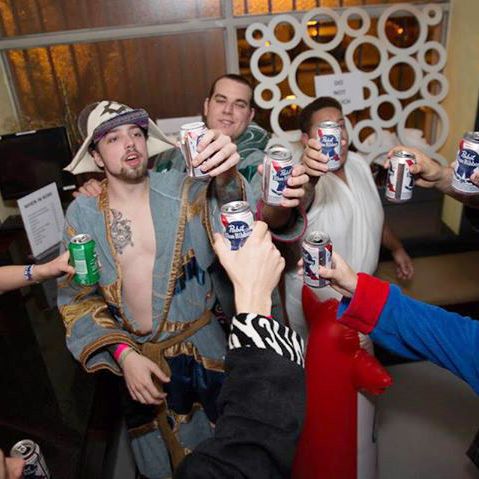 A typical "When in Robes" scene.
Photo: Travis W Keyes/When In Robe: Brooklyn SPA Dance Parties Facebook
It's taken a few years, but Brooklyn has finally started to shake off its rep as a place where men in beards temper heirloom chocolate, salads are made from mugwort growing through the sidewalk, and everything is pickled. The unending condo conversions and greater trend toward residential zoning doesn't just mean that fewer high-profile restaurants are taking gambles on the borough, but also that the vast, artsy-fratty party axis once located by Metropolitan Avenue from the East River all the way into Queens has atrophied like a diseased limb. Three-day parties in illegally converted lofts have given way to dozens of calls to 311 whenever someone throws up on the sidewalk. In fact, this very week has seen Brooklyn residents take up arms against a small army of would-be drunk assholes.
It's the borough's new battleground. A Clinton Hill massage parlor with an attached bar and restaurant inside the Chocolate Factory, which seems like an otherwise nice place to live, has started hosting "When in Robes" parties late on Sunday evenings — and neighbors are pissed. The self-explanatory themed nights have been going on since earlier this year and, as you might guess, attract the bikini and terrycloth set, from, well, who knows where, as they party every other Sunday from 9:30 p.m. to 3 a.m. The Robe partiers dehydrate rapidly in Jacuzzis and in steam rooms, toast with PBRs, and embrace blow-up clowns. There's also "complimentary food" in there, somewhere, including gluten-free options.
Residents who live above, including some with small children, aren't too thrilled about the "robed individuals stumbling around" at all hours. Others complain of cigarette smoke wafting into their windows and loud idiots in the courtyard below. The police have been called to investigate complaints, but DNAinfo reports officers corrected the issues or otherwise observed no violations.
So, it's clear that drunk hooliganism has expanded outside of its traditional hubs: resident-safe zones like Flatiron, home to the bottomless brunch and idiots on the sidewalk, and the Meatpacking District, which on weekend nights vies with the Lower East Side for the title of New York's biggest pit of debauched awfulness.
Brownstone-free Bushwick has apparently also had enough: The neighborhood has come out squarely against SantaCon, just a few days after it was announced that the orgy of polyester and vomit was moving from the East Village to Brooklyn. Even Roberta's, which canceled its annual block party in deference to the neighbors, took a bold stand against SantaCon. Bars like King's County Saloon and Montana's Trailhouse signed on to oppose the marauding Santas, too.
Even in Williamsburg, where you could once just wander around any given block a few times before finding something to do in the open loading bay doors, there are now so few dark, cavernous, postindustrial spaces left for raucous parties that Vice Media recently had to turn to Pier 9A near Red Hook to hold a joint party with Absolut Vodka. Very few people live in the immediate vicinity — it's a container terminal, after all — but several neighbors voiced opposition. Another music festival planned for the waterfront was forced to move to Governors Island, where no one lives — yet.
Related:Drunken Santas Won't Puke All Over Bushwick After All
[DNAinfo]