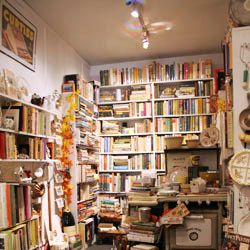 East Village–bound, hopefully.
Photo: Shanna Ravindra
Bonnie Slotnick, proprietor of Bonnie Slotnick Cookbooks on West 10th Street, tells Jeremiah Moss she has lost her lease and will vacate the West Village space by the end of January. In a note, she says the landlord "refused" to renew the lease after 15 years. Slotnick says it'll take a considerable amount of time to disassemble the shop, which is cherished by chefs like April Bloomfield, by the end of January, but she is seeking to move everything new, used, and out of print to somewhere T.B.D., most likely in the East Village.
It may seem like a very specialized market, but the city is home to three thriving cookbook stores, which are frequented by professionals, collectors, and home cooks. The shops tend to cover every category imaginable, but it could be said that Kitchen Arts & Letters gravitates toward books by illustrious chefs and Joanne Hendricks skews historical and quirky. A Times article from June put Bonnie Slotnick's inventory around 4,000 titles.
In a note, Slotnick announced her intention to stay open at least through Christmas. "[A]nd then I will be open by appointment only while I pack ALL these books," she wrote.
[JVNY]