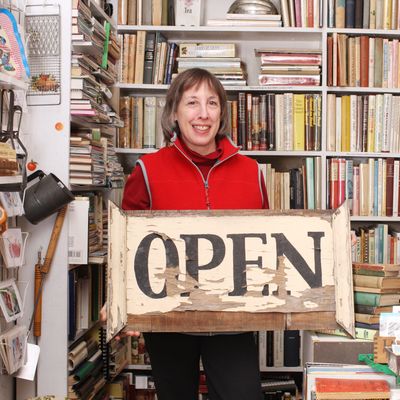 Slotnick with her famous sign.
Photo: Melissa Hom
Bonnie Slotnick Cookbooks is like a shop out of Simon and Garfunkel's version of Bleecker Street: Slotnick herself is almost always there and happily able to guide you through her vast collection of vintage cookbooks. It is, in almost every way, the Platonic ideal of a tiny, charming bookstore, occupying its own important place in the food-writing world. But now Slotnick is facing a depressingly familiar fate: She will be forced to find a new home for her store when her lease expires. "I can't believe I'm turning into one of your sad stories," she told Jeremiah's Vanishing New York. Grub talked to Slotnick about exactly why she'll be forced to move, the grind of owning a small business in Manhattan, and what her plans are going forward.
We were really disheartened to see the news that you'd be closing. Is this just another example of the massive rent hikes striking small businesses?
No, it was not a rent increase. It's a flat-out refusal by the landlord to renew my lease. I made it abundantly clear to the landlord that I wanted to stay here.
And you were told that simply wasn't possible?
This is a 130-year-old, five-story apartment building. It's owned by a family real-estate business, and the owner is just — you can fill in the blanks. I'm the second bookstore that he has cut loose, shall we say. That was mentioned in DNAinfo because I had spoken to Danielle, that reporter, just about the store, some months ago, and I said, "You know, my landlord seems to have a penchant for evicting bookstores."
 
How long have you been on your current lease?
He only ever gave me a three-year lease. So I've had to go through the lease renewal four times since I moved in. And it was always a time of tremendous anxiety for me, as you can imagine. I have to say, he did not raise the rent a lot [in the past]. But I always had to go through this, Am I gonna be here, am I not gonna be here? And there are two new commercial tenants in this building in the past year. He gave one of those a 17-year lease, and he gave the other one a ten-year lease.
What do you think it is about those tenants, as opposed to your store, that allowed them to secure long leases from the same landlord?
Well, they are paying a lot more rent than I am. And they also engaged the landlord, who has his own construction company, to do their construction. And not only did I not do that in 2000 when I moved in, I didn't know he had a construction company. When I looked at the space, which was in very bad shape … there were holes in the ceiling, there were holes in the floor. There was no bathroom, there was kind of a plinth where a bathroom had been — there was a toilet there, but there was no sink. He said — well, it was actually a broker or an agent who told me this — "We can rent it to you as it is for the price that we quote, or we can give you" — whatever they call it — "a vanilla box, and charge you a lot more." I said, "Okay, I'll fix it up myself." But these other [tenants] have paid — the restaurant guy claims to have paid half a million dollars for work and, I guess, equipment. The guy in the basement had the floor dug out and replaced with black marble because the ceiling was too low, and he had a lot of soundproofing done.
Your business is much smaller, though. You're one person with no employees. That's about as independent as it gets.
Right. And as marginal, financially, as it gets.
What made you want to open the shop in the first place?
I worked in cookbook publishing from 1984 until 2000. But at the same time that I was doing that, I was working as a book scout, which is an almost obsolete job. Before everybody was buying books online, if a bookstore needed books, they would have somebody who either went around to bookstores or sent out letters and lists of what they were looking for. I was doing that for another store, and I actually developed a bit of a following because I had out-of-print cookbook stock, and people would shop there. Ruth Reichl gave me some very nice publicity. I left there in 1997 and opened a bookstore in an office in the Village that I only intended to have open when I wasn't at work. The rent was affordable enough, but the place wasn't a real retail space. It was an office. And it really didn't work very well because the landlord wouldn't even let me put my name on the outside of the door.
So a storefront was a better option.
In late 1999, I saw the "for lease" sign in the window of this store. I live in this neighborhood, and it was a building that I walked past almost every day. I just thought, That's it. So I rented the shop even though I was still working like three-and-a-half or four days a week in an office. I said, "How am I gonna do this?" Conveniently, six months later, I got laid off from my publishing job. I'm not the best planner in the world, but I'm lucky. Things kind of work out sometimes. So I've been here for 15 years, and I also work as a freelance editor, which is sometimes absolutely what pays the rent. And some of my savings [are] going into the store. This is a classic bookseller story, you know?
So the store is just a complete labor of love?
Yep.
And now there's an outpouring of support towards your store since the news came out.
Yes. Oh my God, I can't believe it!
As an independent owner, did it always feel this tough for you in New York, or do you find that in the last few years it's become increasingly more difficult?
When I moved from the office to the storefront, I was paying almost a third more. So I did certainly take a deep breath there.
 
Can you tell me what the amounts were?
I'd rather not. But people would laugh if they heard those numbers today. But with what's going on, especially in this neighborhood, this is now a $200- to $300-per-square-foot retail neighborhood. So the little storefronts on Bleecker Street are all $30,000 a month. And that's not tenable for any small business. And you know that those are all, what do they call them, billboards. [A company can say,] "We have a store in New York. We are Paris, Palm Beach, Rodeo Drive, and Bleecker Street." So that kind of pressure has driven out so many small businesses.
Have you had a chance yet to think about where you could move the store?
Somebody called me, but it's too early to talk about it. [After speaking with us, Slotnick looked at a space in the East Village, and things sound promising.]
But you're hoping to find something similar?
Yeah. And I'm not ambitious! I certainly don't want to have six stores within a three-block area. I want to have my one store. I want to be there. I am the store and the store is me.
Earlier: Beloved Cookbook Destination Bonnie Slotnick Is the Latest Victim of Rising Rents