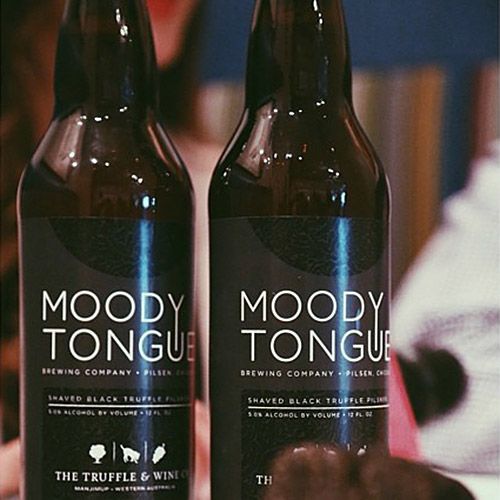 Perfect to go pairing with all your truffle mac and cheese.
Photo: Moody Tongue/Instagram
Remember that crazy-sounding black truffle pilsner developed by former Goose Island brewer Jared Rouben? The one that's made from an aromatic mix of German hops, Pilsen malt, and a giant vat of hand-sliced premium black truffles from Australia? Rouben's Moody Tongue is already selling at Chicago restaurants like RPM Italian, and New York distribution is rumored to be in the works, which leaves about 500, 22-ounce bottles unspoken for.
To remedy this surplus situation, the company has set up a special website where, from 10 a.m. to 3 p.m. on November 14, anyone who wants a crack at paying $120 for the 5 percent ABV pilsner can jot down all their pertinent details and enter the lottery. Beyond that really complicated setup, all truffle beer must be retrieved between the hours of 1 and 5 p.m. at one specific location of Binny's beverage depot. But, yes, after that, you can pop your truffle mac-and-cheese in the oven, kick back, flip on Entertainment Tonight, and enjoy. Just make sure your truffle beer isn't too chilled — low temps obliterate the flavor, apparently. "And let it breathe. This beer will evolve in a glass," Rouben says.
Related: $120 Truffle Beer Headed to NYC Restaurants
[Tribune]