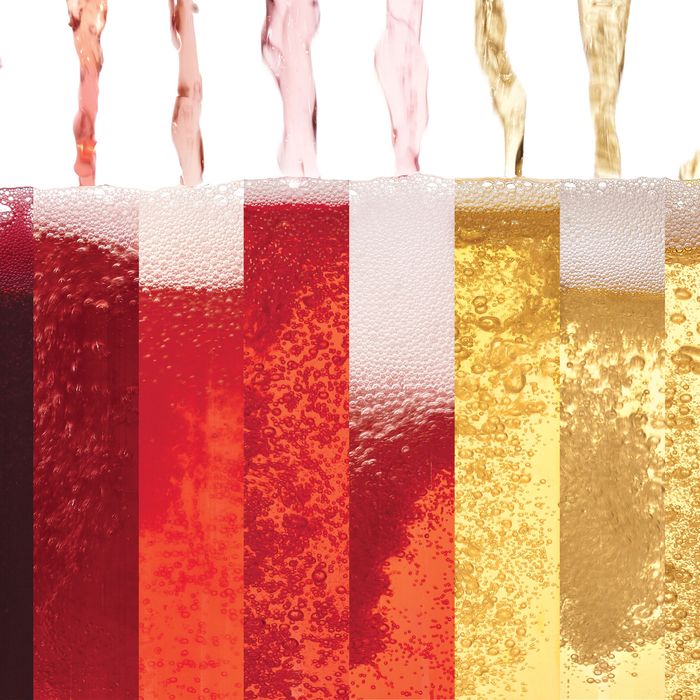 How to instantly up your party game.
Photo: Bobby Doherty/New York Magazine
 This past year's pét-nat revolution gave Champagne a run for its money. And the economy has meant its sales are on the steady decline—prosecco outsold it last year for the first time ever. Here, ten alt-bubblies.
Giulio Cocchi Asti DOCG
Asti wines, made in Piedmont, are typically sweet and have a low alcohol content. This one is distinguishable thanks to its terrific, aggressively floral, rose-heavy aroma. $18 at Martin Brothers, 2781 Broadway, at 107th St.; 212-222-8218.
2005 Sparkling Pointe Brut Seduction
This showpiece offering from the North Fork producer, which makes only sparkling wines, is aged eight years (disgorgement—removal of the lees, or dead yeast—took place this past May). It's slightly sweet and apple-y. $60 at sparklingpointe.com or 39750 County Rd. 48, Southold; 631-765-0200.
Gruet Blanc de Noir Brut
In the '80s, the French winemaker Gilbert Gruet planted a vineyard in southern New Mexico (not known as a hotbed of excellent wine), then sent his children off to harvest the resulting grapes. His trial worked; this bubbly is clean and sharp. $16 at Bottlerocket Wine & Spirit, 5 W. 19th St., nr. Fifth Ave.; 212-929-2323.
2011 Bisson Abissi Spumante
This crisp Ligurian wine is aged underwater and pulled up with sea creatures stuck to the bottles. Unsurprisingly it's cultish; buy a bottle when you see it, as they tend to be hard to track down. $85 at Astor Wines, 399 Lafayette St., at 4th St.; 212-674-7500.
Avinyó Cava Brut Rosado
An organic, jammy-but-dry cava produced by a family in the Penedès region near Barcelona from Pinot Noir grapes. This wine, with its tight bubbles, drinks delicately (it'd be great at Sunday brunch). $27 at Bottlerocket.
Punkt Genau Sparkling Rosé
Austrian-made from Blauer-Zweigelt grapes, this faintly sweet rosé has been fermented in steel tanks; it tastes of berries, brings the funk and mustiness. $16 at drinkupny.com.
Movia Puro Sparkling Rosé
A bright, biodynamic, staccato-like wine (in-your-face up front, then mellows almost instantly) whose lees aren't removed by the winemaker but the drinker: Uncork it while the bottle is submerged in icewater to allow the sediment to release (watch a YouTube video to learn how). $44 at Tribeca Wine Merchants, 40 Hudson St., nr. Duane St.; 212-393-1400.
Domaine de St. Pierre le Canon à Bulles
Despite the fact that "Le Canon à Bulles" translates to "the bomb," this light wine packs less of a punch than its sparkly brethren. That's because it's a semi-low-alcohol pétillant naturel, meaning it's made with less human interference, which results in a less aggressively bubbly wine. $24 at Free Range Wine & Spirits, 329 Atlantic Ave., nr. Hoyt St., Downtown Brooklyn; 718-643-2250.
Venturini Baldini Lambrusco Dell'Emilia
A complex and juicy example of the sparkling-red-wine standard; the vineyard is located in a park in Northern Italy, and this bottle is made from organically farmed grapes. $15 at Henry's BK, 69 Central Ave., nr. Melrose St., Bushwick; 347-435-0070.
The Chook Sparkling Shiraz
This Australian entry (chook is slang for chicken) is a medium-bodied, just-this-side-of-sweet bubbler; serve it slightly chilled alongside steaks or even a rich dessert. $19 at Bottlerocket.
*This articles appears in the November 10, 2014 issue of New York Magazine.