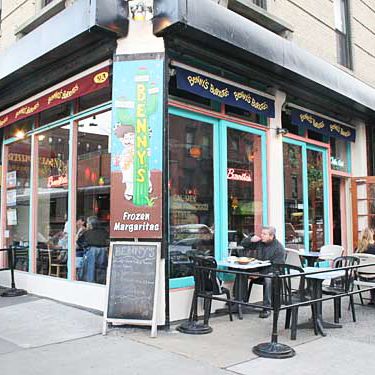 Farewell, old friend.
Photo: Shanna Ravindra
A manager at Benny's Burritos in the East Village confirmed a report today that its restaurant component will cease to exist as we know it after service on Saturday. The good news is that Benny's will continue to serve green-chile enchiladas and burritos from a takeout and delivery counter being installed right now at the back of the space, where the bar currently stands, and the transition should be seamless, a worker says. There's no word on whether the landlord will sign another restaurant tenant to operate out of Benny's former dining room. With its tall, wraparound windows at Avenue A and East 6th Street, however, the restaurant has been an irreplaceable part of the neighborhood for 26 years.
News of the burrito spot's downsizing comes a day after we learned the 110-year-old nearby Di Robertis Caffé will also close. Benny's and the Sidewalk Cafe just up the street are two holdovers from a decidedly grittier, yet seemingly more tight-knit East Village. "A lot has changed," said a longtime manager at Benny's, adding he had been working there for two decades. "It's a different economy. It's a different neighborhood."
When it opened, Benny's was known for its immense burritos, of course, but also its friendliness. Sidewalk-seated customers with dogs were never given trouble and neighbors talked to each other. Vegans were welcomed with rennet-free sour cream. A 1990 New York guide rated Benny's — along with Florent and Lucky Strike — as a prime late-night hangout, the kind of spot where "three drop-dead Julia Roberts look-alikes" walked in for late-night nachos just as the table next to you was getting deep into the semiotics of the newest Madonna video. In the early part of the decade, it was one of the few Avenue A establishments to offer brunch. In short, bright, cheap places like Benny's not only don't exist anymore, they seem entirely impossible.
Benny's in the West Village shares a name but no affiliation with the East Village original. The Avenue A restaurant is related to Harry's Burritos on the Upper West Side. It, too, is scheduled to close, a worker says, perhaps as soon as this weekend.