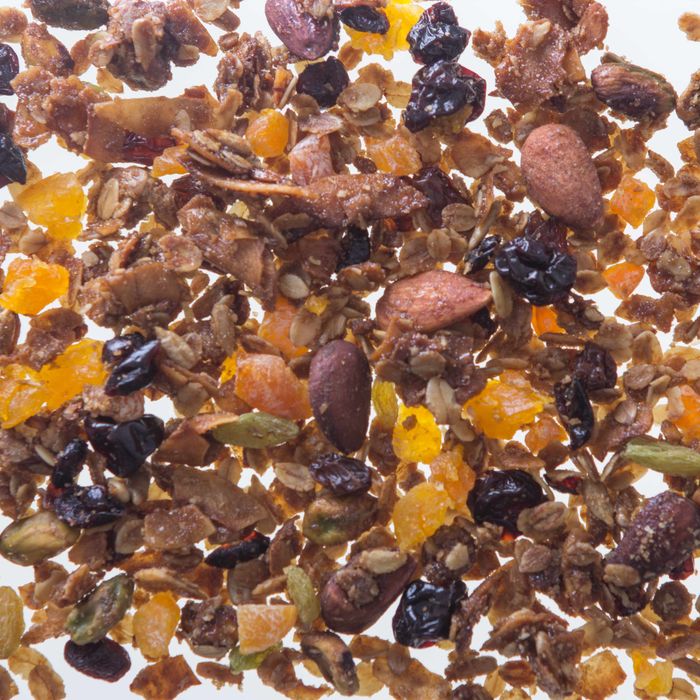 The new Early Bird.
Photo: Jed Egan
The last thing New York really needs is another brand of handcrafted granola. There's Early Bird. And Granola Lab. And Blue Ribbon Bakery Market's Best of New York–winning blend. Don't forget about the Smile's version. Or even the little jar you get after a meal at Eleven Madison Park. And yet, upon trying Augie's Treats for the first time, Grub Street's keenly honed granola palate knew instantly that it is something truly special.
The whole "city resident moves to country and becomes an artisan" story is familiar, but 50-year-old Nancy Booke isn't just a city expat, she's also a true urban forager. While working as an interior designer, she'd regularly drive from place to place just to pick up what she felt was the best version of a particular food. (Russ & Daughter's for smoked fish, but Murray's for bagels. Di Palo's for mozzarella, Kalustyan's for spices, Orwasher's for bread, and City Bakery for marshmallows.) Later in life, when Booke moved to upstate New York and starting casually baking her own granola — she wanted a snack for walks with her Newfoundland, named Augie — she took a similarly obsessive approach to meticulously tracking down each and every ingredient she intended to use.
Take the maple syrup, for example. Booke buys it from local Black Creek Farms, and the farmer gives her a special blend that's extremely dark — even richer than the traditional grade B. "I need it to get that caramelized coating on the granola, so it's not dusty," she says. Wait, "dusty"? Booke explains, "A lot of the time, you'll see granola in a place like Whole Foods, and it's in a vat. You open up the plastic bottom and it comes into your bag and there's nothing in it but, like, horse oats. And that doesn't entice me in the least. I wanted lots of textures and depth of flavors — each bite should taste different."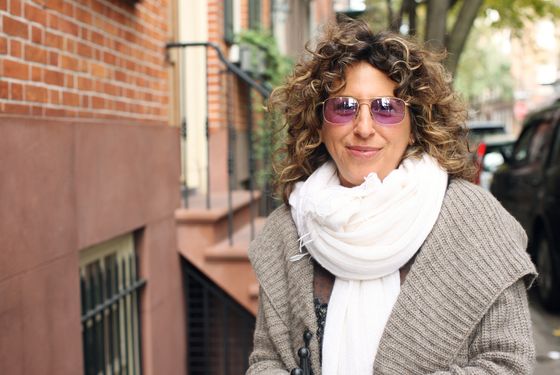 Here's how Booke achieves that textural depth: She starts with thick, whole, organic rolled oats (that happen to be gluten-free). The extra-virgin olive oil comes from Dancing Ewe Farm. There's just the right amount of sea salt. Her assortment of organic dried fruits includes two different kinds of apricots (one Californian, one Turkish), sour cherries, coconut, cranberries, and Hunza raisins. Plus: whole pistachios, almonds, and sunflower seeds.
Then the roasting: "I try to get it as dark as I can before you hit burnt," she explains. "I want the granola ingredients to look like jewels."
The granola isn't cheap — $12.99 per bag — but think of this as what Black Seed is to bagels. She also makes a chocolate-chunk flavor, with organic, 70 percent dark Agostoni chocolate ($15.50), and her next variety is called Sunny Day — a tropical blend of mango, pineapple, more Hunza raisins, cherries, and apricots.
Right now, Booke spends 12 hours each day baking (she has hired a part-time baker, and her 22-year-old son, Henry, works with her full-time), and she says she can easily produce 1,000 pounds of granola a week. Even still, the granola is only available at nine specialty stores (and in New York City, Forager's City Grocer is the only distributor). But Booke wants to change that, too, and get Augie's into the New York gourmet shops she frequents — Murray's Cheese, Dean & DeLuca, and Russ & Daughters — though she's less enthusiastic about hitting markets with lower price points. "I could definitely pick other, less expensive places to source ingredients — take it down a notch or two — but it just wouldn't be the same," she says. "And, I don't know, maybe customers wouldn't notice. But I would notice!"