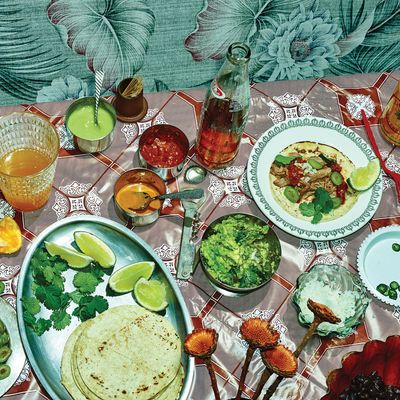 Photo: Keirnan Monaghan. Prop Styling by Theo Vamvounakis.
Alex Stupak, the former molecular pastry chef at Alinea and wd~50, became obsessed with Mexican cuisine after falling in love with a Mexican pastry chef. "She introduced me to the food," he says, "and it got under my skin." He vowed he would open a restaurant by the age of 30, and he did, in 2011. Empellón Taqueria, his inventive high-end taco shop, was soon followed by Empellón Cocina.
His latest spot, Empellón al Pastor, is a super-casual bar and tortilleria specializing in $4 slow-roasted-pork tacos served on paper plates. Here, he created a menu for a sprawling lamb-barbacoa-taco party. The lamb is rubbed with adobo sauce, enveloped in banana and avocado leaves, and left to steam slowly for six hours. His taco-party tip: "Heat up your tortillas about an hour before everyone arrives, and keep them in a beach cooler. Let people reach into it themselves. It's one less thing for you to do at the last minute."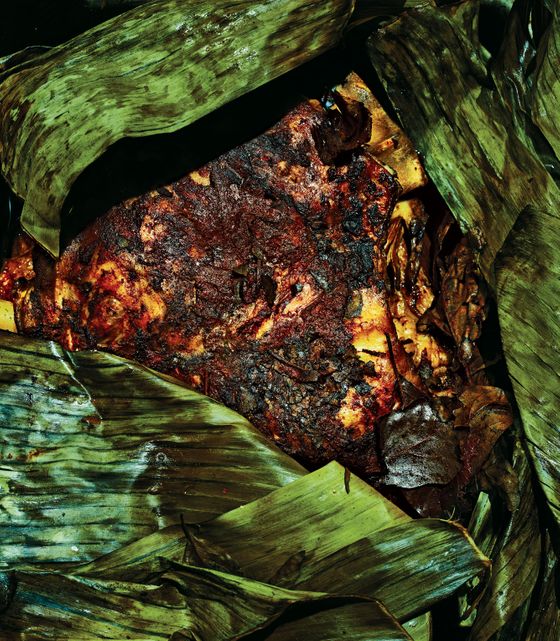 The Menu:
Lamb barbacoa tacos with adobo sauce
Charred onion
Guacamole
*This article appears in the November 10, 2014 issue of New York Magazine.
Related: First Look at Empellon al Pastor, Now Open in the East Village
5 Things Alex Stupak Learned About Tacos al Pastor in Mexico