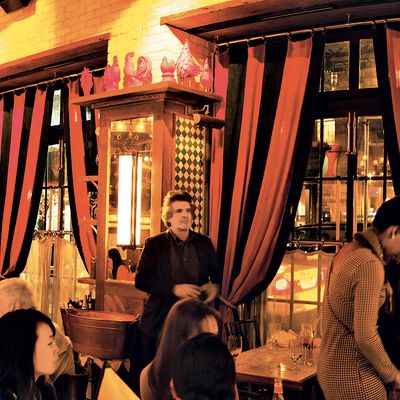 Dirty French
Photo: Carolyn Griffin/New York Magazine
I can't say that it's actually fun being kicked out of a restaurant in the middle of a generally enjoyable (though insanely priced) dinner by the kind of implacable-looking bouncer that you usually see glowering behind the velvet ropes of Jay Z's favorite nightclub. But for a sedentary, fatso restaurant critic, the experience has a certain vividly bracing quality. It's like bungee jumping, I imagine, or parachuting (or being thrown) from an airplane for the first time. I remember the precise dish I was eating when the bouncer loomed over our table at Mario Carbone and Rich Torrisi's South Village tasting room, ZZ's Clam Bar (it was a mackerel crudo). I remember the look on the face of my startled guest (befuddlement, then anger, then pink-faced resignation), and the sputtering, weirdly energizing sense of outrage as we stood out on the sidewalk trying to figure out what the hell had just happened. I never did find out, although presumably they didn't appreciate the lukewarm review I'd given their popular neo-red-sauce establishment Carbone.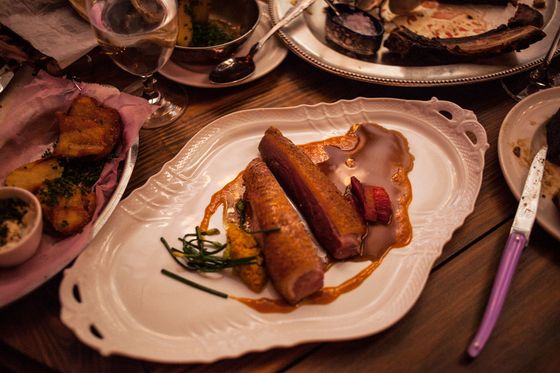 So I'm a little sad (though not too sad) to report that there is no giant bouncer situated at the entrance of Team Torrisi's latest venture, Dirty French, which opened a couple of months ago down the block from Katz's Deli, off the lobby of a new boutique establishment called the Ludlow Hotel. Compared with the cramped quarters at ZZ's, the dining room feels almost spacious, with a 14-seat bar up front, several rows of café-style tables topped with marble, and a line of comfortable blood-colored banquettes along the wall. For decoration, the proprietors have scattered a variety of theatrically mismatched bric-a-brac around the room (pink-rooster figurines, Greek busts, a gold mirror rimmed with lightbulbs), but the atmosphere is less precious than at their pricey tasting rooms, and slightly less hectic and circuslike than at Carbone.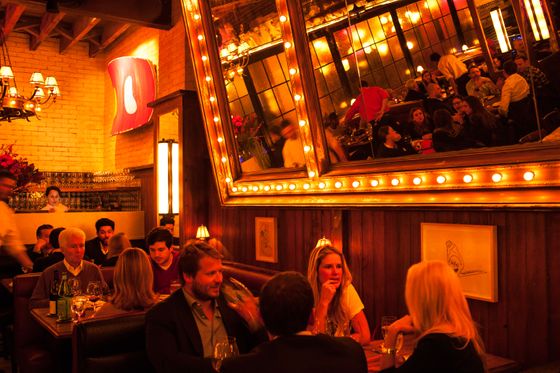 As the name indicates, the focus at this uneven, generally pleasurable restaurant is on the ancient canon of French cuisine, although the "Dirty" influences appear to come from all over the map. The enticing, beautifully scripted menu is divided into the usual timeless categories ("Hors d'Oeuvres," "Salade," "Poisson," etc.), but look closely and you'll see that the trout meunière is speckled with sesame seeds, and the house version of frisée aux lardons is garnished with a strange ingredient called "sizzling giblets." The roasted clams are flavored with "berbere spices," the haricots verts aren't haricots verts at all (they're "haricots asiatiques"), and the usual baguette-and-butter service has been replaced by fresh-baked Moroccan-style flatbreads, which are hoisted to the table with a schmear of fromage blanc scattered, like a robust gourmet version of the old supermarket classic Boursin, with herbes de Provence.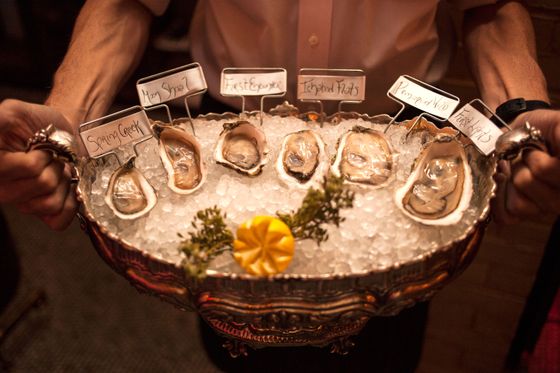 Invariably, some of these rash experiments work better than others, and many of the most successful recipes tend to come during the hors d'oeuvre portion of dinner, before the relentless heaviness of the cooking sets in. In addition to berbere spices, the crunchy-topped roast clams are garnished with almonds and gouts of brown butter, and if you order the $24 foie gras terrine, you'll find that it's been wrapped, ingeniously, in a warm sleeve of brioche dough and brik pastry and dusted with tiny flakes of burnt lemon powder. The excellent lamb carpaccio has a similar Moroccan kick to it (it's pooled with ­guajillo-­chile oil on top and plated under a scrim of yogurt), the mille-feuille is inventively constructed with slivers of trumpet mushrooms and green Thai curry, and the house tuna tartare is touched with Thai chile and designed to be eaten as a satisfyingly messy finger food, with torn strips of crackly, roti-style "crêpe Indochine."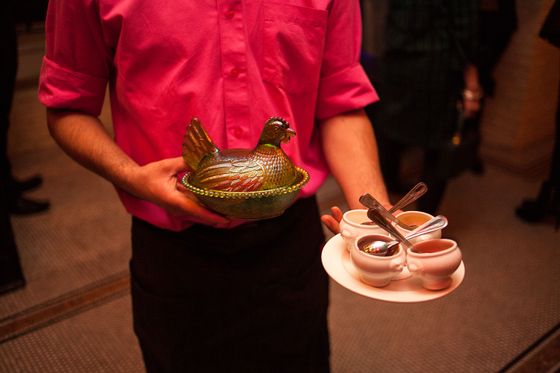 The entrée portion of dinner at Dirty French is more muddled in quality and execution, and, as usual in this expansive empire-building stage of the Torrisi-­Carbone partnership, not cheap. The aforementioned trout meunière is a nicely cooked piece of fish, but the consensus among the somewhat scandalized Francophiles at my table was that the sesame seeds made the dish taste a little too much like some strange bastardized version of Chinese shrimp toast. The radical fusion version of steak au poivre was better received (the Wagyu short rib is pickled, pastrami style, in lemongrass and Kaffir lime), but the chicken and crêpes for two was muffled in a heavy, weirdly tasteless cream sauce, and my unwieldy slabs of duck à l'orange were curiously undercooked.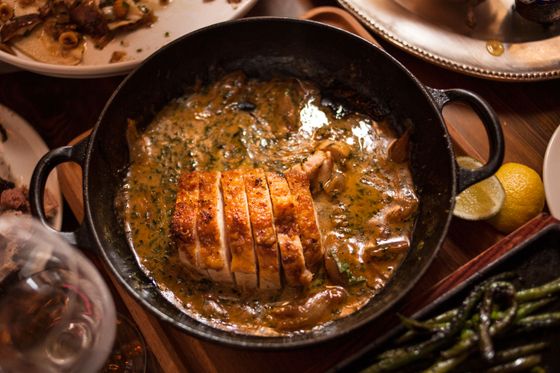 My advice to die-hard Torrisi fans would be to share one or two of these stolid dishes (the short rib; the sausage, which is served as an appetizer but works as an entrée; the black bass "en papillote," if you're attempting to eat light), save a few extra calories for the wines (expertly dispensed by the exotically dressed wine director, Lelañea Fulton), and jump straight into the desserts. The pastry chef, Heather Bertinetti (Convivio, Marea), has a knack for taking familiar compositions and making them new. It turns out that pineapples work pretty well in a tarte Tatin, especially when topped with a boozy scoop of rum-raisin ice cream. Her slim, dense citrus tart is the perfect antidote to an overwhelmingly rich dinner, and if you crave more richness, call for the sugary, balloon-light beignets, served with caramel sauce that is spiked, in a dirty New Orleans way, with a backwoods hint of chicory.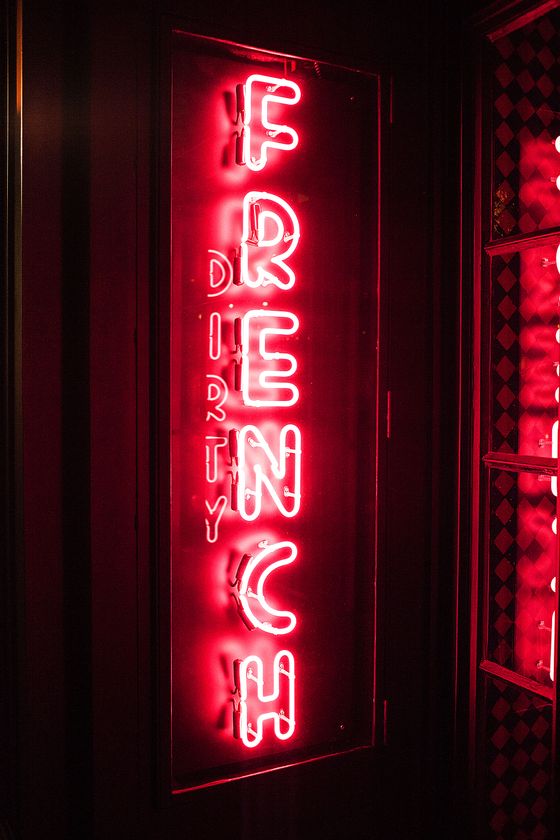 Dirty French
180 Ludlow St., nr. Houston St.; 212-254-3000; dirtyfrench.com
Hours: 5:30 to 11:30 p.m.; closed Sunday.
Prices: Appetizers, $12 to $24; entrées, $24 to $39.
Ideal Meal: Tuna tartare, foie gras terrine or lamb carpaccio, steak au poivre or boudin sausage, tarte Tatin or beignets.
Note: High rollers, beware: The underwhelming "market price" côte de boeuf for two cost $234 on the evening I made the mistake of ordering it.
Scratchpad: One star for the appetizers and another for the desserts.
*This article appears in the November 17, 2014 issue of New York Magazine.
Related: 6 More Things You Should Know About Dirty French, Including Oyster Inspections, Algerian Crêpes, and Giblets on a Stick