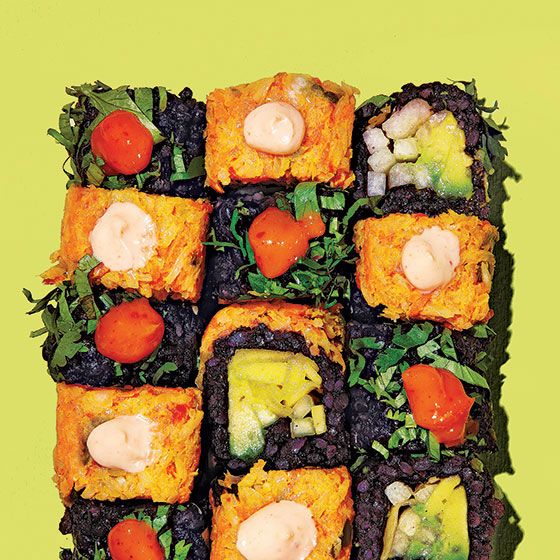 Beyond Sushi's vegan rolls.
Photo: Bobby Doherty/New York Magazine
For those nights when trips to the grocery store, wine store, liquor store, meat market, cheese shop … become too much, we give you 35 top-notch delivery suggestions. Simply pick up the phone to get your holiday party started.
Custom coffee bar (hand-poured coffee and espresso drinks)
For 30
From Joe Coffee, $300 per hour; 212-924-7400
A box of 40 breakfast taquitos
(Scrambled eggs, guac sauce, Sriracha, bacon bits)
From Taquitoria, $80; 212-780-0121
An olive-oil-infused, vegetable-and-grain-centric Mediterranean-diet lunch
For 5
From Sara Jenkins and Joe Ciriello's new Olives & Orange catering service; $60; olivesandorange.com
Hot chocolate and pretzel croissants
For 20
From the City Bakery, $150; thecitybakery.com
A Deluxe Nosh Platter
(Gaspe Nova and sable, bagels, bialys, plain and scallion cream cheeses, fresh-squeezed orange juice, pickles, babka, and rugalach)
For 25
From Russ & Daughters, $619; 212-475-4880
Chopped liver molded into the shape of a heart
For 45
From 2nd Ave Deli, $85; 212-689-9000
A Carolina whole-hog barbecue
For 50
From Arrogant Swine, $2,000; 347-328-5595
Spicy-pork pigs in a blanket
For 28
From Brooklyn Piggies, $40; 212-533-3800
House-cured salumi platter
For 10
From Il Buco, $65; 212-533-1932
German-chocolate Jimbo sheet cake
(With Crack Pie filling)
For 150
From Momofuku Milk Bar, $225; 347-577-9504
A vegan "sushi"station
(Includes vegan "sushi" chef)
For 50
From Beyond Sushi, $1,250; 646-861-2889
A pizza party for 50
(With pies like the Cheeses Christ [mozzarella, taleggio, Parmigiano-Reggiano])
From Roberta's, $1,000; 718-417-1118
A five-and-a-half-foot-long prosciutto-and-mozzarella sandwich
(On freshly baked pizza bianca)
For 30
From Sullivan St Bakery, $250; 212-929-5900
Tacos
(Served from a tricycle cart, plus esquites and guacamole and chips)
For 25
From Tacombi at Fonda Nolita, $1,600; tacombi.com
An "Incomparable Party Sandwich Platter"
(Your choice of titanic sandwiches, plus pickles, coleslaw, and potato salad)
For 8
From Carnegie Deli, $216; 212-757-2245
The Bucket System Whole Shebang
(Chicken, biscuits, sides, drinks, and a pie)
For 6
From Pies-n-Thighs, $115; 347-529-6090
Porchetta sandwiches
For 50
From Porchetta, $580; 212-777-2151
A chocolate-rugalach platter
For 12
From Breads Bakery, $36; 212-633-2253
A smoked-meat-and-sausage platter
For 10
From Polish-kielbasa masters Jubilat Provisions, $45; 718-768-9676
An American-farmstead-cheese spread
For 50
From Saxelby Cheesemongers, $285; 212-228-8204
A cured-meat platter
For 40
From Despaña, $95; 212-219-5050
A mini-cookie platter
For 20
From Thomas Keller's Bouchon Bakery, $62; 212-823-9357
Baked ziti
For 10
From L&B; Spumoni Gardens, $35; 718-449-1230
A deep-fried turkey Thanksgiving dinner
For 10
From Jive Turkey, $380
A feast of the seven fishes
For 4
From Mike's Deli in the Bronx; $139; 718-295-5033
Hanukkah brisket with gravy
From Eli's Manhattan, $45 per pound; 212-717-8100
A three-meat platter
(Pastrami, brisket, and corned beef)
"feeds three tourists or one regular"
From Katz's, $34; 212-254-2246
Cavatelli with hot sausage and browned sage butter
For 10
From Frankies Spuntino, $180; 718-403-0033
A Big Daddy 100-piece fried-chicken party platter
(With bacon-loaded fries, salad, and two sides)
For 40
From Blue Ribbon Fried Chicken, $475; 212-228-0404
A dim sum feast
For 20
From RedFarm, $1,000; 212-792-9700
Masabache hummus
(With whole chickpeas, fresh garlic, and lemon, plus pita; served warm)
For 100
From Mimi's Hummus, $260; 718-284-4444
Housemade beef, chicken, or callaloo patties and jerk wings
For 25
From Miss Lily's, $150 (patties), $125 (wings); 646-588-5375
"Crif Packs"
"Chef's choice" hot dogs and sides
For 4
From Crif Dogs, $40; 212-614-2728
A Grand Smoked Plateau
(Gaspe Nova, Scottish salmon, pastrami salmon, whole whitefish, house-pickled herring with cream sauce and onions, and kippered salmon with bagels and bialys and scallion and plain cream cheeses)
For 10
From Shelsky's, $400; 718-855-8817
A giant tub of Ample Hills Ooey Gooey Butter Cake ice cream
(Or other flavors)
For 65
$195; 347-240-3926
*This article appears in the November 10, 2014 issue of New York Magazine.