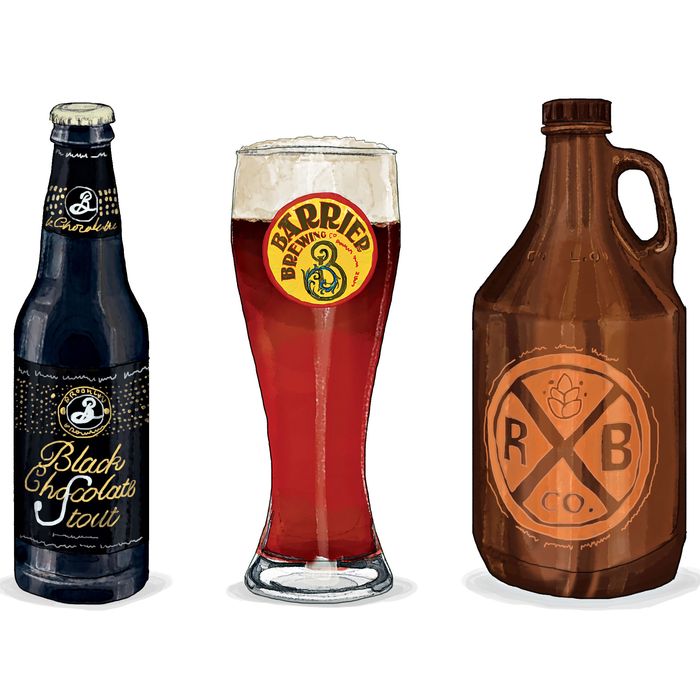 Photo: Illustrations by Ellaphant in the Room
From chocolate-layered imperial stouts to bitter and balanced IPAs, a breakdown, by category, of the best bottled and on-tap beers made in and around New York City.


Dark
Malty, food-friendly lagers, rich porters, and stouts.
Imperial Stout
Brooklyn Brewery Black Chocolate Stout
Layered with flavors of espresso, molasses, and chocolate, the cold-weather seasonal is suited for fireside sipping or an adult ice-cream float. (Brewmaster Garrett Oliver's pro tip: Pour beer first.) 10 percent ABV; $10 for eight ounces at Beer Authority, 300 W. 40th St., nr. Eighth Ave.; 212-510-8415.
Porter
Barrier Brewing Rembrandt Porter
Two years after Hurricane Sandy flooded Barrier, destroying equipment and ingredients, the resurgent Oceanside brewery (run by veterans of Sixpoint) is stronger than ever, turning out robust beers like this smooth porter redolent of dark-roasted coffee and mocha. 7.5 percent ABV; $6.50 for 16 ounces at the Ginger Man, 11 E. 36th St., nr. Fifth Ave.; 212-532-3740.
Stout
Rockaway Brewing Company Black Gold Stout
Born by the beach but now based in Long Island City, Rockaway specializes in classic styles such as this Irish dry stout drenched with flavors of dark-roasted coffee. Try the nitrogen-dispensed version, which is extra-creamy. 5.6 percent ABV; $15 for a 64-ounce growler at 46-01 5th St., Long Island City; 718-482-6528.
Dark Lager
KelSo Nut Brown Lager
Malty, nutty, and snappy, the Clinton Hall-crafted dunkel, or dark lager, from KelSo (a mash-up of brewer Kelly Taylor and wife Sonya Giacobbe's first names) goes well with steak and barbecue. Grab it in cans or on draft. 5.75 percent ABV; $6 for 12 ounces at Taproom No. 307, 307 Third Ave., nr. 23rd St.; 212-725-4766.
*******************
Hoppy
Fragrant, flavorful, and agreeably bittered pale ales and IPAs.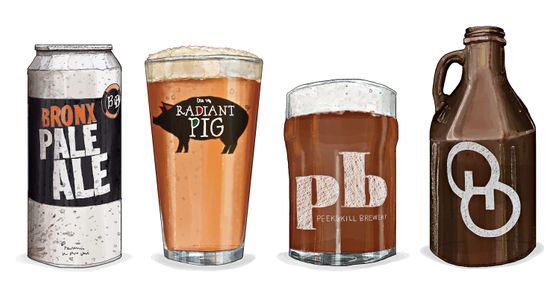 Pale Ale
Bronx Pale Ale
Head brewer Damian Brown spent a year refining Bronx Brewery's flagship pale ale, a caramel-kissed easy-drinker sold by the 16-ounce can. In October, the brewery unveiled its anticipated South Bronx tasting room. 6.3 percent ABV; $3 for 16 ounces at Top Hops, 94 Orchard St., nr. Delancey St.; 212-254-4677.
Session IPA
Radiant Pig Junior IPA
With low alcohol and aromas of citrus and tropical fruit cranked high, the IPA from Radiant Pig (Manhattan-based but brewed just outside the city) will keep you upright until last call. 5 percent ABV; $7 for 16 ounces at Draught 55, 245 E. 55th St., nr. Second Ave.; 212-300-4096.
IPA
Peekskill Eastern Standard IPA
Smooth balance, not palate-wrecking bitterness, is the calling card of this Westchester IPA packed with piney, woodsy Simcoe and tropical Citra hops grown in Washington State. 6.8 percent ABV; $7 for 16 ounces at 4th Avenue Pub, 76 Fourth Ave., nr. Bergen St., Park Slope; 718-643-2273.
Double IPA
Other Half Brewing Co. Green Diamonds
Since January, the Carroll Gardens outfit (run by two Greenpoint Beer Works vets) has produced the city's finest, and freshest, IPAs, including this juicy heavyweight loaded with Australia's melon-y Galaxy hops. 9.1 percent ABV; $6 for 12 ounces at 195 Centre St., nr. Smith St., Carroll Gardens; 347-987-3527.
*******************
Belgian Style
Spiced wheat beers and funky farmhouse ales.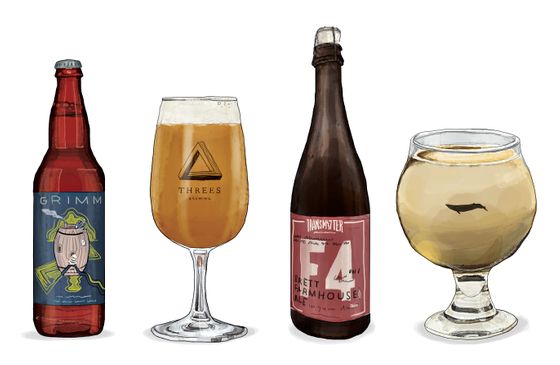 Tripel
Grimm Artisanal Ales Bees With a Buzz
Nomadic brewers Joe and ­Lauren Grimm formulate ­recipes in Brooklyn and, at facilities across the East Coast, brew standouts like this lush, honey-driven Belgian-style ale aged for four months in brandy barrels. 8 percent ABV; $16 for 750 ml. at American Beer Distributing Company, 256 Court St., at Butler St., Cobble Hill; 718-875-0226.
Saison
Threes Brewing Mechanical Spring
At the spanking-new brewpub (which opened in early ­November), brewer Greg Doroski packs this deceptively potent farmhouse ale with heaps of hops, lending it notes of ripe pears and orange marmalade. 7.2 ­percent ABV; $5 for ten ounces at 333 Douglass St., nr. Fourth Ave., Gowanus; no phone.
Wild Beer
Transmitter Brewing F4
Three strains of wild Brettanomyces yeast furnish the farmhouse ale—brewed beneath the Pulaski Bridge—with a fruity aroma that, as the months pass, will be complemented by a dry, earthy complexity. 6.8 percent ABV; $15 for a 750-ml. bottle at 53-02 11th St., Long Island City; 646-378-8529.
Witbier
Finback Brewery Double Sess(ion)
In January, Kevin Stafford and Basil Lee opened this Queens brewery that specializes in accessible beers with experimental verve. Spiced with ginger, chamomile, and Szechuan peppercorns, Finback's take on Belgian beer is floral and refreshing. 4.5 percent ABV; $5 for 13 ounces at 78-01 77th Ave., Glendale; 718-628-8600.
*******************
Easy Drinkers
Low-alcohol, flavor-packed offering that you can sip all afternoon.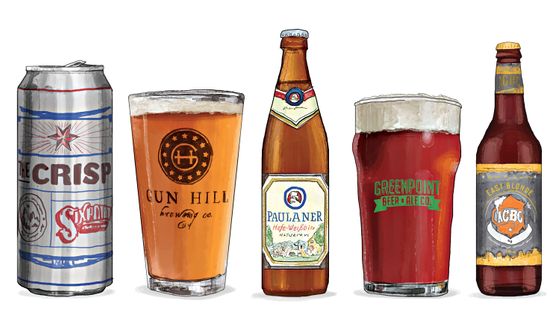 Pilsner
Sixpoint the Crisp
Celebrated for its funky modern formulations, Brooklyn's Sixpoint also excels at old-world styles such as this zippy-drinking German-slash-Czech ­pilsner punched up with lemony bitterness. 5.4 percent ABV; $6 for 12 ounces at Rattle N Hum, 14 E. 33rd St., nr. Fifth Ave.; 212-481-1586.
Golden Ale
Gun Hill Brewing Gold
Gun Hill, which opened in March, offers this smooth blond ale that's generously dosed with Mt. Hood hops, supplying a sweet and flowery aroma. It's a great gateway craft beer. 4.5 percent ABV; $5 for 16 ounces at 3227 Laconia Ave., nr. Boston Rd., the Bronx; 718-881-0010.
Hefeweizen
Paulaner Hefe-Weizen
Earlier this spring, the legendary German brewery rebooted its Bowery brewpub with a rustic vibe. This offering is dry, fruity, and topped by meringue-like foam. Try it with bratwurst. 5.3 percent ABV; $7 for 16.9 ounces at 265 Bowery, nr. ­Houston St.; 212-780-0300.
English Mild
Greenpoint Beer & Ale Co. Fisticuffs
Despite the dainty ABV, this ale from Greenpoint (beer hall Dirck the Norseman's house brewery) delivers massive flavors of nuts, brown sugar, and coffee. Drinking it by the liter would not be frowned upon. 2.9 percent ABV; $7 for 16.9 ounces at 7 N. 15th St., at Franklin St., Greenpoint; 718-389-2940.
Kölsch
Alphabet City Beer Company Easy Blonde
Brewed in upstate New York, ACBC's smooth and lightly citrusy kölsch-style ale is fermented at warmer temperatures, then cooled as it's aged to create a snappy finish. 4.7 percent ABV; $6 for 16 ounces at Alphabet City Beer Co., 96 Ave. C, nr. 7th St.; 646-422-7103.
*This article appears in the November 10, 2014 issue of New York Magazine.