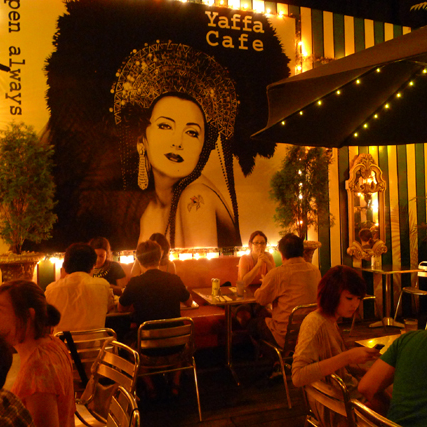 The landmark will live on just down the street at Simone Martini Bar.
Photo: Yaffa Cafe
One of the last bastions of classic East Village eccentricity has shuttered: The famed backyard garden at Yaffa Cafe has been dismantled, and the thirtysomething-year-old restaurant itself has tweeted that its recipes will live on at Simone Martini Bar, its sister establishment, right down the block. The first real sign of its demise, tellingly, was the giant Google sign that went up right over the establishment's long-standing "open all nite" sign last month.
Chances are if you moved to the East Village in the early '90s and had no idea what you were doing, someone told you to go check out Yaffa Cafe. Or maybe you were 19, had taken the LIRR into Manhattan, your fake ID got you kicked out of some bar, and then you somehow discovered the place like some kind of Northern Star on St. Marks. The place let everyone in. It was a dark, burlesque-lamp-lit refuge for all kinds of tourists, neighbors, freaks, and fellow travelers, sure, but moreover, it was pure and friendly kitsch in the pre-Friends era. It was a magical establishment that could only exist in New York City, where you were more likely to end up randomly conversing with a stranger for three hours after your friend fell asleep at the table at five in the morning. The menu happened to be mostly vegetarian, too.
Earlier this year, the Health Department shut the restaurant down after an inspection, and the DOB slapped its outlandish backyard with a vacate order. Yaffa Cafe's owners said they would return at the time. It's unclear what will happen to its furnishing or decor, or if a little bit of Yaffa will make it to the Simone along with the recipes.
Related: New Yorkers Mourn the Loss of Yaffa Cafe
[EV Grieve]