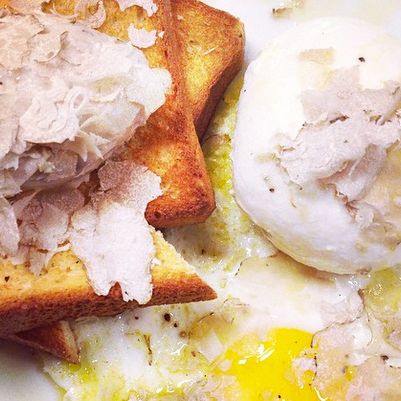 Kingside's "BLT," with burrata, lardo, shaved white truffles, and a sunny-side-up egg.
Photo: Courtesy of Kingside
White-truffle season is upon us, and this year, the good news is that the pickings are a bit cheaper than you might expect. Why, exactly? Warm, wet weather in northern Italy has made for a particularly abundant crop and brought prices down for truffle lovers all around the world — so the time to strike is now. Here in New York you can enjoy the delicacy at a number of places for $50 or less. Granted, these deals aren't "cheap" by any stretch of the imagination, but they won't set you back as much as, say, a $150 shaving of white truffle at Le Cirque. Check out nine restaurants offering great steals, straight ahead.
Locanda Verde
Andrew Carmellini will host his fifth annual Trufflepalooza from October 15 through December 15. This year, Locanda's going à la carte with four new truffle specials: organic soft-scrambled eggs with truffle vinaigrette ($35), potato-gnocchi parmigiana ($50), tagliolini al moro with Castelmagno cheese ($50), and fantasia di tartufi bianchi ($35).
Kingside
Marc Murphy serves an elevated BLT with burrata, lardo, shaved white truffles, and a sunny-side-up egg ($38), as well as a handmade spaghetti with Parmesan and truffle two ways, shaved over top and in a rich butter ($45).
Otto
White truffles come in a linguine with Parmesan ($40), and if you're willing to bump up $5 above our price barrier, you can also get a pizza topped with buffalo mozzarella, guanciale, and a sunny-side-up egg ($55).
Rosemary's
Get the simple, house-made fettuccine with white truffles and a "trickling" of cultured butter ($48), or add shaved truffles to any dish for $10 per gram or $40 per five grams.
A Voce Madison
Prices will vary depending on market availability, but you can expect to pay around $30 to supplement any dish and about $45 for the special linguine with butter, Parmesan, and white truffles.
Betony
Chef Bryce Shuman offers "risotto" made out of chestnuts instead of rice and topped with a fontina foam and shaved white truffles ($27).
Lincoln
Kick-start your night at the opera with two special entrées featuring shaved white truffle: hand-cut tajarin ($45) and agnolotti with braised veal ($55). Or, even better, add truffles to dishes like veal tongue or braised short ribs for $25 extra, whether you dine à la carte or prix fixe.
Morandi
Head to Keith McNally's West Village Italian spot during lunch or brunch and the kitchen will shave white truffles over soft-scrambled eggs on toasted brioche ($40).
Minetta Tavern
Speaking of Keith McNally, here, the kitchen shaves two grams of white truffles on top of a hearty barley risotto made with smoked ham bouillon and sautéed foie gras. It's finished with cedar honey and crushed pine nuts ($45).

Related: 2014 Is on Track to Be the Best Year Yet for White Truffles