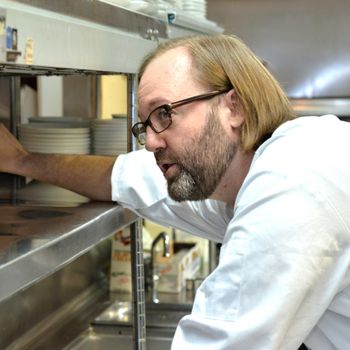 Wylie Dufresne will only be cooking on Clinton Street for a few more weeks.
Photo: Dylan Rives/Getty Images
Tickets for the series of dinners set to commemorate the final two weeks of Wylie Dufresne's wd~50 nearly sold out completely within the first few minutes of the sales page going live online. Some $41,000-worth of seatings, including reservations for parties of eight, were snatched up within the first two minutes, tweeted Nick Kokonas. The Alinea restaurateur, who provided his proprietary ticketing system for the blowout, essentially live-tweeted the feeding frenzy.
Some days already sold out for @wd50nyc – $104,000+ in first 9 minutes. You can't answer phones that fast !— nick kokonas (@nickkokonas) October 30, 2014

Last Call at @wd50nyc down to a single 6-top at 7:30 PM. The very last WD-50 table ever…. https://t.co/AjouM98pfh— nick kokonas (@nickkokonas) October 30, 2014

Special dinners will go down starting November 19, and from the looks of things, the $275-a-head "Last Call" dinner on November 29 was the first to go. Other planned meals include a Thanksgiving Day feast, complete with take-home leftover turkey sandwiches, and seven nights of "wd~50: Then and Now," which will retrace the path of the innovative restaurant through its most famous dishes.
Related: Wylie Dufresne Commemorating Final Two Weeks of wd~50 With Ticketed Blowout Feasts