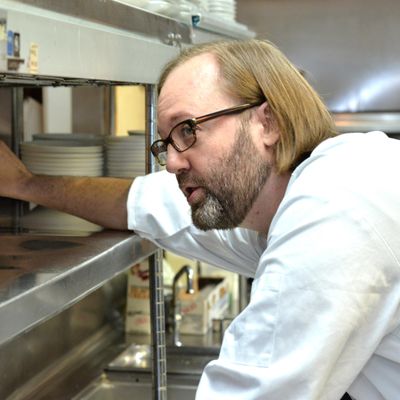 This man wants to serve you turkey dinner.
Photo: Dylan Rives/Getty Images
We're coming upon the last days of wd~50 as we round out October. Because an incoming condo construction project is set to take over the Clinton Street site that's been its home for the last eleven years, Wylie Dufresne's pioneering restaurant will shutter in just five weeks. Alder remains open in the East Village, of course, and while Dufresne has hinted he may reopen wd~50 elsewhere, it's probably time for everyone to stop by and pay respects, especially because the chef is promising to make it super awesome. Here's a little bit more about your options.
Three kinds of dinners will be served during the restaurant's two final weeks, including:
wd~50: Then and Now (November 19-23, 26, 28) for $225 per diner - An 11-course menu that takes diners on a journey of wd~50's history through the past 11 years. ($75 wine pairing optional.)

Turkey Day (November 27, starting at 4pm) for $85 per diner - The most popular staff meal in wd~50 history is now open to the public for the first time, and includes a traditional three-course Thanksgiving dinner with all the fixin's. Includes a leftover turkey sandwich to take home.

Last Call (November 29) for $275 per diner - A final feast curated by chef Dufresne and comprised of his favorite dishes from the years. ($75 wine pairing optional.)
There's no price break, it seems, if you opt for all three, but for what it's worth, that's obviously the way to go here.
Tickets will be released on October 30 at 11 a.m. sharp — that's Eastern time, for all you jet-setting Michelin chef types — and you're going to want to keep this site right here bookmarked to buy them. Good luck out there, folks.
Related: Wylie Dufresne's Unwavering Vision Turned wd~50 Into a Vital New York Restaurant
[Official site]