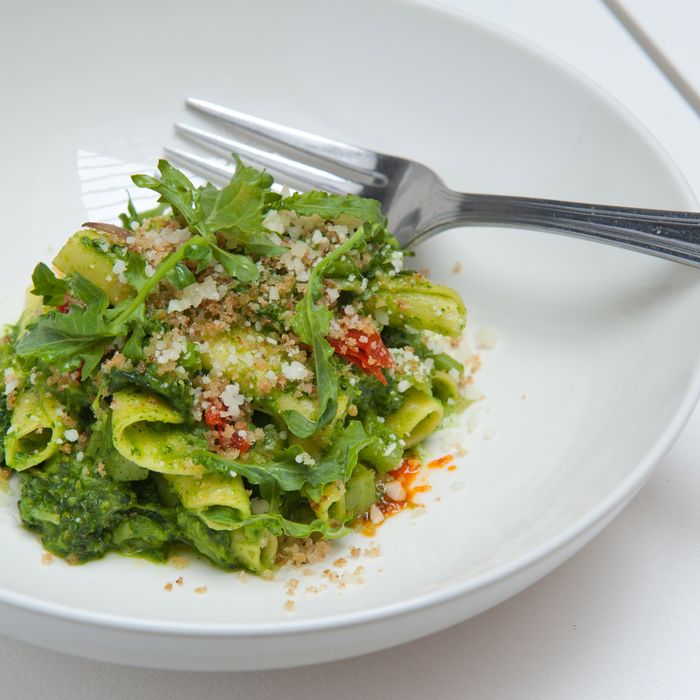 Cornetti, broccoli, Calabrian chilies, bread crumbs.
Photo: Liz Clayman
Vicki Freeman — the co-owner of Hundred Acres, Cookshop, soon-to-open Rosie's, and now Vic's — has always called the shots. Her chef-husband, Marc Meyer, might have more name recognition, but it was Freeman who first hired him back in 1993, at her first-ever restaurant, VIX Café in Soho. ("I hired a husband — wasn't planning on that," she jokes.) So when it came time to make a decision regarding the fate of Five Points, Freeman took the reins. "I just wanted a change," she says. "Five Points was was doing okay — like, it wasn't hemorrhaging. It was known for brunch. But I felt like we had this amazing piece of real estate, and I live in the neighborhood. I wanted to open a restaurant that I could eat at twice a week." So instead of selling the lease ("all of the restaurant owners that I know wanted to buy it from me"), Freeman decided to reopen an entirely new concept — Vic's — a nod to her first venture.
But the concept wasn't fully realized until Freeman met Hillary Sterling — a talented chef who's bounced around a lot, working at the Beatrice Inn, Bar Bolonat, and Corkbuzz Chelsea. While walking down Bleecker Street, Freeman ran into Sterling's frequent collaborator, Missy Robbins, who suggested that they meet. "After that first meeting, I told Marc and my other partner Chris [Paraskevaides], 'I'm hiring her,'" Freeman remembers. "I mean, we had tastings, and more meetings, but I knew. I said, 'We're going to close Five Points and we're going to open it as something completely different.' They were like, 'What?' And I said, 'Yeah — we're going to do this.' I took the decision out of their hands."
With Sterling, Meyer, Paraskevaides, and architects Asfour Guzy (Blue Hill at Stone Barns), Freeman completely gutted Five Points and built an entirely new restaurant. She's not even keeping beloved Five Points dishes on the menu: "Everyone's asking, Are you going to have the potato pizza? No. Because I wouldn't ask a chef of a new restaurant that we did in any other space to make Five Points dishes. It doesn't make any sense." The only remaining vestige of Five Points is the chalk mural.
Instead, the Vic's menu — more affordable, Freeman says — includes vegetable-centric plates ("my husband and Hillary are crazy — they buy everything from the market"), pastas available in half portions, five pizzas, and entrees cooked in a wood-fired oven. Even with ambitious dishes like roasted oxtail with chili agrodolce, or pork shoulder with apple saba and pink peppercorns, the most expensive item is $27.
And as for booze: just ten reds and ten whites (all available by the glass, quartino or bottle), and a bar program run by Freeman and Meyer's son, Rolan Meyer. Expect barrel-aged cocktails for two, house-made Limoncello and local beers on tap.
"I wanted it to be casual," Freeman says. "Really, the idea of the place was that we live around the corner, and it's somewhere I want to eat at regularly. She makes this one pizza that is my absolute favorite — burrata, anchovies, toasted bread crumbs, and salsa verde. It it sounds a little strange, but when I ate it, I was like, Oh, Hillary."
Here's a look at a few of the dishes — plus the menu: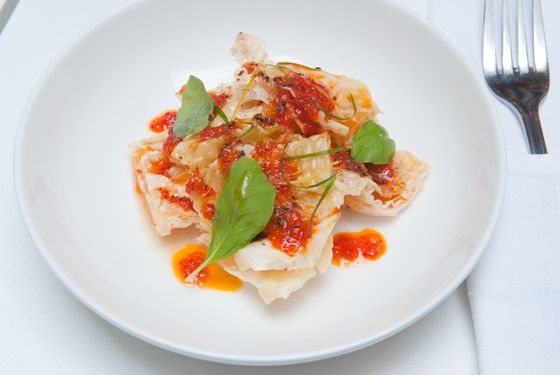 Marinated cabbage, chilies, caraway, basil.Photo: Liz Clayman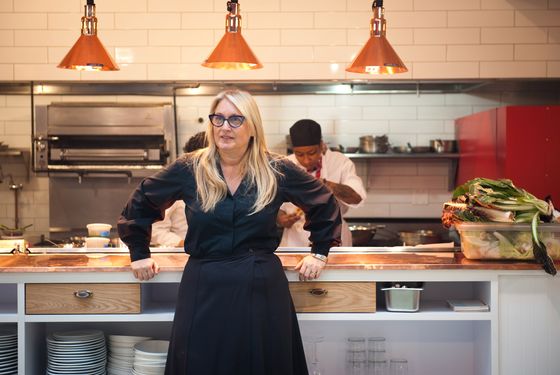 Freeman, in charge.Photo: Liz Clayman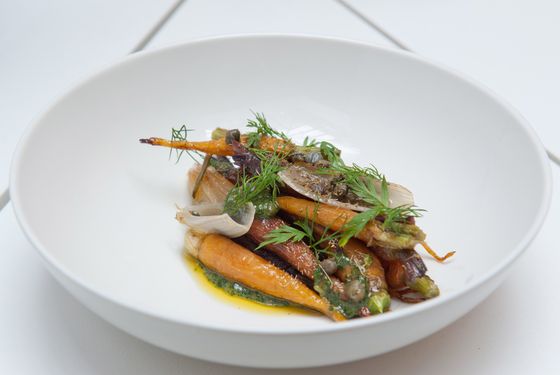 Carrots, lilies, dill, capers.Photo: Liz Clayman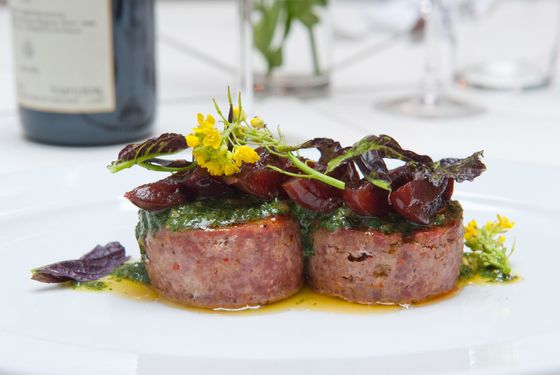 Pork sausage, plum mostarda, salsa verde.Photo: Liz Clayman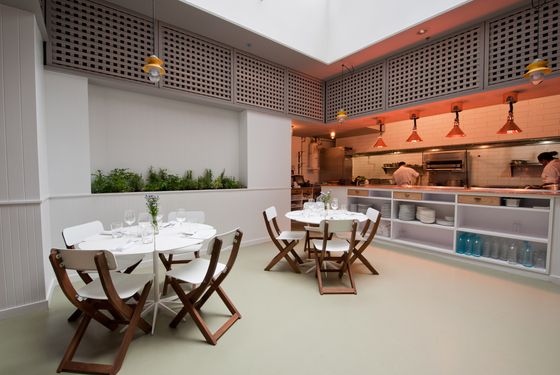 The spiffy new space.Photo: Liz Clayman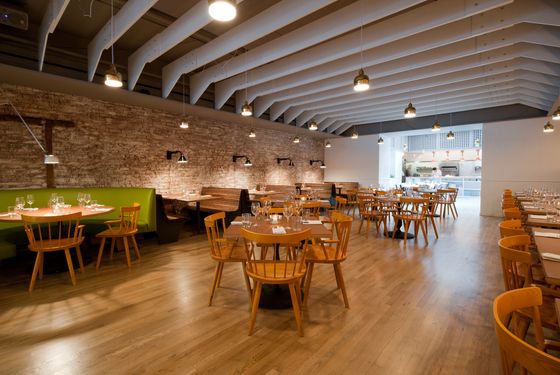 It's pretty!Photo: Liz Clayman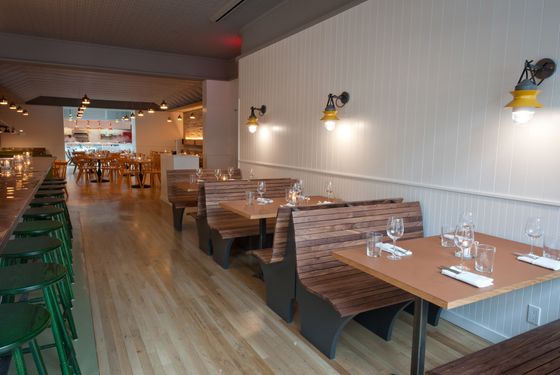 And big.Photo: Liz Clayman
Menu [PDF]
Vic's, 31 Great Jones St., 212-253-5700