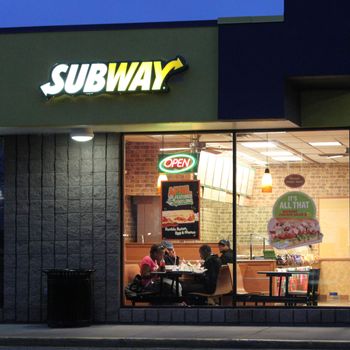 He had enough of those six-inch turkey sandwiches.
Photo: Dwight Burdette/Wikimedia
Police in Alabama say they've arrested a man who went on a several-day-long spree robbing at least four Subways at gunpoint in the Birmingham area. The man, 18-year-old Zachary Torrence, tells detectives the reason is because he's spent a lot of money on "Jared's diet" so far — a six-inch turkey or a footlong veggie, if he's true to form — without any of Jared's weight loss.
Torrence didn't pick up any of Jared Fogle's reported $15 million net worth, either. He told police the whole thing struck him as false advertising, and he wanted his money back. In retrospect, he probably should have just filed a lawsuit like some of the chain's other disappointed customers.
Apparently somebody noticed Torrence walking around a Walmart in the same orange shoes he'd worn in stores' surveillance footage that was all over the news. He was allegedly looking to buy a new holster for the gun he had used in the robberies.
[WBRC]