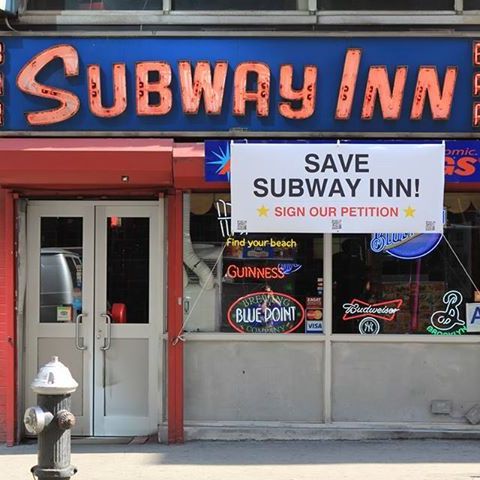 Yes, they're going to clone all this.
Photo: Subway Inn/Facebook
In a rare twist to the all-too-common tale of a beloved city bar or restaurant getting demolished to make way for flashy condos going up on the spot, Subway Inn, the 77-year-old Upper East Side dive, will indeed shut down in about 60 days for that very reason, but the storied establishment will return. Not only that, co-owner Steven Salinas says, but the Subway Inn will be replicated piece by piece in its new home, which, miraculously will be two blocks away, at 60th Street and Second Avenue. The bar had previously been granted two stays of execution from its real-estate-developer landlord, which apparently gave the Salinas family enough time and wiggle room to make new plans. Now, they write, moves are being made to bring the bar, booths, stools, and even the neon; the cloning of the Subway Inn should be done in ten weeks, which is a huge win for New York City all around. Read on for the full, joyous statement.
★★Statement from the Salinas Family on the Future of Iconic Subway Inn Bar ★★

On behalf of my entire family– I have some wonderful news to share. Earlier today we signed a long term lease on a new location which the Subway Inn will now call home.

On December 2nd, 2014– the Subway Inn will close at its current location on 60th and Lexington Ave. to begin its relocation and REPLICATION (EXACTLY AS IT IS NOW) less than 2 blocks away on the same side of the street –at 60th and Second Avenue. Our move and REPLICATION is expected to take approximately 10 weeks to complete.

We had requested to remain in our current home til the end of the year so that none of our family members or employees would be without a job over the holiday season. Unfortunately, the landlord denied or plea.

We are excited about this development and have put the right team in place to make certain that every piece of furniture, including our famous neon signs, the current bar, every bar stool, even the original bar booths—(that Marilyn Monroe and Joe DiMaggio sat in) will make their way a stone's throw down 60thStreet and be set back up exactly as you see it today.

And, it won't just be the contents that will be the same. The space will look exactly the same. Colors, floor and all! In fact, our replication architect is hard at work making sure our new home will be nearly identical. Also, our prices will not change.

We realize this is a tremendous, risky undertaking, and will be very expensive to replicate—however my family is committed to keeping our tradition alive—and making sure Subway Inn lives on for many more generation's to enjoy.

One final note– I would also like to take this opportunity to thank everyone from the bottom of my heart that supported my family and stood by us as we fought tirelessly to save our current home. While at the end of the day it may appear we lost the battle, rest assured this is not the case. Losing would have meant our home and memories would have been bulldozed. While the four walls that will house our exact same contents may be changing—the heart and soul of what we call home will be the same. This will include the pictures of Charlie and my dad from years gone that will hang exactly where they are located now— just two block east.
Related: The Neo-Dives: 9 Bars That Keep New York's Downscale Drinking Tradition Alive
Related: Subway Inn's Eviction Order Blocked Yet Again
[Facebook]