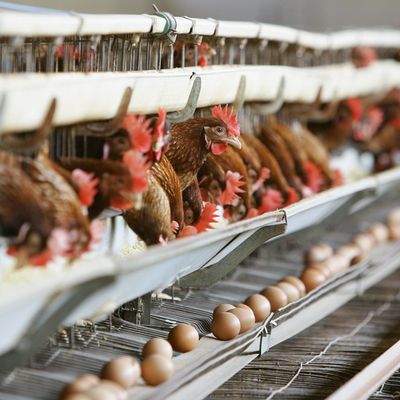 Itty-bitty home office.
Photo: Fabrizio Villa/AFP/Getty Images
A group called the Humane League — not Human, alas — has accrued more than 108,000 signatures on a petition criticizing Starbucks for "sourc[ing] the vast majority of their eggs from cruel battery cage farms." The group is calling for cage-free chicken's eggs for all baked goods and breakfast sandwiches used by the chain throughout its 11,000 stores in the United States. The group says that Starbucks may have been founded on a principle of "standing for something more," but battery cages are tiny, and so it chose to break the alleged animal cruelty down in Starbucks-speak.
"You can barely fit seven Venti Starbucks cups in the space that one hen has to live for her entire life," the group says in a video, while pointing out that everyone from Burger King to Au Bon Pain has signed on to go entirely cage-free, eventually. The chain's Policies page explains that cage-free eggs, among other things like gestation crate–free pork, are critical to their commitment to using "humane" ingredients. So while an earlier petition from a separate group called on Starbucks to make the switch to so-called "non-GMO" milk, the chain may ultimately have an easier time swapping out the ingredients in its breakfast sandwiches than the part-skim milk in its lattes.
[Change.org, HuffPo]