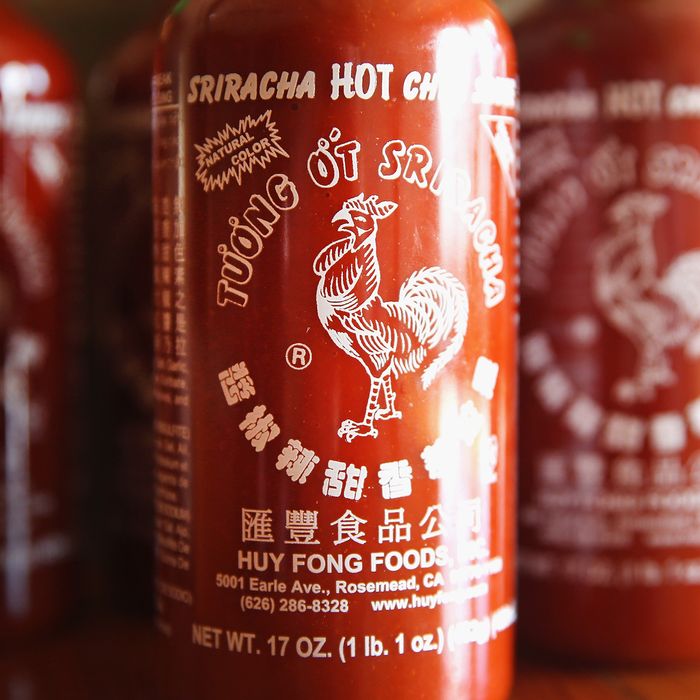 Mystery never goes out of style.
Photo: Scott Olson/Getty Images
Huy Fong Foods' iconic hot sauce may not be the only, or even the best, sriracha in the world, but it is no doubt the only one you can I.D. simply as "rooster sauce" and most people will know exactly what you're talking about. Owner David Tran recently opened up his California factory to the public so that the world can see how those peppers ferment, but it turns out he has no fun origin story about the iconic, strutting hot-sauce bird that's now appeared on everything from stilettos to underwear.
He tells Modern Farmer he only recalls it came off a sketch he got from a random street artist in Vietnam in the '70s. Now, at almost 70 himself, Tran "[doesn't] remember who he is." The rooster — Tran's Chinese zodiac symbol — was incorporated into the first bottles as a rough outline, then got a more refined look (and more prominent bottle real estate) when he later hired an artist in L.A.'s Chinatown to give the bottle a face-lift. Other than those details, the mystery will probably never be solved. Tran lost the original sketch, he says, because he "never thought that I'd be successful so I didn't keep any of my souvenirs."