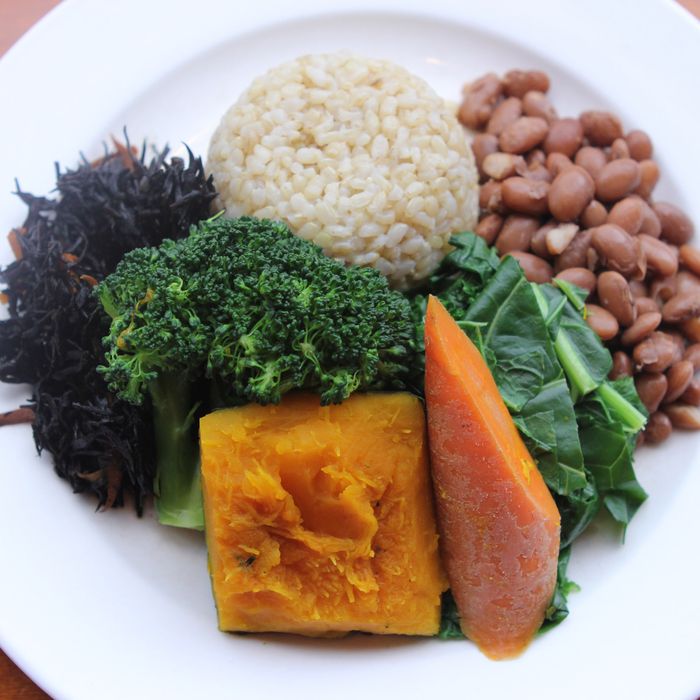 Here it is, in all its glory.
Photo: Konstantin Sergeyev
New York's most iconic dishes tend to be on the heavier side: oyster pan roasts larded with butter and half-and-half, a giant hunk of mutton at Keens, the Peter Luger porterhouse. But the fashion set needs to eat, too, and it's seen plenty of trends come and go, like Ladurée macarons, supermodel-endorsed Momofuku Milk Bar cookies, or, say, the açai bowls at Dimes. Yet there's one dish that has endured since it was first introduced to the city way back in 1971: Souen's macro plate. In fact, the simple combination of steamed greens, brown rice, hijiki seaweed, broccoli, squash, carrots, and a choice of housemade dressing (recommended: tofu-based tahini dill) has quietly become one of New York's most popular staple dishes, the kind of thing that's inspired loyal customers for generations.
The actual Souen restaurants (there are three, all downtown) look and feel more like yoga studios than real restaurants: sparsely decorated, extremely quiet, and filled with beautiful people wearing various forms of spandex. It's typical to give a customer a second glance, only to realize that the pretty person ordering Kombucha and a side of steamed tofu is indeed a model, or a fashion designer, or, um, Terry Richardson. The point is: Don't even dare stepping into the restaurant during Fashion Week, unless you're feeling extra-confident.
In fact, the restaurant's celebrity fans are legion, and name-checking Souen in an interview is as common an activity as posting a picture of avocado toast on Instagram. A quick search for "Souen" on fashion-meets-food site the New Potato reveals it's a favorite place of model Karlie Kloss, designer Rachel Antonoff ("Souen is one of my all time favorites"), creative director Joe Zee, Lucky editor Eva Chen, and actress Busy Philipps, among others. Alicia Silverstone detailed eating three of Souen's macro plates over the course of her Grub Street Diet. ("I went to Souen afterward and got my kabocha squash, kale, carrot sauce thing again because I just love that as a little night-time bite," she said, as if kale tasted better than pizza at 2 a.m.) Socialite Arden Wohl also gave the macro plate a shout-out, and while vegan extraordinaire Moby didn't specifically mention the dish in his Grub Street Diet, he did eat at Souen twice.
The interesting thing is that the dish itself hasn't changed in over four decades — though it was originally called a "Planet Platter" — even as restaurants specializing in vegetarian cuisine have evolved so much in that time period. (And OG vegetarian havens like Angelica Kitchen are in danger of closing.)
The GM at Souen's Soho location says that they sell about 400 of the $9.25 plates each day. "It's always been the most popular dish," he says. The enduring popularity is even more surprising since the plate itself seems so entirely antithetical to the prevailing food trends of the last 10 to 20 years — pork everywhere, cupcakes, and Cronuts, dry-aged steaks, or even luxury roast chickens. In fact, the seasonal, locally sourced "farm-to-table" ethos doesn't really have any bearing on the macro plate, which is the same in December as it is in April. But it does share one important trait with all of New York's other famous dishes: It's comfortable, and familiar. Even if the squash can be a little sad-looking at times, you can always count on a macro plate to be more or less the same. (Bonus: Souen delivers, and it's kind of the perfect thing to mindlessly eat in your pajamas while binge-watching Scandal.) In a city where food trends can be over almost as soon as they start — kale martinis? — it's reassuring to know that even healthy eaters have a staple dish to rely on year in and year out.