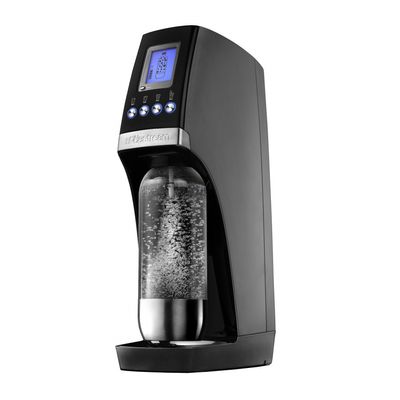 Just don't call it soda anymore.
Photo: Courtesy of SodaStream
Things aren't so bubbly at SodaStream, the Israel-based DIY carbonator behemoth. Stock share prices and profits on the year have been in a freefall, and the company said yesterday that its West Bank factory — the one chief executive Daniel Birnbaum calls "a pain in the ass" — will shut down by mid-2015 in advance of a relocation some 60 miles away. Though the facility has been the target of boycotts, SodaStream says the move is for "purely commercial" reasons tied to a "global growth plan." Despite all this, Birnbaum also said in an earnings call yesterday that the soda thing hasn't worked so well, so the company will rebrand as a "sparkling water maker."
The 1,300-employee headache in a West Bank settlement didn't help, since it led guilt-ridden home-carbonators to reject the company's "blood bubbles." Birnbaum has said he doesn't "give a hoot" where the factory was — meant sympathetically, like that he'd stay there if Palestine became a state. He also says firing 500 Palestinian workers doesn't make any sense, so he's promised SodaStream "will try to secure Israeli work permits" for the new site.
Meanwhile, nobody's drinking soda anymore, and Birnbaum says SodaStream just has to face the facts — "We will never have a cola that is better than Coca-Cola or Pepsi Cola." The motto formerly known as "Set the Bubbles Free" is now "Water Made Exciting."
[WSJ, Businessweek]