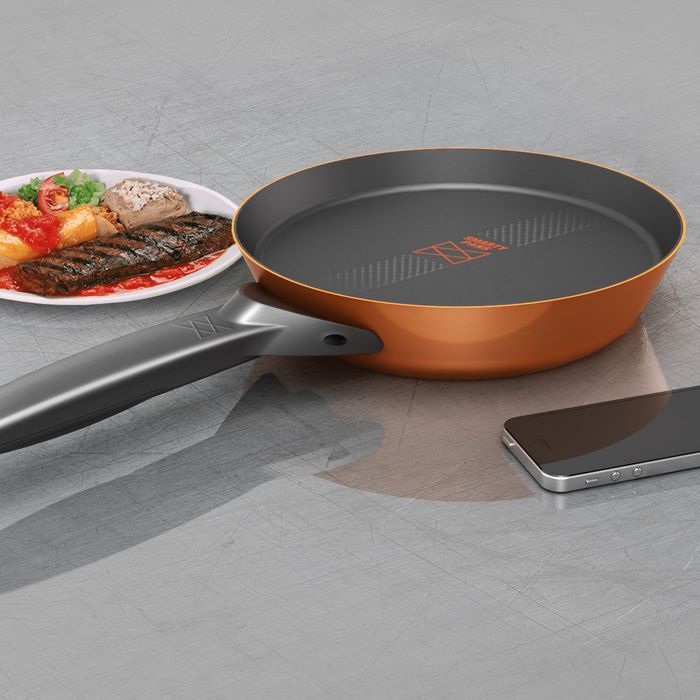 Finally, cooking with "simple instructions humans can understand."
Photo: SmartyPan/Indiegogo
If you heed the words of people who decide this stuff, the next big thing that will no doubt vastly improve your life by fusing tech and cookware is SmartyPan, a battery-powered frying pan that is managed by an app that acts like bumper lanes for bad cooks.
It holds your hand every step of the way, double-checking each ingredient's measurement and warning you to lower the temperature just like Mom used to when you helped with the cookies. Add to that "1000s of recipes" — including non-fried sushi — and a built-in calorie counter, plus the fact that it couldn't care less whether you eat veggies, and then, well, maybe creator Rahul Baxi is really onto something here.
There's just one problem: Despite the slick video and good press, no one wants to fund the thing. The Indiegogo page, live for a month now, has managed to marshal a mere $1,836 toward its $90,000 goal, a failure surely indicative of something, although not necessarily about the genius of the idea. Regardless, its fate gets decided in 17 days, so maybe it's time for Baxi to bounce ideas off that marketing-genius cooler guy. He could at least cut a six-figure check without blinking.