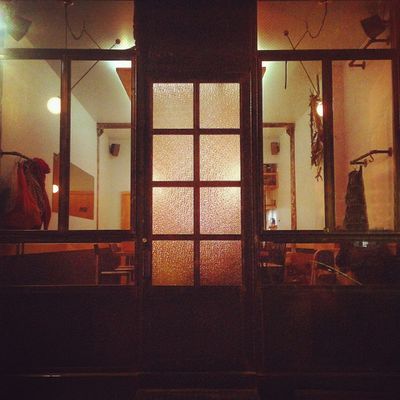 Seating at the restaurant will be around an 18-seat bar.
Photo: Courtesy of Semilla
When José Ramírez-Ruiz was a cook at Per Se, long before he went on to stage through Europe and work at Isa in its early Ignacio Mattos period, he had a funny, gently subversive way of replying to direct orders: "Yes, Chef," he'd say, as kitchen tradition dictates, "but at Chez José, we'll do it this way." Eventually, to his credit, he did — even if it was only once a week after-hours in a Williamsburg coffee shop with just two hot plates and a tiny oven at his disposal. But Chez José, as he named his pop-up, grew a devoted fan base for its artful multi-course meals, prepared and served by Ramírez-Ruiz and his like-minded partner in life and cooking, Pam Yung, a pastry chef and veteran of Room 4 Dessert, Tailor, Roberta's, and Isa. One night a week grew to two, and then three, when restaurateur Joe Carroll invited the couple to move the operation to slightly larger quarters around the corner at his shuttered fried-fish shack Lake Trout.
After several months in the new location, the three forged a more permanent arrangement. Carroll would back them in a permanent venture, one with wine (mostly natural), beer (mostly European), a complete remake of the Lake Trout space, and a new name: Semilla, Spanish for seed, which both represents the cooks' close relationship with their farmers and foragers and nods to Ramírez-Ruiz's Puerto Rican roots and the predominantly Latino neighborhood.
Chez José regulars will find the same emphatically seasonal, highly personal cooking, and dishes that showcase vegetables and relegate animal proteins to supporting-role status ($75 prix fixe). Eighteen seats are arranged around a U-shaped ash-wood bar that invites interaction among strangers and evokes similar settings at restaurants like Atera and Brooklyn Fare (another spot on Ramírez-Ruiz's resume). Yung, who won a Beard scholarship to study grains in Scandinavia and at South Carolina's renowned Anson Mills (and once operated her own bread CSA), has acquired a bread oven and a KoMo grain mill, which she'll use to grind whole kernels in-house. Dishes might include compositions like matsutakes grilled à la minute with charred pear, kabocha-squash-and-anchovy puree, and raw shaved sunchokes, or daikon en brioche with wilted arugula salad, onion jus, and black-garlic puree. But you won't find them on a menu — there isn't one. Ramírez-Ruiz wants the experience to be "like coming over [to] our house for dinner. There should be an element of surprise."
Semilla opens Friday, and is taking reservations by phone and online for dinner Tuesday through Saturday.
160 Havemeyer St., No. 5, nr. S. 2nd St., Williamsburg; 718-782-3474; semillabk.com.