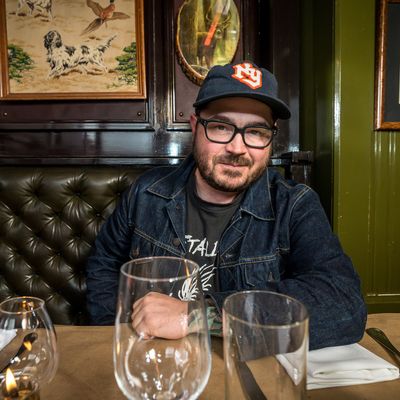 "I love having red wine early in the day — it makes me feel like a grown-up."
Photo: Noah Fecks
Famed chef Sean Brock — who runs McCrady's and Husk in Charleston, South Carolina, as well as the Husk in Nashville — typically maintains what you might call a properly Southern diet: mashed potatoes, corn pudding, hot chicken, sweet tea, biscuits with breakfast sausage, and lots of hyperlocal produce. But this week, in anticipation of the release of his first-ever cookbook (Heritage), Brock traveled to New York, where he also enjoyed mussels escabeche at Estela, olive-oil ice cream at OddFellows, and Swedish meatballs at Aquavit. Read all about it in this week's Grub Street Diet.
Friday, October 10
The Zero Point Zero production crew was in Nashville filming the trailer for my book, and I had to take them to my favorite restaurant in the world, Arnold's Country Kitchen. It's a family run "meat-and-three," lunch-only place, and a very important part of the culture in Nashville.
It was raining out, but that didn't stop anyone — 40-minute wait with a line out the door. This restaurant is the only one on Earth that I'll wait in line for, in the rain. I got my regular order: meatloaf with Creole sauce, mashed potatoes, green beans (my favorite item on the menu), fried green tomatoes, white beans, corn pudding, and sweet tea. For dessert, I went with peach pie — really cool because they bind the peaches with peach Jell-o. I feel high when I leave Arnold's.
The crew and I went to film on a farm outside of Nashville, where we snacked on fall greens straight from the ground. There's really nothing like eating food that's just picked, basically still alive, exactly how I ate growing up. Then we filmed the Husk burger and I couldn't resist: Even after eating so many of them over the years, it's still something that I look forward to, and it makes me smile every time I see one.
For dinner, I headed to the Treehouse, an insanely underrated restaurant in East Nashville that serves food until 1:30 a.m. The chef is a cook's cook. I probably eat here more than anywhere in town — it just makes me happy. The simple salad (trinity and goat cheese) is so flavorful that it makes your tongue hurt, and their chicken preparations are always outstanding (currently it's with poblano cream, potatoes, and carrots). In fact, everything there is bright, acidic, and aggressively seasoned, which is exactly the way I like to cook. This place has soul.
Saturday, October 11
My friend Andy Mumma recently opened a new coffee shop in Nashville called Golden Sound (he owns Barista Parlor, as well). If there are better, more beautiful coffee shops in the country, I haven't been there. I had a biscuit with breakfast sausage, egg, and peach jam, alongside an amazing cappuccino. I know it will quickly join Barista Parlor as a Nashville gathering spot, where you always see someone you know.
For lunch, I decided to visit one of my favorite places on Earth, Robert's Western World, one of the last true honky-tonks in America. It's really close to my apartment, and the fried bologna sandwich is one of the greatest things to eat in Nashville. I like going during the day when they aren't packed, listening to the best honky-tonk music in town, and drinking Busch beers in a can with my bologna sandwich. I can be in the worst mood, and the second I walk into Robert's, I don't think about anything else. That place keeps me sane.
For dinner, I ended up at the Capitol Grille inside the Hermitage Hotel. I used to be the chef there, and now one of my best friends, Tyler Brown, is the chef. Tyler is a badass and he raises most of the food himself. He has an amazing vegetable garden and also his own cattle farm. I devoured a 14-ounce New York strip with a side of roasted carrots that he grew. Tyler's beef is insane — I swear he is secretively feeding those cows soy sauce. It's the same beef we use for our burgers at Husk, and the previously mentioned meatloaf at Arnold's. Good stuff.
Sunday, October 12
That morning I flew from Nashville to New York. I had a green juice for breakfast and a Bloody Mary on the plane for dessert. I drink a lot of Bloody Marys — very nutritious.
I stay at the Ace when I'm in New York: It's my home away from home. My room wasn't ready, so I headed to straight to the Breslin. April Bloomfield is one of the great chefs of our generation. Between all of her restaurants, she has fed me more than anyone besides my mother. I had the full English breakfast: sunny-side-up eggs, bacon, blood sausage, link sausage, roasted tomatoes, and shitake mushrooms. I think it's the best plate of breakfast in the business. And I had a huge glass of red wine with breakfast. I love having red wine early in the day — it makes me feel like a grown-up.
I also love shopping for guitars in New York. One of my favorite trips is to Rivington Guitars, and then next door to OddFellows. I've known the chef, Sam Mason, for a while and I've always loved his crazy ice-cream flavors, dating all the way back to the cornbread ice cream at wd~50. This trip, I had a sugar cone with extra-virgin-olive-oil ice cream. The flavor of the olive oil was so pure. It was my most enjoyable ice-cream experience in recent memory.
For dinner: Estela. I'm addicted to that place. Ignacio Mattos is a freakin' genius. The food there is so flavorful, fresh, and light. Damn, they got it right with that place. I had the mussels escabeche, the tomatoes with dried shrimp, the spot prawns, and the fluke with kohlrabi and avocado. And, of course, the fried arroz negro. Estela is one of those restaurants that inspires the shit out of me.
Monday, October 13
Monday was another filming day with ZPZ. They ordered sandwiches from Meat Hook. I had the Italian and it was amazing. We filmed the fried chicken, the cheeseburger, and the brown oyster stew from my book, so I had a bite of those dishes.
Monday, I had one of the best dinners I've had in a while. I went to the Cecil in Harlem to celebrate the Esquire Best New Restaurant list. Husk Nashville made the list this year, and I couldn't be more proud of my team there. I was in great company, eating with all the other chefs from the restaurants on the list. We basically had the entire menu, and the standout dish was the udon noodles with braised goat and the gumbo. I hadn't tasted those flavors (like baobab) since I was in West Africa last year. This Cecil is important. I can't wait to go back.
Tuesday, October 14
I had lunch at Aquavit. I've always wanted to go there, and it was pretty darn awesome. I had the shrimp toast and the Swedish meatballs. And lots of aquavit, of course. The ramp was my favorite. To be honest, this celebration lunch got a little hazy toward the end ….
Another Esquire party was back at the Cecil, and I was cooking for it. I made grilled farro succotash, but I was too busy and I didn't eat dinner. That happens sometimes.
Wednesday, October 15
Wednesday was sushi day. I had a pretty epic meal at 15 East. It was my first time there, and we ended up having somewhere around 22 servings. I'm addicted to great sushi: It's something that is lacking in the south, so I make it a point to try a new sushi place whenever I travel. The risotto with uni and matsutake was incredible!