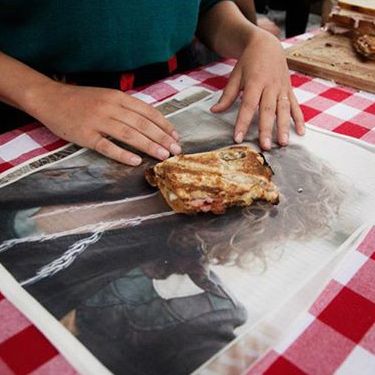 The final product.
Photo: De Tostifabriek/Facebook
A group of artists in Amsterdam undertook an experiment they called the Sandwich Factory that took locavorism to its extremes: To make their own croques-monsieurs, they raised and eventually butchered Wim and Max, their own pigs, before turning them into ham. They also made and aged cheese and grew wheat to make bread.
They did all of this, of course, in order to push the bounds of the farm-to-table ethos so people could see how much work goes into even the most basic things they eat. One year and $45,000 later, they served up their 100-percent-from-scratch tostis to a few hundred people, which was all the tostis they had ingredients for. Those ingredients, one team member explained, were "super simple," but the few things involved ended up requiring 20 volunteers working for a whole summer on their ad hoc farm.
Sandwich Factory creator Sascha Landshoff says he learned some things, but definitely not how to undertake a fun art project: It was, he says, "the worst project that ever existed. It took us a year, day and night, and €35,000, and we only got 350 sandwiches in the end." Perhaps next year they'll stick to lettuce and beet wraps, or at least something with more sprouts.
[Co.Exist]