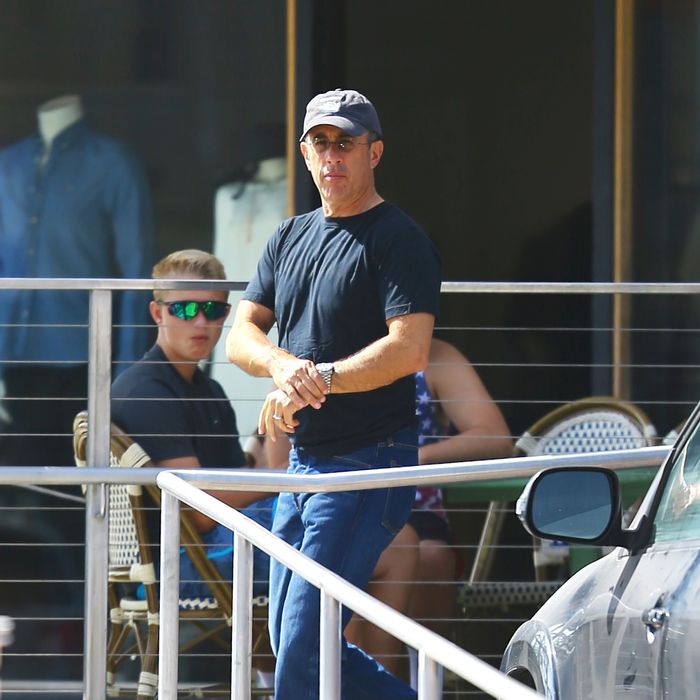 Jerry knows what time it is — rib-eye time.
Photo: VIPix/Corbis
Celebrity sightings at bars and restaurants were few and far between this week — maybe everyone's working on their best Groot costumes for a weekend of Halloween-related antics? In any case, Hideki Matsui tipped generously at Tavern on the Green, Ciara and Taye Diggs partied at VIP Room, and Jerry Seinfeld ordered a giant rib eye at Old Homestead Steakhouse. Here's more on where these and other celebrities ate.
Da Silvano: No one's fearing the still-at-large smoke bomber, apparently. Uma Thurman had lunch, while Rihanna stopped by two nights in a row. [Page Six/NYP]
Eva's: Chris Noth was spotted, no doubt eating something healthy and Mediterranean. [Page Six/NYP]
Fresco by Scotto: Al Roker dined with his family. [Page Six/NYP]
1200 Miles: Sam Shepard had a cocktail at the bar, and Charlotte Gainsbourg and Gael Garcia Bernal were part of a ten-top that stayed late and closed the restaurant. [Grub Street]
Gallagher's Steak House: Birdman writers Alex Dinelaris and Nicolás Giacobone talked shop over dinner. [Page Six/NYP]
Old Homestead Steakhouse: Jerry Seinfeld ordered a 24-ounce rib eye. [Page Six/NYP]
Philippe: T.I. and Tiny feasted on lobster, chicken satay, and pepper prawns; Rick Ross showed up later the same night, though the two rappers didn't cross paths. Meanwhile, tennis star Caroline Wozniacki, in town for the marathon, came in for lunch.
Swifty's: James and Toni Goodale hosted a dinner for Kofi Annan and his wife, Nane. [Page Six/NYP]
Tavern on the Green: Former Yankees slugger Hideki Matsui dined with a group of friends — and left a $700 tip on a $1,700 bill. [Page Six/NYP]
VIP Room: Ciara and Taye Diggs showed up to celebrate Nets point guard Jarrett Jack's 31st birthday. [Page Six/NYP]
Wolfgang's Steakhouse: Henrik Lundqvist and Rangers teammates Ryan Malone, Lee Stempniak, and Tanner Glass turned out for Gotham magazine's cover party. [Page Six/NYP]