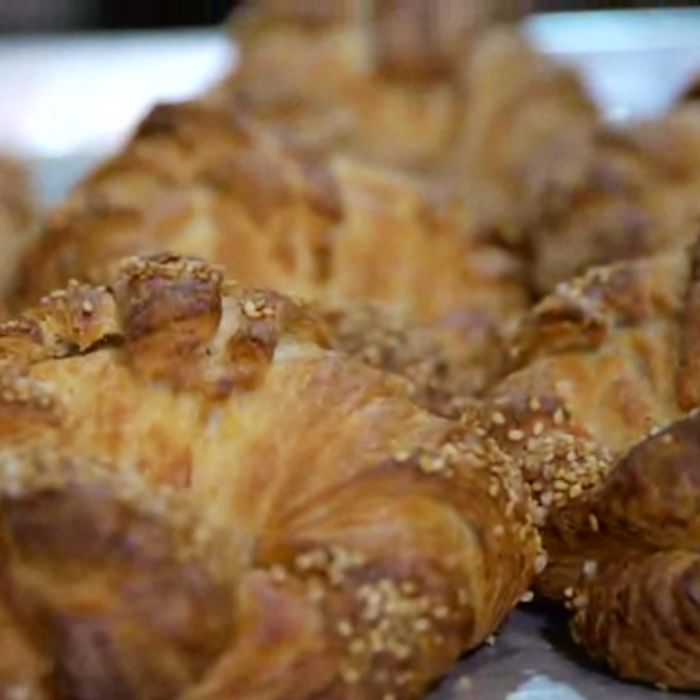 For The New Yorker's jam-packed new Food Issue, Adam Gopnik takes a look at City Bakery entrepreneur Maury Rubin's pretzel croissant and Dominique Ansel's Cronuts, which are arguably New York's two most famous pastries. The former has "something of the flavor of" Sex and the City, while the doughnut-croissant hybrid is all about the zeitgeist. They're two entirely different things, writes Gopnik, before making way for a little laminated pastry shade.
Though the training of the two chefs overlaps and both have found loads of fame via the general realm of pastry known as viennoiserie, Rubin can't help but say he found Ansel's old-school croissants to be lacking in the era before Cronuts. "That a pastry chef is going to make a lousy croissant? You know what? I'm not even going to hold that against him, because most people make lousy croissants," he says.
He continues: "When the Cronut became a thing, I just thought, Oh, my God, that's perfect! His croissant sucked, so he threw it in oil. And I think, Brilliant!" The City Bakery baker rounds everything out by saying the Cronut is innovative, and that he respects it because he cares about innovation. "Most people don't know anything about good pastry anymore," he adds, and by then you just kind of get the sense that some pastry chefs may be much more catty than their savory-side counterparts.
All of this provides a decent setup for this really cool look behind-the-scenes at City Bakery, and the process that goes into making pretzels croissants. Rubin says a decent croissant is half butter.
Of course, Ansel, who also owes a huge debt of gratitude to butter and has basically gotten three hours of sleep since the Cronut debuted in May of 2013 and is now about to embark on book tour before opening in Japan, also gets to reiterate he's not interested in mass-producing the pastry. "Would I be proud of it?" he speculates. "No. I would kill my own creation."


Related: Dominique Ansel Will Open in Tokyo in 2015
[New Yorker]