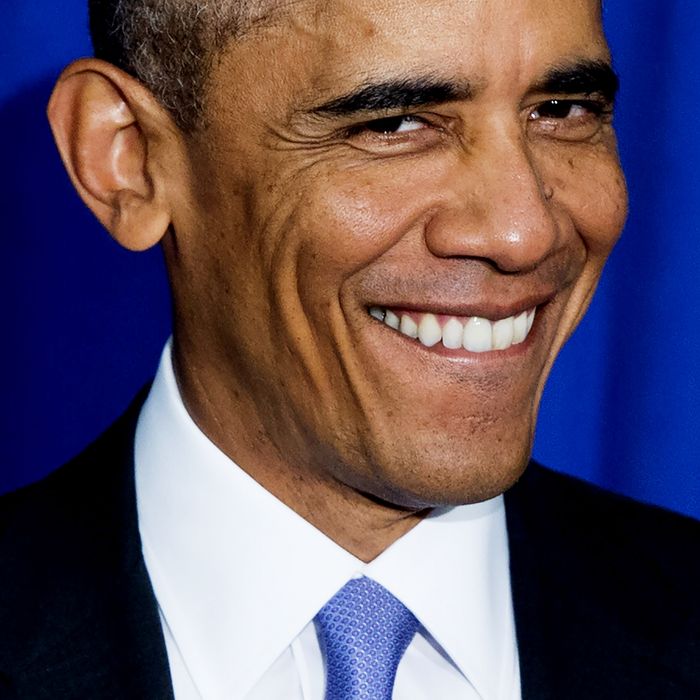 This is why you don't use Diners Club, sir.
Photo: Saul Loeb/AFP/Getty Images
While discussing the matter of credit-card fraud earlier today, President Obama revealed that his own card was declined during a recent dinner in New York City. And while he didn't specify where exactly the snafu took place, all signs point to his recent night out at Estela. But the problems didn't arise because of unpaid bills or the fact that Obama carries some weird off-brand card that nobody takes. "Turns out I guess I don't use it enough," the president said of the real reason why his card might be declined. "They thought there was some fraud going on."
What's it actually like to try to run Barack Obama's card, only to see it come up declined, all the while dreading the fact that you'll have to soon inform the President of the United States of America that, um, there's a problem with his credit card and by any chance might he have another one you could try? Tough to know for sure, since everyone at Estela is remaining frustratingly classy and professional about the whole ordeal and kindly declining our (multiple) invitations to spill the beans.
In any event, the most powerful man on the planet was saved a trip to the nearest bodega ATM — and the injustice of having to pay a $3.50 surcharge just to take the money out — since he says Michelle Obama's card went through with no problems.
[Daily Intelligencer, WT, NBC]