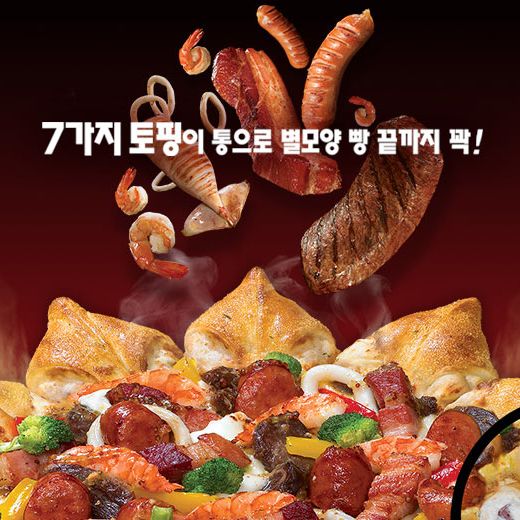 Too much!
Photo: Pizza Hut Korea
Pizza Hut Korea's brass has done it: Created a novelty pizza that includes everything. The Star Edge pizza is available in all of its stores and it just awkwardly crams a whole bunch of stuff together — we assume because the recipe engineers are tired of gimmick toppings and crust-stuffings and just want to be done with this once and for all. And so, the Star Edge has "surf" covered in the form of calamari and shrimp. There is "turf," specifically bacon, sausage, and steak. And then you've got veggies covered with broccoli and peppers. Oh, but that is not enough, because the actual crust pries off into little turnovers, which are stuffed with cream cheese and either cinnamon apple nut or cranberry.
A large costs a hefty $32, but then again, it is worth remembering that this pizza includes all possible foods you could want to eat. Should you be in the market for such a monstrosity, but also need additional convincing in the form of a television ad, you are in luck:
To all the chains that market novelty pizzas, please know that things have gone as far as they need to go, and it is time to give it a rest.
[Brand Eating via Foodbeast]