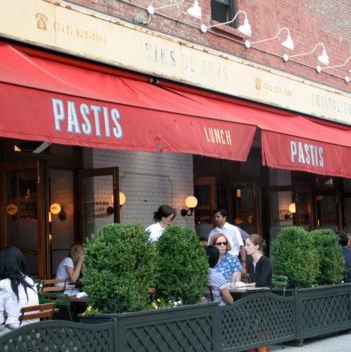 Even with an outdoor terrace, there's probably no room for this.
Photo: Shanna Ravinda
Though there were already several reasons to believe that Pastis would be forced to find a new neighborhood to resume serving its brown-butter skate and steak tartares, here's another indication that it really may be over for Keith McNally's lamented brasserie and the Meatpacking District in general: Restoration Hardware, the new tenant at 9-19 Ninth Avenue, has reportedly signed a 15-year lease, and while renovations will eventually bring the address to 70,000 square feet, it seems unlikely that any of that will be devoted to Pastis, or at least Pastis as we know it.
McNally's group did not respond to a request for comment on the restaurant's future, and even though there are rumblings of cafés and bars coming in the made-over 9-19 Ninth Avenue, it's thought that these will be Restoration Hardware branded. Plans call for three floors to be added to its current two, including a wraparound terrace on its third floor and an outdoor space on its fifth.
In addition to Cherche Midi, which opened this year, Keith McNally is planning a 90-seat restaurant with all-day service at the Beekman, which is tentatively set to open in late 2015.
Related: Sex, Steak-Frites, and Every Celebrity on the Planet: The Golden Years of Pastis
[WSJ]