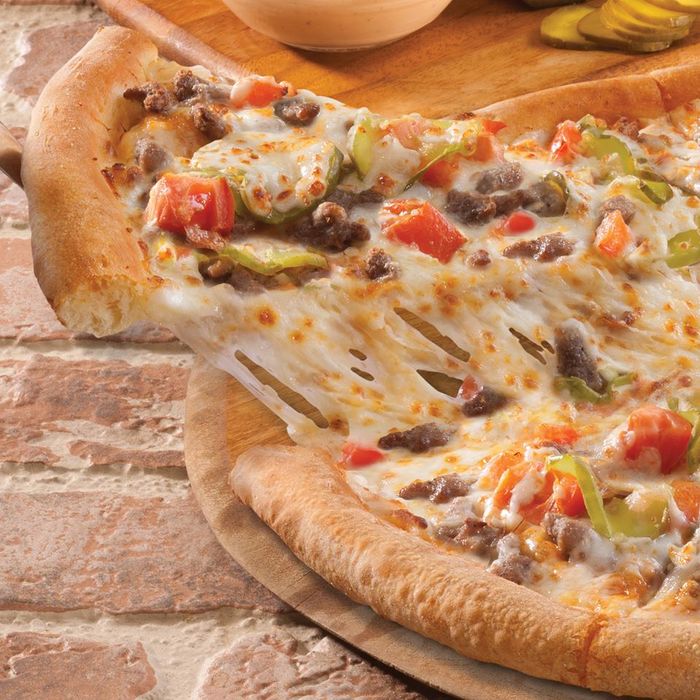 Not worth it.
Photo: Papa John's/Facebook
Yesterday New York State Attorney General Eric Schneiderman announced a lawsuit against a Papa John's franchisee on behalf of more than 400 workers, to the tune of more than $2 million. The state alleges Ronald Johnson and New Majority Holdings, LLC, which has four stores uptown and in Harlem, regularly rounded down hours while calculating employee payroll, failed to pay overtime, and otherwise violated State Labor Law with all kinds of nasty stuff. Worse still, the A.G.'s office alleges that delivery workers at these Papa John's locations received just $5 an hour, which is a few bucks short of the state-mandated minimum wage, and shockingly even less than the tipped minimum wage. The suit goes on to say that workers had to buy their own bicycles, helmets, safety gear, locks, and chains, which are all the responsibility of the business owner.


All of these things combined meant that workers presumably walked with just a few bucks after each shift, putting it in contention for the worst job ever. "When I worked at Papa John's, there were too many nights when I couldn't work the hours I was assigned, or when my tips disappeared right from under me," one ex-employee said. He's now moved on to Domino's.
Unlike, say, serial class-action-lawsuit-filers like Maimon Kirschenbaum, who tend to hunt big game in the form of celebrity chefs, Schneiderman has set a precedent by going after fast-food businesses working to secure settlements for minimum-wage employees. The newest lawsuit seeks $1 million in unpaid wage restitution plus another million for liquidated damages and interest. Previous and similar settlements haven't approached this figure, but a very large number — some 400 workers — are involved this time out, so restitution likely won't be life-changing for anyone, if successful. One of the ultimate goals of the lawsuit, the organizing director of advocacy group Fast Food Forward says, is to keep the ongoing campaign to increase the minimum wage for chain-restaurant workers at the forefront. In the meantime, it's probably a good idea to tip your delivery guy really well, and in cash.
[Official site, VV]