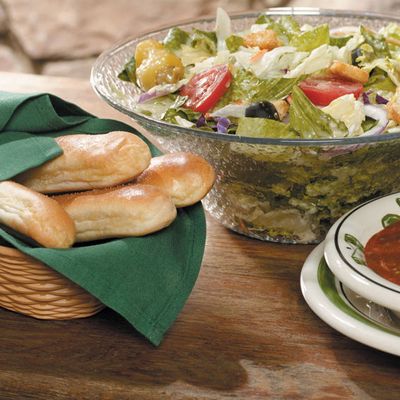 The days of undisciplined breadstick service have ended.
Photo: Courtesy of Olive Garden
Olive Garden executives knew this day was coming, and while maybe they didn't do a particularly hot job running the struggling chain, they liked having jobs and fought for it valiantly. This morning, however, investor Starboard Value prevailed and appropriated all 12 seats on the Darden Restaurants Inc. board. Thus the countdown has begun on that 294-slide offensive about the epic-length menu, unsalted pasta water, the use of "the Cadillac" of to-go bags, and, as everyone's now acutely aware, breadstick waste in the form of 700 million freebies a year. Executives tried explaining that the handouts "convey Italian generosity," but it was just futile.
Once the new board is finalized, Starboard can get cracking on those things the original attack in September called for, like selling the properties where some Olive Gardens are located and divesting five smaller Darden chains — Yard House, Bahama Breeze, Season's 52, and Eddie V's. — thereby "unlocking billions of dollars" for investors. The old guard may be sad, but Starboard CEO and newest Darden board member Jeff Smith at least had a sense of humor about the takeover. He apparently strode onstage and said, by way of an icebreaker, "I love Olive Garden's unlimited breadsticks."
Earlier: Activist Olive Garden Investors Want to Kill Unlimited Breadsticks
Related: Corporate Executives Defend Olive Garden's Unlimited Breadsticks