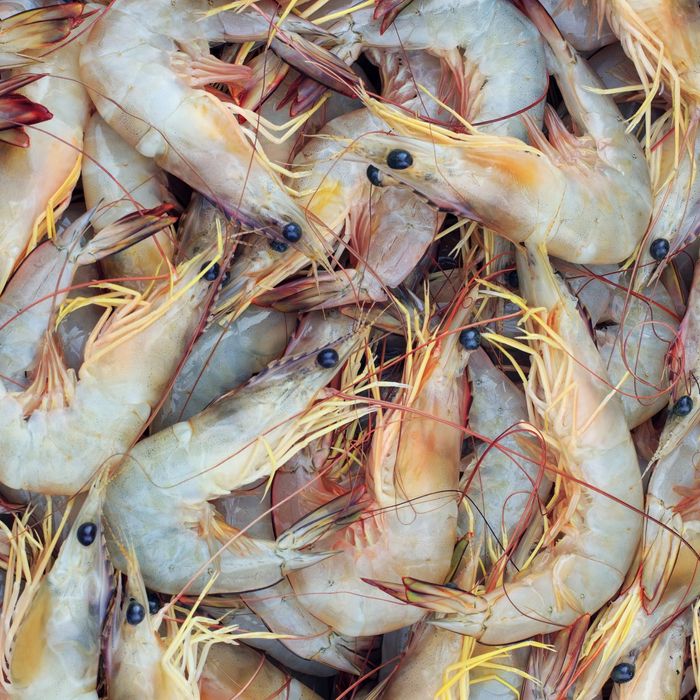 Are these some of the "genetically undescribed" species that the researchers found?
Photo: Shutterstock
An unprecedented study published today by the nonprofit group Oceana detailed the analysis of 143 shrimp products taken from 111 restaurants and retail outlets across the country. The results, you've likely guessed by now, will probably make you rethink the surf part of surf 'n' turf going forward: Researchers found that labels pertaining to shrimp type and origin were vastly inaccurate across the board — some of that shrimp was so random, in fact, a full 40 percent of the 20 kinds identified by the study were species "not previously known" to have been sold in the United States.
The problem is complicated because fraud occurs at the import, wholesale, and retail levels, says Kimberly Warner, the group's senior scientist, and while the study doesn't point to any clear and present prawn danger, an untold number of food-safety and traceability issues are at stake. You wouldn't want to have a giant shrimp boil, for example, if you found out those sustainable and wild Gulf shrimp in your stockpot got there as the result of human slavery and "execution-style killings."
The news comes nearly two years after a previous Oceana study revealed that 39 percent of 150 fish samples from 81 NYC establishments were mislabeled. Last year, the group did some top-notch CSI: Fish work and said that a lot of the tuna and snapper found in restaurants and markets was anything but. Here are some takeaways from its newest study.
1. Nearly half — 43 percent — of shrimp purchased by researchers in New York City groceries and restaurants wasn't what its packaging claimed it was or how it was advertised on the menu. So congrats, everyone, we had the "highest amount of misrepresented shrimp."
2.More than 50 percent of all impostor shrimp encountered by researchers were whiteleg shrimp, the species most often connected to over-fishing concerns and human-rights abuses, which had been billed as wild-caught shrimp.
3. Sixty-seven percent of all grocery stores visited sold incorrectly identified shrimp.
4. Of the 70 restaurants visited for the study, 31 percent served shrimp billed as something other than what it actually was.
5. Those convenient, frozen-food-aisle bags of salad-size shrimp? Researchers found one of these guys, stenopus hispidus, in there. Also known as banded coral shrimp, this crustacean isn't even technically shrimp; when it's not scurrying around the craggy depths, it's most suited for life in a jumbo aquarium.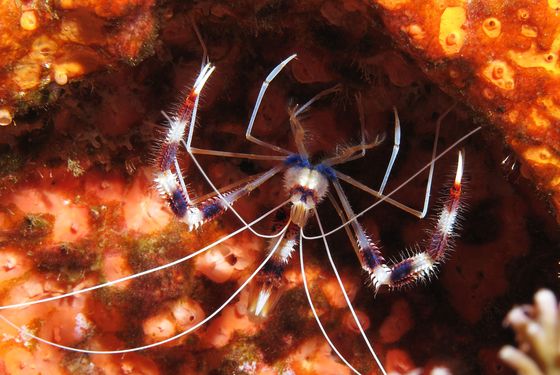 6. There was "another unidentified shrimp" mixed in with that salad shrimp.
7. Restaurants, for the most part, have no clue what they're serving: Menus at the majority (76 percent) of the 600 restaurants the study looked at did not identify the origin of their shrimp.
8.Some 82 percent of those places did not disclose whether their shrimp was wild or farm-raised.
9. A full 40 percent of the 20 kinds of shrimp identified in the study were species "not previously known" to have been sold here, which just sounds bad all around.
10. Of the 143 products tested, a handful of samples were a complete mystery to researchers. This means the DNA of these shrimp thwarted robust lab-testing methods, or that the samples were actually hitherto "genetically undescribed" species.
11. One-tenth of shrimp billed as prized, wild-caught Gulf shrimp were actually just those farmed-raised whitelegs again.
Because the shady side of the shrimp business touches on such a broad swath of environmental and human-rights issues, the group is calling on President Obama to devise a "comprehensive approach" to combating labeling fraud. In June, the president launched an executive action designed to help cut down on seafood fraud; Obama also designated 370,000 square nautical miles of the south-central Pacific Ocean as a protected reserve, which included a ban on commercial fishing.
Related: Guardian Says Shrimp Sold at Walmart and Costco Comes From Slave Labor
[Oceana]