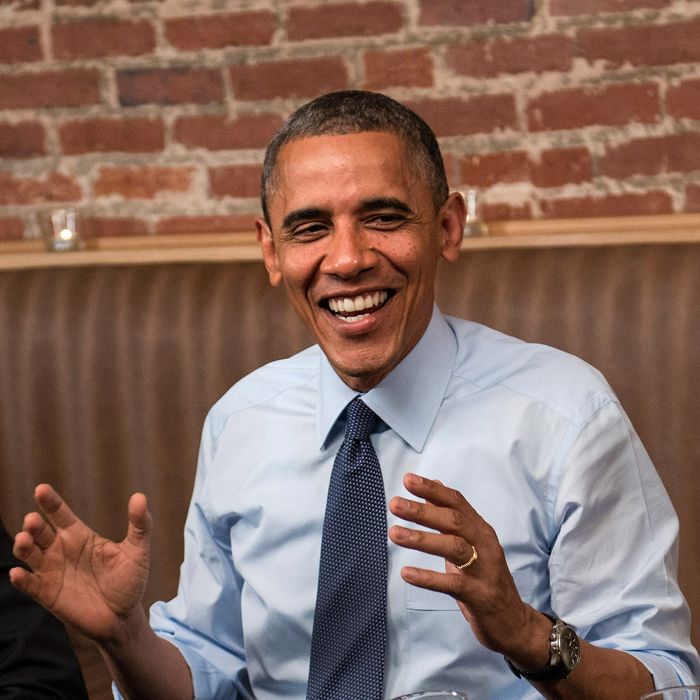 Prediction: He'll be at Roberta's within a week.
Photo: Brendan Smialowski/AFP/GettyImages
It's been well documented that President Obama has outstanding taste in restaurants. Just last week, POTUS and FLOTUS ate cod croquettes at Estela, impressing even the most jaded New York restaurantgoer. And today, the first couple will host a fund-raiser at White Street — North End Grill alum Floyd Cardoz, Dave Zinczenko, Dan Abrams, and Christine Cole's brand-new Tribeca restaurant. It's pretty rare, and exciting for a president to support young, relatively unknown restaurants, so we sat down with Chef Cardoz to discuss his game plan to cook for Obama: How does he write a menu? What are the security concerns? Which kinds of cookies does he serve? This is crucial information, people.

When did you hear the president might be stopping by? How does one get this kind of news from the White House?
Christine [Cole] came in, walked up to me, and said, "In two weeks, we're going to be doing an event for the President at White Street. You've been vetted." Like, what? "Oh, you're part of the invitation, and you've been vetted." I said, "For what?" And after I realized what it was, I was pretty excited, because how often do you get to have the president in the same Zip Code as you, let alone the same space?
Let alone a space that opened less than a month ago. It doesn't seem like he goes to brand-new restaurants all that much.
No, he doesn't. So it was very exciting. We're hosting about 250 people.
Do you know how it first came about?
I think there was one guest who had eaten here a lot since we've opened, who kind of suggested it.
How have you been prepping for this? What kind of guidelines do they give you?
They don't give you any guidelines. And obviously, you want to — with the first lady and the president talking about healthy eating — you want to pretty much follow what they do. You know, why go contrary to everything they believe in and do an event that doesn't match their philosophy? So I took that into consideration.
… We're using local fluke, because what's better than Long Island fluke? He's coming to New York State, after all. We're doing a short-rib dish with Anson Mills grits, and a pumpkin soup with apples from New York State, and a ricotta that's being made in New Jersey. And then then we're doing a small chickpea cake with avocado. It's all passed food, and we have an hour to feed everyone.
Did you research Obama's favorite foods specifically?
No, I didn't really do that, because I wanted to show him what we do well. I want him to understand that my philosophy is pretty close to his philosophy, and want to showcase what we do at White Street.
And the impact of Michelle's healthy-eating initiative has been rather amazing.
Someone tweeted to ask me how much cream and butter we're using, and I responded, "zero," because I don't use cream and butter in my food. I don't believe you need to. I use spices and I use acids to make food interesting. Like the braised short ribs, which were braised yesterday for six hours, will be served in a small tart shell with grits from Anson Mills — made with a little bit of mustard from Long Island, and mustard greens. We're trying to use everything that's local, or from the United States, at least.
Are you serving desserts as well?
We don't have that much time, but we're going to get every guest to leave with a bag of cookies.
What kind of cookies?
I've asked for chocolate-chip cookies because that's what I like. No nuts.
How are you handling the security? Does the Secret Service just take care of it?
As long as you follow the rules that they give you, I think you're pretty good. If they tell me tomorrow we need all the staff to jump, I think we will all jump because that's what they want. I don't know what they want. I just know that they will be here, they will take care of it, and we will do as they say, because we want him to be safe.
Are you able to invite your family to be there tomorrow?
I wish I could. But unfortunately not.
Have you ever met the President before?
I have not met President Obama, but I have met and cooked for Bill Clinton twice.
Pre- or post-veganism?
Pre-. I cooked for Hillary Clinton a few times, so hopefully she'll be the next president and I can say I have cooked for three presidents.
Are you nervous at all?
Not nervous. I just want it to be the best it can be. And I want it to go off without a hitch … We're going to cook our asses off. 'Cause that's what we do.
Related: A Brief History of Barack Obama Eating at Trendy Restaurants
Earlier: The Obamas Ate Burrata and Croquettes at Estela Last Night