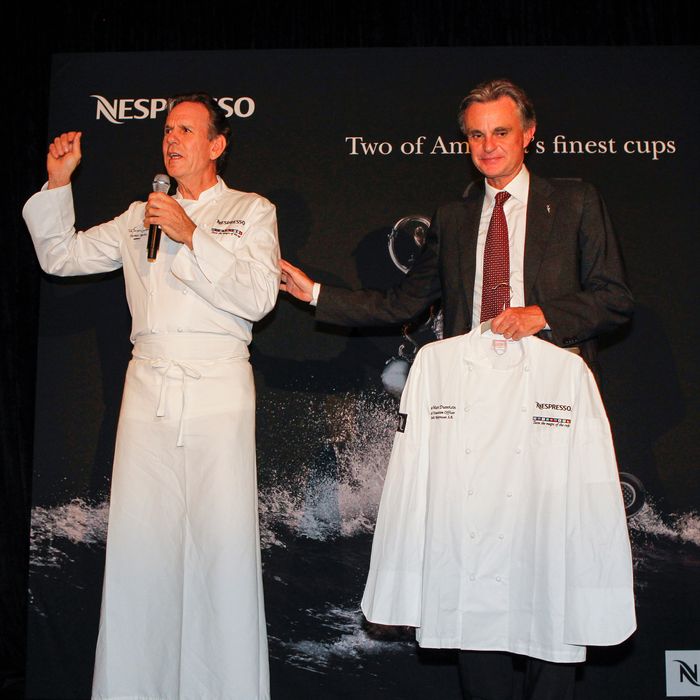 Thomas Keller and Nespresso CEO Jean-Marc Duvoisin go way back.
Photo: Kimberly White/Getty Images
The photographer and food writer Adam Goldberg was among the few lucky guests to attend last Friday's blowout 60th anniversary Relais & Châteaux dinner at Per Se cooked by Thomas Keller, chef de cuisine Eli Kaimeh, and lauded guest chef Anne-Sophie Pic at Per Se. The $600 per person menu, Goldberg noted, at the restaurant that otherwise "spares no expense," weirdly closed out with mignardises and seemingly distasteful notice that ID'd "Coffee by Nespresso®."
As expected, the tweet is bringing out the hecklers — "could somehow be that freeze-dried coffee complements the course perfectly" — but it's a fact that Nespresso isn't just the weekend warrior's coffee anymore — it's in, or has been in, the restaurants of Heston Blumenthal, Paul Liebrandt, Marc Forgione, and other Michelin-starred chefs. Even so, some restaurant customers can't even get onboard with the basic concept of pod coffee.
@LifeWorthEating Lol they be trolling us right?— bbrrains (@bbrrains) October 6, 2014

@LifeWorthEating I'm speechless. Three @MichelinGuideNY stars, $300+ per person for dinner, and a crass paid advertisement on the menu?— Dr. BillCo (@DrBillCo) October 6, 2014

@LifeWorthEating @Eatmecookme I am never going back.— Toooooooomb (@Timmmmmmmm) October 6, 2014

The debate about the place of freeze-dried coffee in fine restaurants has been renewed, but in the larger scheme, it doesn't look like there have been many changes out there in white-tablecloth land. Thomas Keller's Restaurant Group told Grub in 2013 that it serves a special blend Thomas Keller created in collaboration with Bay Area roaster Equator Coffees & Teas. It still does, every day, on the East and West coasts. While Keller has appeared at Nespresso coffee-pairing events and even showed off a machine that was dropped off at Bocuse d'Or boot camp, he's certainly not shilling for the stuff.
These days, grandiose dinners like last Friday's don't happen without significant corporate involvement, for better or for worse. As a result, Nespresso's menu footnote probably wasn't the only such appearance at the joint dinner with Anne-Sophie Pic, who will soon have to decide if she wants to serve Nespresso herself when she opens her two New York restaurants. From the looks of it, she may want to stick to grinding her own.
Related: Pod People: Nespresso's Push to Become High-End Restaurants' Go-To Coffee
[@LifeWorthEating/Twitter]