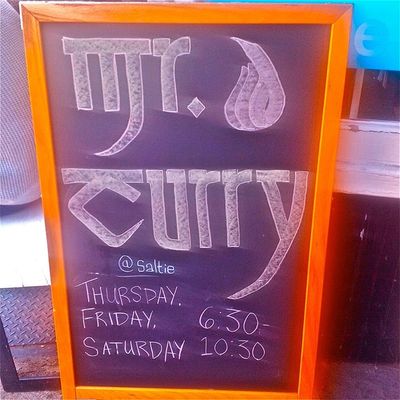 It's dal, you guys.
Photo: Saltie/Facebook
Fans of Williamsburg's Saltie might know it as a stellar sandwich shop, but as it turns out, the nautically themed café and bakery has a spicy alter ego. As a native of England — a country whose national dish may very well be chicken tikka masala — Saltie partner Rebecca Collerton is an Indian-food fiend, and has been cooking pop-up suppers under the sobriquet Mr. Curry at locales like Achilles Heel in Greenpoint.
This week, in what might become a regular occurrence, Mr. Curry makes its after-hours debut at Saltie itself, where Collerton and crew will serve an Indian-themed menu from 6:30 to 10:30 p.m., Thursday through Saturday. The menu, which includes curried meatballs, rice and pickles, and yellow dal, is below.
Menu [PDF]