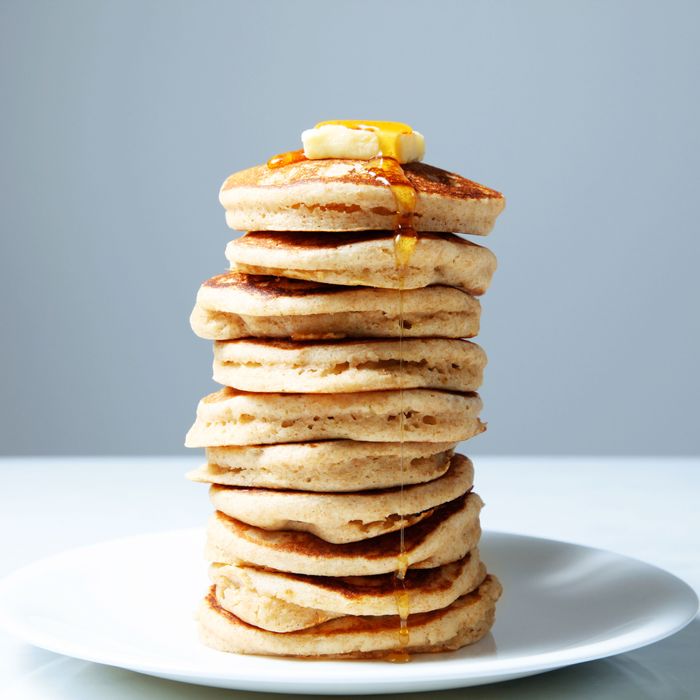 There's a reason they're called silver dollars.
Photo: Lori Andrews/Getty Images
This weekend, the revamped Rainbow Room reopens to the public … sort of. Most of the week, it will be closed for private events. There will be public dinners and shows on Monday nights, but the best time to get in will be the weekly Sunday brunch buffet — which will cost a whopping $95 per person before tax, tip, or alcohol (and you can bet the mimosas won't be cheap). Surely this must be the most expensive brunch option in New York, right? But after hunting around, it turns out there is a shocking number of places where eggs, coffee, and some juice will run you nearly a Benjamin. We understand that the well-heeled and expense-account crowds need to work off their hangovers as much as the hoi polloi, but these price points nevertheless feel steep. Here are 15 restaurants where brunch or breakfast will run you a whole lot of money.
The spots below are listed in descending order of how much brunch will cost before tax and tip. When brunch or breakfast is served at a set price, that's what we've used. At restaurants with à la carte pricing, we've added the average price of an appetizer, the average price of an entree, plus any additional costs for juice and coffee, which are typically included in set-price meals, to arrive at a representative price per person. (And no, we didn't include the $1,000 lobster omelette at Norma's or any other stunt menu items because, come on.)
1. Peacock Alley at the Waldorf Astoria
What It Costs: $98
What You Get: The Sunday brunch buffet includes raw bar, smoked fish and meat carving stations, hot entrées, a glass of Champagne or mimosa, and … a chocolate fountain.
2. Arabelle Restaurant at the Plaza Athénée
What It Costs: $98
What You Get: A seafood display, pastries, salads, and pate and terrine at the Sunday brunch buffet, plus your choice of an entree (like eggs Benedict, lemon sole, or hanger steak).
3. Rainbow Room
What It Costs: $95
What You Get: Sunday brunch takes over the dance floor, with chefs serving seafood, breads, roasted meats, pastries, cheese, charcuterie, and "internationally-inspired dishes" like Thai curry and pork buns at individual stations. Desserts, such as beignets and apple cider doughnuts, are delivered table-side.
4. Caviar Russe
What It Costs: $95
What You Get: Three courses, featuring fancy-pants ingredients like Shigoku oysters and foie gras.
5. The Garden at The Four Seasons
What It Costs: à la carte average, $71.88
What You Get: Gut-busting mash-ups like pancake-wrapped pigs in a blanket ($28), eggs with lobster hash ($42), and a poached-egg-topped pastrami tartine ($32).
6. Auden Bistro & Bar at the Ritz-Carlton Central Park
What It Costs: à la carte average, $68.43
What You Get: A $26 egg-white omelet, a $33 petite filet, a $22 tomato and mozzarella salad, along with the usual brunch items.
7. Regency Bar & Grill at the Loews Regency
What It Costs: à la carte average, $67.92
What You Get: This is the power breakfast spot. How do you know it's only for high rollers? You can start your day off right with $48 veal Milanese or $65 Dover sole. Casual.
8. The Carlyle
What It Costs: $65
What You Get: Appetizers include lobster bisque and chicken liver mousse, and there are entrees like smoked-salmon pizza and lamb chops include in the prix fixe menu. For dessert: a 20-layer crepe cake and a glass of Prosecco.
9. Asiate at the Mandarin Oriental
What It Costs: $64
What You Get: Beef carpaccio, bacon-and-eggs risotto, and a barbecue duck tostada headline the three-course menu.
10. Ai Fiori
What It Costs: $64
What You Get: Smoked fish, cheese, charcuterie, pastries, and "signature granola" at the buffet, plus your choice of an entree like lobster eggs Benedict, or the eight-ounce White Label burger. Freebies: juice, coffee, and tea!
11. Pembroke Room at the Lowell
What It Costs: à la carte average, $63.26
What You Get: Why not splurge for the poached eggs with caviar ($31), the sirloin with eggs ($34)?
12. Sirio at the Pierre
What It Costs: à la carte average, $62.06
What You Get: The menu ranges from brunch twists like "scrambled eggs Caprese" to grilled salmon and a cheeseburger with "Tuscan fries."
13. The Mark
What It Costs: à la carte average, $60.90
What You Get: Eggs with caviar cost $45, but you can go save a few bucks by opting for the tuna burger ($28) or veal Milanese ($39) instead.
14. The River Café
What It Costs: $55
What You Get: Start with a duck egg, foie gras, or Wagyu steak tartare before a plate of "golden pancakes," made with 24-karat gold-dusted milk chocolate.
15. The Lambs Club
What It Costs: à la carte average, $51.67
What You Get: Choices include oysters on the half-shell ($3.50 each — pretty standard), eggs en cocotte ($18), or the restaurant's namesake burger on toasted challah ($22). Bonus: You might even see regular Anna Wintour — maybe.