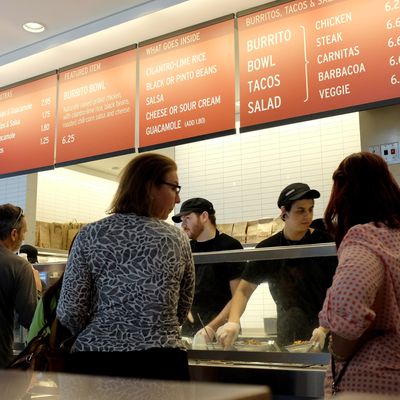 People lining up to not eat Big Macs.
Photo: Joe Raedle/Getty Images
Everyone loves Chipotle. People cannot get enough Chipotle. Chipotle is killing it. Throw some humanely raised pork and brown rice in a huge gummy tortilla, top it with the tomato salsa and that other salsa with the corn — always get the one with the corn — spend the extra $2 or whatever on guac, wrap that baby up in some foil, and you're good to go. Walk by any Chipotle at like one o'clock in the afternoon and you will see a line of customers snaking all through the store, reading their iPhones and each waiting to spend $10 on a burrito, or a bowl, or maybe one of the salads with the good dressing. Whenever a new Chipotle opens, the burrito-bowl-craving hordes queue up accordingly. Chipotle can do no wrong. And this is not good news for McDonald's, which today had to let the world know that people just don't like McDonald's all that much anymore.
Don't think that's true? Here is a sampling of headlines from today:
•Tough U.S. rivalries, China food scandal pound McDonald's
•McDonald's earnings ugly; shares fall
•McDonald's profit plunges in third quarter
•5 Problems McDonald's Is Facing in the US
•McDonald's Profit Plunges on U.S., China Woes
They all hit at once because McDonald's released its latest quarterly earning report, and as you can surmise, it wasn't great. Now, granted, let's clarify what constitutes "ugly" earnings for McDonald's. Here's The Wall Street Journal: "McDonald's reported a profit of $1.07 billion, or $1.09 a share, for the third quarter, compared with $1.52 billion, or $1.52 a share, a year earlier." So, they made a billion dollars, but it's a lot less than they wanted to make. What's the problem?
In today's report, the chain makes clear that it can't attract "younger" customers, a.k.a people in their 20s who aren't yet old enough to have given up on life. Those customers are all about the fancier chains:
Demographics help shed light on McDonald's woes. Data compiled for The Wall Street Journal by restaurant consultancy Technomic Inc. point to an age problem for the chain. Customers in their 20s and 30s—long a mainstay of McDonald's business—are defecting to competitors, in particular so-called fast-casual restaurants like Chipotle Mexican Grill Inc. and gourmet-burger chain Five Guys Holdings LLC.
How well are things going for Chipotle? Revenue is up 31 percent and the all-important same-store sales (which compare a shop's performance to its performance a year earlier) increased about 20 percent. (Same-store sales at McDonald's were down 3 percent.) Chipotle executives probably toasted the news with a round of those Patrón margaritas they have at some of the stores.
Over at McDonald's, though, they've got to figure this business out before it gets too late. So they've laid out a whole boring plan for how they're going to do that: Get ready for "technology enhancements to improve the look, feel and convenience of the McDonald's experience," "a global strategy built around simplifying the customer journey across ordering, payment and mobile offers," and "a revamped marketing approach that links national messaging around our food quality, brand transparency and people initiatives" (told you it was boring).
All of which is to say: They're going to keep selling the same dumb burgers but now you can pay for them with your phone.
[WSJ, Reuters, Chicago Tribune, USAT, AP]