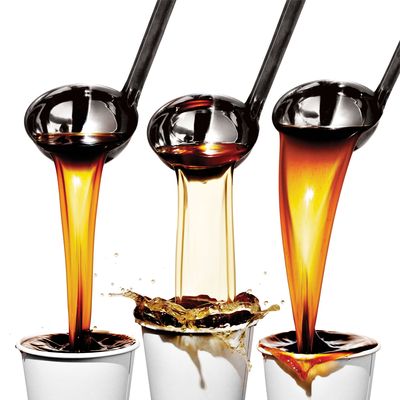 From left: Gingered grass-fed-beef broth, organic-chicken broth, and Hearth broth, made from two turkeys, 40 pounds of beef shin, and 15 stewing fowl.
Photo: Bobby Doherty/New York Magazine
When most fine-dining chefs set out to choose the type of fast-casual spinoff which they're required by law to open at a certain point in their careers, they usually gravitate to burgers, or meatballs, or doughnuts. Hearth's Marco Canora has opted instead for bone broth—that clear, ascetic liquid normally prescribed to convalescents. But with the rise of the paleo diet, plus the publication of animal-fat advocate Sally Fallon's Nourishing Broth, the nutritious elixir is actually having a moment. And Canora, who underwent a dietary conversion culminating in his next cookbook, A Good Food Day, is an unabashed fan.
"My God!" he says. "Twenty years of eating bread, drinking booze, smoking cigarettes, and working in kitchens really fucked me up in a big way." Until quite recently, you see, Canora was not the epitome of good health. He'd been diagnosed as pre-diabetic, he was suffering from gout, his cholesterol was through the roof, and he was thirty pounds overweight. Now, at 45, having made some major changes in his diet, he says he's in the best shape of his life. And he attributes not a small part of this reversal of fortune to daily doses of the broth he's always made as a base for Hearth's soups and stocks.
That's why on Monday he'll open what was formerly an unused entrance at Hearth as a takeout window called Brodo, Italian for "broth," where he will try to inculcate frazzled, undernourished New Yorkers into the pick-me-up's quiet pleasures and curative powers. Canora's version isn't soup (which he'll also offer, by the way), but a hot sipping liquid served in paper coffee cups with "sip-thru" lids, as if you had just rolled up to the Mudtruck for a caffeine fix. Although the unalloyed flavor of these seasoned broths—made, it should be said, from organic-chicken and local-grass-fed-beef bones—is deeply delicious on its own, the chef is offering optional infusions, like beet kvass and Calabrian-chile oil. (He'll also sell unseasoned brodo in quart mason jars for home sipping and cooking, not to mention a Sicilian hot chocolate.) He sees vast potential at the bottom of his 120-quart stockpot, both for the city's collective well-being and the local fast-foodscape itself. Shake Shack: Consider yourself warned.
Brodo, 403 E. 12th St.; window on First Ave.; no phone.
*This is an extended version of an article that appears in the November 3, 2014 issue of New York Magazine.