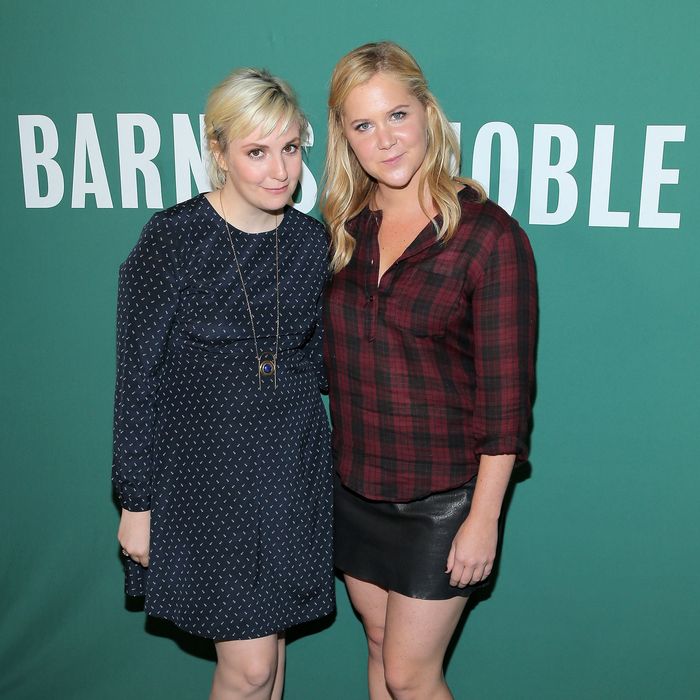 "How permanent are the effects of that?"
Photo: Jemal Countess/Getty Images
Last night's release event for Lena Dunham's Not That Kind of Girl, held at the Union Square Barnes & Noble, didn't promise to offer much in the way of food-related entertainment. And yet, during the Q&A; session, an audience member posed quite the culinary conundrum to Dunham and co-host Amy Schumer: Would you rather eat only mustard for the rest of your life, or deep-fry your vagina? Wait … what? Okay, so it's an unusual question, and presents a scenario unlikely to ever be encountered in the real world, but nevertheless, the two comediennes had some interesting thoughts on the matter.
Just to reiterate, the question posed is: Would you rather eat only mustard for the rest or your life or … deep-fry your vagina?
Amy Schumer: That's hard.
Lena Dunham: That's really hard.
AS: Do they specify what type of mustard, or no?
LD: Let's just say it's Grey Poupon.
AS: Okay, Okay. That makes it a lot harder. Um, shoot. Deep-fry? How do you do that? Like, do you have to go to a restaurant and then you sit on it? 'Cause if you only eat mustard how can you …
LD: I feel the exact same way. I like a really basic "Would You Rather?" that doesn't have all kinds of implications. Like, if I deep-fry my vagina, how permanent are the effects of that?
AS: Maybe they'll wind up being better. You know?
LD: Everything's better when you deep-fry it.
AS: Yeah! Everybody fights to go down on you.
LD: I think I would deep-fry my vagina just 'cause, I don't know, but there's more possibility that it could be great.
AS: I'm with you. I just got sold in the last two seconds, so thank you for that question.
LD: We'll be heading out tomorrow to a Denny's.