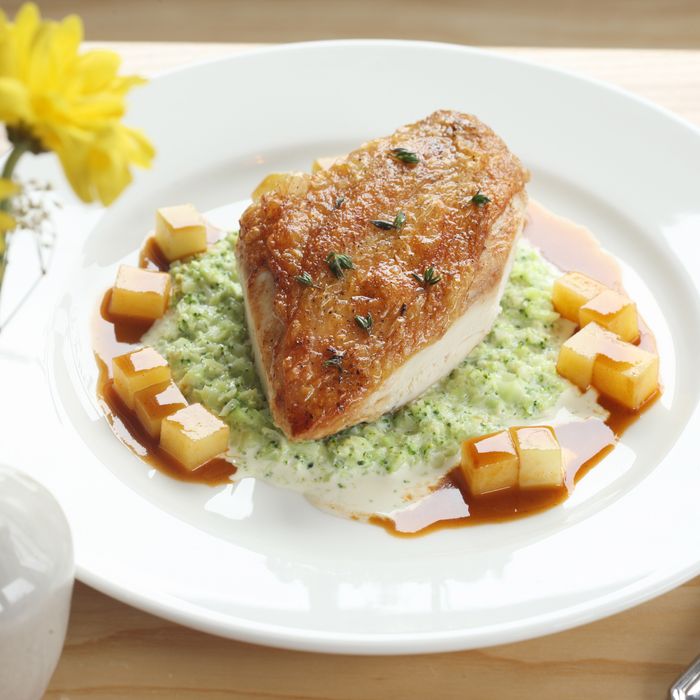 Duxelles-stuffed chicken, creamed broccoli, broccoli stem jus.
Photo: Melissa Hom
Upon first glance, Le Fond looks like fairly standard (albeit handsome) neighborhood restaurant on Norman Avenue. It's not particularly fancy or expensive, but chef Jacob Eberle's dishes reveal real talent. This is the first restaurant from Eberle — a Le Cordon Bleu alum who most recently worked as the chef de cuisine at the Lambs Club — and his goal is to cook classic French food "without having it look old-fashioned or dated." The result is a menu filled with cheese beignets, smoked ham-hock rillettes, duxelles-stuffed chicken, and daube de boeuf. "You're not going to see a ton of micro-herbs and delicate garnishes," Eberle says. "It's not tweezer food. I want honest, Mom-and-Pop French restaurant cooking."
Eberle's dishes are accessible — the kind of food you could eat on a Sunday night or during happy hour at the bar in the back of the restaurant — but he takes technique seriously. Le fond means stock, a foundational element of French cooking, and it's the defining component in Eberle's dishes: "That sauce-building process is important to what we're doing," he says. "The braised short rib is the most emblematic dish of the restaurant. You take a humble cut, braise it, and you get an intense, sticky-sweet flavor."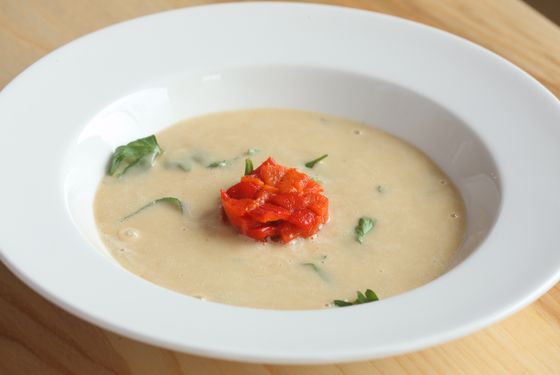 Chickpea soup, piperade, smoked paprika.Photo: Melissa Hom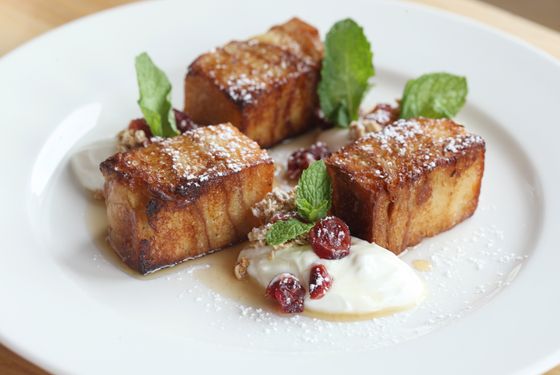 Maple bread pudding, whipped yogurt, granola.Photo: Melissa Hom

While his cooking is certainly ambitious, Eberle knows that his Greenpoint neighbors are his "bread and butter," and Le Fond looks and feels intimate and personal. Eberle's father built all of the tables in the restaurant; his college buddy Michael Hanslick designed the restaurant, and his childhood friend (Maine-based artist Pete Chamberlain) created the art on the walls. The restaurant's open every night except Monday, and it'll launch brunch service soon.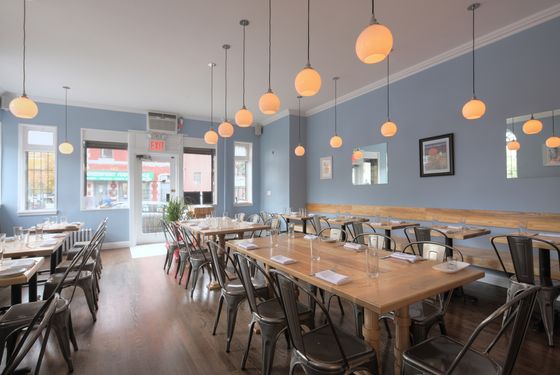 The space.Photo: Melissa Hom
Dinner [PDF]
Dessert [PDF]
Drinks [PDF]
Le Fond, 105 Norman Ave., 718-389-6859